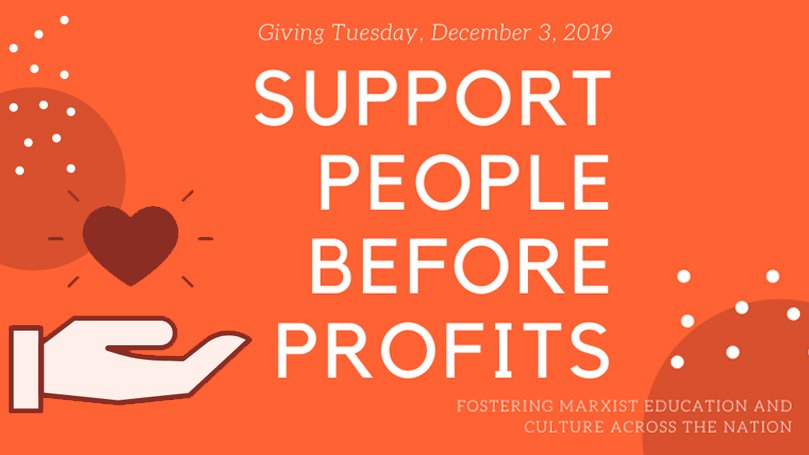 Dear friend,
Another holiday season is upon us, with another reminder of the things we cherish most – family, community, and health.
The holiday season also brings charitable appeals, many that support worthy social justice causes.
We'd like to urge you to donate to a great supporter of social justice causes – our partner organization, People Before Profits Education Fund / Chelsea Fund for Education, Inc. (PBP/CFE)
PBP/CFE is a 501c non-profit organization whose mission is to "broaden and deepen the working class' capacity through supporting Marxist educational and cultural programming around the country."
PBP/CFE supports a wide array of social justice projects, including Communist Party USA sponsored Marxist schools, and the publication of Marxist pamphlets and literature.
One of the pamphlets PBP/CFE funded, "Marxism in the era of Amazon and Uber" by Roberta Wood, is an accessible explanation of today's class and democratic struggle. It has generated a lot of interest and positive reactions, especially among young people. One university student in Ohio remarked, "I didn't know I was a worker until I read this pamphlet."
By supporting PBP, you are helping build the movements necessary to fight for working-class unity, racial and gender equity, LGBTQ and immigrant rights, for saving our planet and environmental justice, a socialist future, and much more.
You can support PBP by making a tax-exempt donation directly on Giving Tuesday.
Or if you plan to purchase anything on Black Friday, Cyber Monday or throughout the holiday season on Amazon, you can select Chelsea Fund for Education as your charitable organization on AmazonSmile. Amazon Foundation will then donate 5 percent of your purchase to People Before Profits Education Fund / Chelsea Fund for Education if you select it as your preferred recipient. You can enroll by following this link.
As you can see, PBP/CFE is making a difference in these difficult and challenging times. We urge you to donate generously during this holiday season.
Warm wishes to you and your family,
Joe Sims and Rossana Cambron, CPUSA co-chairs
Comments