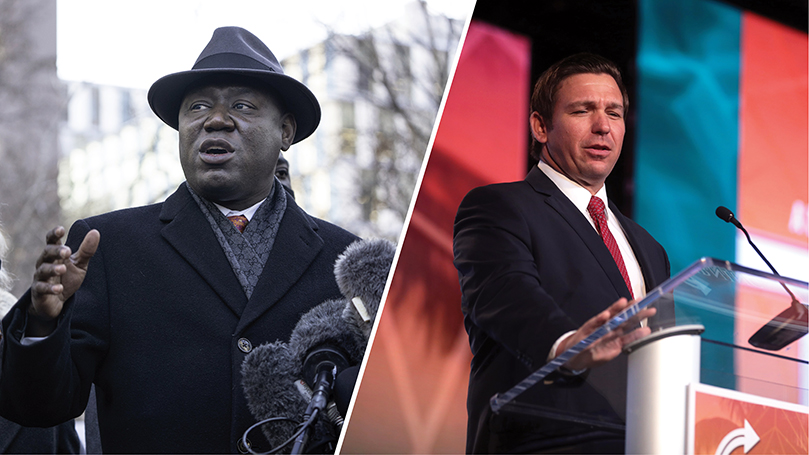 Black History under Attack
As we celebrate Black History Month 2023, the very subject is under attack on many fronts: thirty-five states have introduced legislation to restrict teaching history; educators have faced death threats, fines, and fear of losing their jobs. In some cases, the most heinous racial atrocities are singled out for deletion from the curriculum. One in four history teachers in the U.S. have already changed the way they teach, and teachers feel the new constraints on classroom discussions limit their opportunities to celebrate Black History Month.
In the latest outrage, Governor Ron DeSantis of Florida has chosen to sacrifice students' education in pursuit of publicity for his up-coming presidential bid. He has been micromanaging public school curricula for some time now, while arranging massive giveaways to charter schools. Emboldened by the passage of "Don't Say Gay" and other aspects of his "anti-woke" agenda, DeSantis received huge media coverage recently when he forbade Florida's high schools from offering the College Board's Advanced Placement course in African American Studies.
In offering a justification for this action, DeSantis cherry picked items from the curriculum that he thought would rile up his base: Black Queer Theory, intersectionality, the Black Lives Matter movement, and works by Angela Davis and Kimberlé Crenshaw. DeSantis claimed that these have no place in Black history, but without a doubt, they are central to African American Studies, the actual subject of the AP class.
African American Studies is a subject that is taught widely in colleges and universities at the undergraduate and graduate level, making it appropriate for the Advanced Placement program, in which high school students can earn college credits tuition-free.
African American Studies includes Black history of course, but it is much broader. It encompasses a huge body of scholarly literature, including the sociology and anthropology of African Americans; the study of different philosophical traditions that have shaped how we understand "race"; and the impact of various laws, institutions and structures leading to differential social and economic outcomes for different groups of people. African American Studies also includes the study of social movements that have engaged African Americans over the years and in contemporary society, and it includes study of the literature, musical traditions, and visual arts that make up the cultural output of African descendants in the United States across the centuries.
I urge everyone to look at the curriculum; it seems to me to be a solid overview of African American Studies as taught at the post-secondary level.
DeSantis' Department of Education issued a statement challenging the College Board to change the curriculum to suit the governor's preferences. "We look forward to reviewing the College Board's changes and expect the removal of content on Critical Race Theory, Black Queer Studies, Intersectionality and other topics that violate our laws." Educators were disappointed a few days later when the College Board indicated that it had, indeed, changed its curriculum, seemingly to suit DeSantis.
The extreme right seems determined to privatize education, to exacerbate inequalities in educational opportunities, and to whitewash historical narratives. Why does the ruling class have this urgent need to rewrite the narratives about the past in their own image?
I would argue that as the working class unifies itself and finds its voice, the old historical narratives are challenged, reflecting the new balance of power. Efforts like the 1619 Project offer a fresh perspective on historical facts, reevaluating events with a new lens. As the ruling class is challenged in real life with the growing power of working-class and democratic movements, and the crises of capitalism become more pronounced, the corporate class reacts against the new interpretations of history, too. As the most extreme right-wing of the ruling class embraces fascist policies to retain its control, and as the working class demands for justice become more urgent, the forces of reaction turn to a "mythologized version of the past" that they hope will act as a "weapon of social control, a means of generating consensus and legitimating the status quo," in the words of the historian Raphael Samuel.
History fulfills a human need. People naturally seek an understanding of their place in the world, their connection with others, and their present circumstances; and they often find that understanding in narratives about previous generations.
But do ideas really matter when it comes to implementing policies that have a real impact on people's lives? As previously disenfranchised people come to gain more social power, class conflict is often played out in the arena of contested histories, and victory in the battle of ideas has its counterpart in real structural change. A case in point is sometimes known as the "Rodney Affair," described below, when a denial of history ultimately had a very real effect on the political economy of Jamaica. The event has been described by political scientist Tony Bogues as "a watershed moment in postcolonial Jamaican history."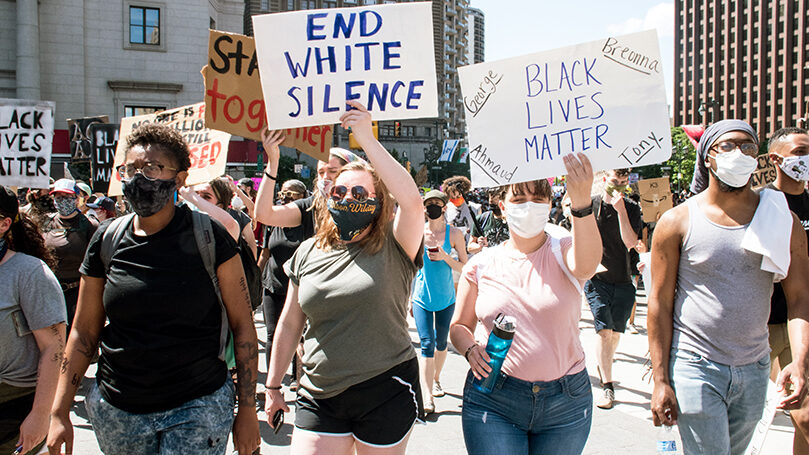 The "Rodney Affair"
Walter Rodney is best known as the author of How Europe Underdeveloped Africa. In February 1968, Rodney arrived in Kingston, Jamaica for a faculty position at the University of the West Indies. He was twenty-six years old, had a Ph.D. in history from London's School of Oriental and African Studies, and had just completed two years of teaching at Dar es Salaam University in Tanzania.
Teaching history in a conventional university setting was not enough for Rodney. Within weeks of his arrival in Jamaica, the news spread that there was someone knowledgeable about Africa who would talk with whomever wanted to hear him. He taught all over Kingston and beyond about African history, Marxist principles, and the concept of Black Power. According to one eye-witness, "He spoke to the 'less respectable groupings' all over the urban area, in the villages and towns outside Kingston." Those "less respectable groupings" included residents of shanty-towns, slums, and Rasta yards. Rodney's practice was to sit on the streets with members of the urban poor in hours-long conversations about African history, which he later wrote about in his book The Groundings with my Brothers.
The Jamaican government, led by the conservative Prime Minister Hugh Shearer, became increasingly alarmed at Walter Rodney's popularity. Shearer saw Rodney as a Communist, a Black Nationalist, and a threat to national security. In October 1968, when Rodney attended a writers' conference in Canada, Shearer seized the opportunity and prevented him from returning to Jamaica—probably with the blessing of the U.S. State Department, which had that very year begun to track Black nationalism in the Caribbean. Walter Rodney had been banned.
Shearer badly underestimated people's desire to learn about their history. In an unprecedented show of outrage and unity, students from the University of the West Indies joined with masses of the urban poor in marching first to the Prime Minister's residence, and then onward to King George VI Memorial Park (now known as National Heroes Park. Its name was changed when a new version of history emerged triumphant five years later). The three-day melee was not peaceful; police used tear gas, batons, and barriers to try to hold back the crowds. Three protesters were killed, many injured, fifty buses were destroyed, and fifteen major fires started.
The "Rodney Riots," as the event has been called, was a turning point in Jamaican politics. New, youthful leadership emerged out of the period (e.g. Ralph Gonsalves and Richard Bernal), especially from the ranks of the University of the West Indies students, who had come to respect their young professor and were incensed with their government for banning him. The opposition party drew on this generation, and defeated Shearer's party decisively in the next election. The new government began a period of democratic socialist government that enacted policies favorable to the working people of Jamaica, such as land reform, workers' rights, and standing up to international bauxite corporations. The new government celebrated African history at every opportunity.
While later governments swept the Rodney Affair under the rug, barely mentioning it in official histories, it still reverberates today in the political discourse and the popular culture of Jamaica.

Back to Florida
In DeSantis' Florida, we're not anticipating that rioting will break out over the banning of AP African American Studies. But the push-back is real. Civil Rights Attorney Ben Crump has vowed to sue DeSantis and the state of Florida on behalf of students who will be deprived the opportunity to take the course. Union leaders like Andrew Gothard, President of the United Faculty of Florida, and local political leaders like State Representatives Anna Eskamani of Orlando and Geraldine Thompson of Central Florida, have spoken out consistently against DeSantis' actions. Across social media, young Floridians are expressing outrage and committing to engage in the resistance. Teachers are declaring that they are doubling down on teaching African American history. Young people are learning about atrocities in African American history that have been coming to light recently, like the Tulsa and Rosewood Massacres, which DeSantis wants to sweep under the rug.
The situation in Florida should serve as an object lesson for the rest of the nation. We must all remain vigilant, especially during those previously low-energy school board elections and sleepy school board meetings. The organized extreme right has decided that this culture war is one that it wants to capitalize on. It wants to return to the days when the historical narratives were written to drive a wedge between white workers and workers of color.
African American Studies is American Studies. We need to recognize its revolutionary potential and foster it.
Images: "Ben Crump … speaks during a news conference …" by Lorie Shaull (CC BY 2.0) / Ron DeSantis at a TPUSA student summit by Gage Skidmore (CC BY-SA 2.0); Philly Protest for George Floyd by Joe Piette (CC BY-NC-SA 2.0); 
Comments