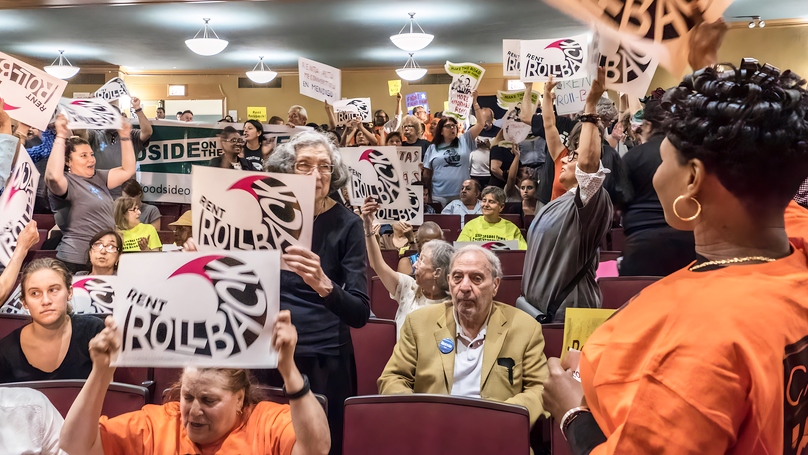 Haga clic aquí para leer en español.
The housing crisis continues to grow.  Homeless shelters are full to capacity. Millions of people in the U.S. are walking the streets, not knowing where they will sleep tonight, while tens of millions are behind on their payments and living in fear of evictions. Millions more are crowded in with relatives and friends. This crisis is especially impacting poorer communities, people of color, immigrants, seniors, and youth; but it is also affecting middle income families, many of whom are working class and living paycheck to paycheck. Even people living in subsidized and public housing can no longer feel secure. And it's not only a crisis for renters, but also for homeowners who can't keep up with their mortgage payments. Nearly 10 million people were robbed of their homes during the 2007-9 financial crash, disproportionately Black and Brown families. The collective wealth of African Americans was cut in half. Soaring rents also threaten small business owners victimized by huge increases in costs for both homes and businesses.
The problem is systemic. It's rooted in a capitalist housing system which sees housing as a thing (a commodity) that benefits landlords, real estate developers, private equity funds and big banks, all at the expense of poor and working-class families. Driven by the pursuit of maximum profits, private equity companies and monopolies like Amazon will purchase entire apartment complexes and increase rents, sparking a process of gentrification that is pushing out working-class renters, especially minority renters. The crisis falls hardest on people with special housing needs, including single parents, people with disabilities, the elderly and on people already suffering discrimination and abuse from racist policies, homophobia and transphobia.
Across the country, people are fighting back on many fronts. Various types of tenant organizations have sprung up. Tenants and homeowners are calling on our elected officials to enact rent controls, establish new rights and legal protections for tenants, build more affordable public housing, extend mortgages, and rein in the banks.
While we applaud efforts by local communities, renters, and working-class homeowners to feed and temporarily find shelters for folks thrown out on the streets, our demands must go further than band-aid solutions. Our goals are twofold: ending evictions and foreclosures, and providing safe, affordable housing to all.
The solution to this crisis is to organize, organize, organize. The collective power of organized working-class communities will be needed to fight back.  We need to work for and support the following:
Directly intervene to protect people from evictions and foreclosures, which hit super-exploited Black, Latino, Asian, and Indigenous renters and homeowners the hardest.

Organize tenant associations and fight for reforms that increase and strengthen protections for tenants of public and privately-owned housing. These include rental assistance programs, the right to free legal representation (Right To Counsel), the right to a renewal lease with limited increases, sealing eviction (and foreclosure) records, and other measures that help people find housing, stay in their homes, fight discrimination, and get needed repairs.

Create the strongest possible rent control laws at the local, state, and federal levels.

Massive investment in affordable housing, including immediate funding for government agencies such as HUD and Section 8 housing programs. This means building more public housing by sharing funds with state and local governments, not building more housing as an extension of the real estate market. This will require repealing the Faircloth Amendment at the Congressional level, which prohibited an increase in new public housing units, so that the burden is not on state and local governments to come up with their own funding mechanisms to create more affordable housing. In addition, tenants must have direct, democratic control over how buildings are run, enforcement of housing protections, and maintenance needs. Public and subsidized housing should be made available to all, including those who lack 'legal status' in the U.S.

Encourage local communities to use eminent domain to take possession of large housing blocks from landlords who violate rent control and other housing laws and who otherwise abusively exploit their tenants, or when rentals lack proper health and safety standards.

Call for a mandate to require all new housing, particularly federally subsidized projects, be built and maintained by union labor, with the opportunity for work and apprenticeships being offered first to the affected communities and to people of color and women.

Housing should cost no more than 10% of a household's income. HUD guidelines call for 30% of a renter's income, but many are paying closer to 50%, or even more. An immediate rollback of rents and mortgages to no more than 30% of income is needed, while continuing to struggle to bring it down to 10%.

And most importantly, demand a minimum guaranteed income for all families, enough to cover housing costs. We know what is possible because during COVID relief, the Child Tax Credit cut childhood poverty in half, and evictions were made illegal.

Tax the rich and corporations, beginning with a reversal of the Reagan–Bush–Trump tax giveaways for the rich, and institute a 50% cut in military spending, in order to fund social programs, including a massive affordable housing construction program.

Create laws directing mortgage-lending institutions to make it easier for low-income people and people of color to access low interest rate loans

Establish a publicly-owned infrastructure bank that would finance the building of public housing
Organize for a socialist USA where people's needs come before corporate profits. Socialist countries have solved their housing issues and so can we.
These housing demands represent the need for people to decide their own living and working conditions. In every type of housing — Section 8, HUD public housing, market rate apartments, co-operatives, condos, single family homes, and manufactured homes (so-called "mobile" homes) — we must make it possible for every person to afford a decent home. It is only through a unified fight, as one movement with the larger working-class and people's struggle, that the demands for real affordability and rollbacks of high rents will be possible.
HOUSING IS A HUMAN RIGHT!
Image: Tenants in NY demand a rent rollback, photo by Rent Justice Coalition (Facebook)
Comments