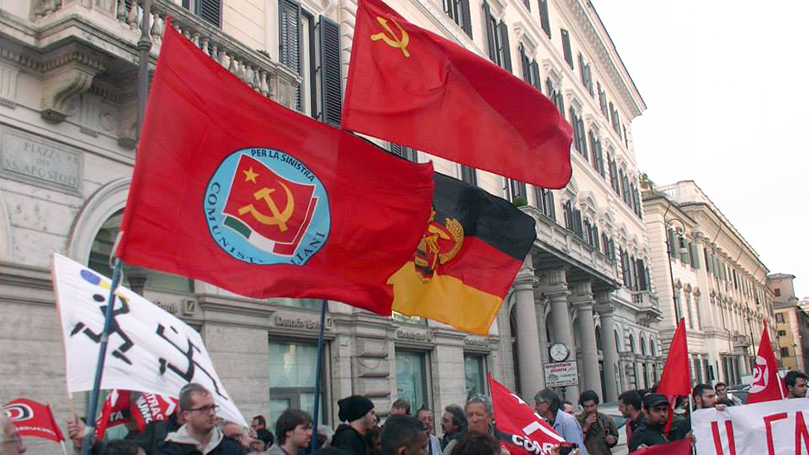 The Communist Party of Italy (Partito Comunista  d'Italia sees the disastrous collapse on August 14 of the Morandi Bridge in the city of Genoa, in which 43 people were killed and many injured, as being the product of privatization of Italy's strategic infrastructure.
Although a torrential rainstorm contributed to the incident, "the general cause is due to the privatization of strategic infrastructure" said the CP.  The Communist Party also raises the question of whether officials who were supposed to monitor the safety of the privatized structure did their job.  This privatization mania is carried out at the cost of "the danger and insecurity of all the people".
India: CP calls for massive aid for flood stricken Kerala
Comrade Sitaram Yechury, General Secretary of the Communist Party of India (Marxist) has asked the country's right-wing prime minister, Narendra Modi, to provide massive aid to the state of Kerala in the Southwest of the country, where massive monsoon flooding has led to hundreds of deaths.
The Communist leader thanked Modi for visiting the stricken region but said that the amount of money  the government is offering affected residents is "grossly inadequate in the light of the extensive damages reported".  The government is offering $70,000,000 (US) and Yechury says it should be at least four times that much.
Brazil:  Ana María Prestes Rabelo, runs for Congress
Ana María Prestes Rabelo, a leading figure in the Communist Party of Brazil (Partido Comunista do Brasil), a feminist and the granddaughter of the historic communist fighter Luis Carlos Prestes, has become a candidate for a seat in the Chamber of Deputies, the lower house of Brazil's Congress, in the October 7 general election.
Prestes, if elected in October, will represent the Federal District, the site of the country's capital, Brasilia.  She says her goal will be to work to reverse the right-wing policies imposed by the government of the current president, Michel Temer, who took power in a "fraudulent" constitutional coup against President Dilma Rousseff of the Workers' Party.  In particular, she will work to reverse a measure that Temer got passed which freezes investments in health and education for 20 years.
China, Vietnam hold talks
On Monday August 20, the Communist Party of China and the Communist Party of Vietnam held another of a series of talks they have been having on issues of mutual concern.  Wang Huning, a member of the Standing Committee of the Politburo of the Central Committee of the Communist Party of China met with Tran Quoc Vuong, a member of the Politburo of the Central Committee of the Communist Party of Vietnam, in Beijing.
Both leaders expressed satisfaction that the party to party talks are moving in a positive direction, and called for further exchanges and the implementation of positive actions.
Comments