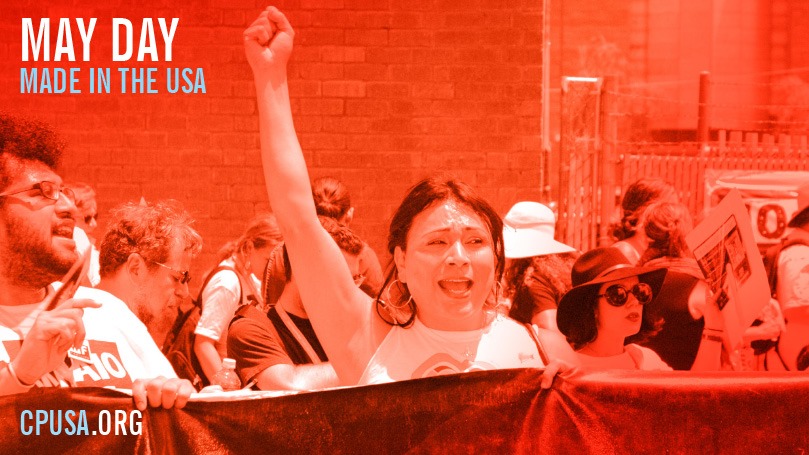 On May 1, workers of all nations celebrate what they have gained through struggle, and announce to the world that those struggles will continue until victory for working people is gained.
May Day has deep roots in our own country. May 1 was chosen as the International Workers' Day by the International Socialist Congress, meeting in Paris in 1889 to commemorate the Haymarket Affair, which took place in Chicago three years earlier, when workers demonstrating for an 8-hour day were brutally repressed.
Since then, May 1 has been celebrated as the International Workers' day in just about every country except the United States.  The atmosphere and repressive measures of the Cold War and McCarthyism in this country reduced the ranks of those who celebrated May 1 to a courageous few.
But now our May Day is back!  The many threads organizing and protest against the ruling class are coming together in unity, to protest against the ruling class in general, and especially against the aggressive anti-worker and anti people policies and actions of the government of President Donald Trump.
The return to May 1 took a big step forward with the massive immigrant workers' rights marches of the early 2000s.
This May 1, U.S. workers march in opposition to a growing right-wing extremist threat here and the world over.  They march in opposition to neoliberal policies of privatization, austerity and repression which threaten to destroy more than a century of advances gained by workers through hard struggle.  They march in New York, Seattle, Portland, Chicago, the Bay Area and many other places around the country. The rights of immigrants, so much the target of Trump's racist policies, continue to be a major focus of May 1 marches. The demands remain: jobs, union rights, women's equality,  equality for people of color and LGBTQ people, immigrants, for all people. Workers are demanding peace, a sustainable environment a Green New Deal, and Medicare for all.
Today the fight against Trump and the GOP's extremist agenda is central to defending the rights of all.
The Communist Party USA salutes the marchers and joins with them on these demands. Workers of the world, Unite! Hands off Venezuela!
Comments