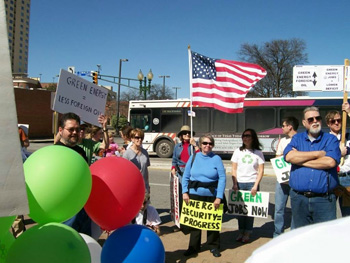 The climate change struggle, and related environmental struggles, have become more important over the last few years, and will become even more so as climate change exacerbates storms, forest fires, water stresses, fishery collapses, and other environmental problems. As we noted at our 30th Convention, we must become more involved in and connected with these struggles.
Scientists have warned that we are already feeling the effects of climate change, and this will only get worse as time goes on. Some of the impacts of climate change are local, others must be addressed on the national and international stages. Youth today are one group most concerned with the crises they will face as a result, and demand that any political program address climate change. They know that unless humanity makes a big turn in carbon dioxide emissions, things will get much worse.
People around the world, and right here in our country, increasingly feel the effects of climate change. Hundred-year storms and droughts now occur almost every year. The entire state of California is suffering from prolonged drought. Funds to fight fires are running out due to the increasing number and intensity of forest fires especially in the West. Sea levels are rising in many coastal communities, and beginning to affect drinking water supplies in some places. The struggles over these issues and other environmental issues, like fracking, will only grow.
This means that we have to pay more attention to these struggles, get connected now to local efforts, and join in national and international efforts to address climate change. As well, climate change and other environmental issues are already playing a bigger role in various electoral campaigns, so our political action program must continue to include environmental demands.
The September 21st People's Climate March in New York City is a way to meet and help others in our communities who are engaged in building this demonstration. In many areas, coalitions are working to send people to NYC, in others local actions in support of the People's Climate March are being built. We urge all clubs and members to contact local organizing efforts and offer help and participation. In many areas the Sierra Club is teaming up with activists from 350.org and other environmental groups to organize transportation.
Information on transportation can also be found here.
We are planning a Party/YCL contingent, so please join us there if you can, help make our presence in the movement more visible.
We can bring to this movement some needed connections and perspective. Our working class outlook, our engagement in many existing unions and worker's struggles, our fight in all areas for broad-based unity, will help the movement grow. Our knowledge that that broad-based unity requires an explicit struggle against racism is a necessary lesson for us to help the movement learn. We also have long experience of the importance of struggle, organization, and developing a program that speaks to the needs of millions.
This particular demonstration will set the tone for this struggle for many years to come. It will be the largest climate change demonstration in history. The organizers have made the choice to not have an explicit set of demands other than the demand that action be taken on climate change, in order to make possible the participation of many who have not yet been involved, including labor. Many unions, especially in the NYC area, have already endorsed the march and plan to participate. Climate change struggles can connect many local, national, and international movements, coalitions, and organizations of all kinds, and the size and militancy of this demonstration will enable the movement to grow in size, scope, and impact.
This movement is important, will become more important, we have key contributions to make to its growth, and we can fight for the multi-racial, multi-generational unity necessary to win victories. We acknowledge that this is a moment still in development, it is not as advanced in all regards as we would wish, but this is a reason to get more involved, not an excuse to stay on the sidelines.
Our members can participate by coming to New York and joining the Party/YCL contingent, by connecting to local efforts to send many people to the march, and by connecting to local efforts, particularly in the Midwest and West Coast to build local support actions. In the process of joining this struggle, we will make possible our greater participation in the future struggles to come.
Sign up to support the demonstrations at Peoples Climate March:
Join their Facebook page:
Let our national office know if you will be attending the March and participating in the Party contingent by writing to cpusa@cpusa.org.
Get information about many kinds of climate change struggles, including fossil fuel divestment struggles, at 350.org.
Sign up for the CPUSA Environment Action Facebook group.
New York activists expect massive September Climate March at UN.
Environmental news. roundup: massive People's Climate March at UN Sept. 21.
Comments