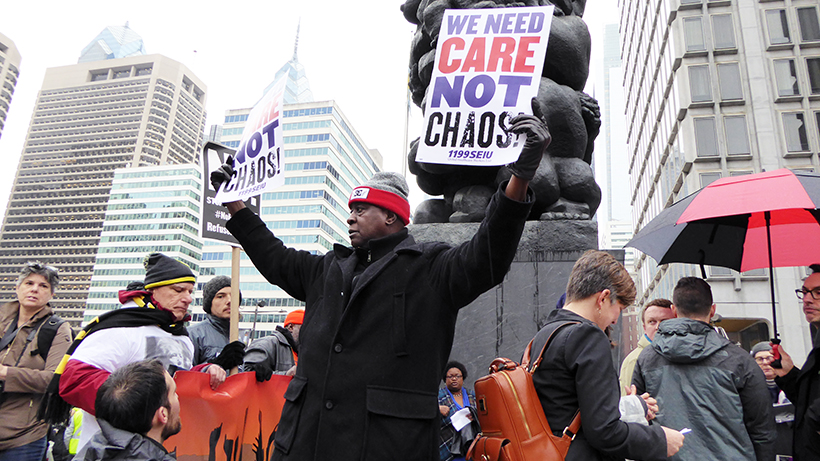 Introduction: This report to the National Board was made on the third day of Donald Trump's first week in office, prior to the Executive Orders on deportations and Sanctuary Cities funding, the Muslim ban and the wall.  Those outrageous orders gave rise to an uprising by thousands across the country in defense of the rights of cities and states to welcome immigrants, in defense of the rights of those from Middle Eastern countries to come to the United States, and in opposition to the wall.  The key to victory will be continued and unbreakable unity and solidarity. "No Hate!  No Fear!  Immigrants – African Americans – women – LGBTQ – unions are welcome here!"
The Martin Luther King, Jr. weekend leading up to Inauguration Day marked the beginning of the resistance to the extremist, reactionary Trump-Republican agenda.  MLK marches and events held around the country, including the national We Shall Not Be Moved rally in Washington, DC were geared to mobilizing protection and support for every civil rights and voting rights law now under attack.
On King's actual birthday, January 15, "Our First Stand – Save Health Care" rallies initiated by Bernie Sanders with the Democratic Congressional leadership around the country brought together elected officials, unions and advocacy groups. They warned of the millions of people whose lives are at stake, and set the tone for the first big fights on the floor of Congress to protect and expand the Affordable Care Act, Medicare, Medicaid,  andSocial Security.  In response to Trump's despicable attack on civil rights, icon Rep. John Lewis,  along with 70 members of Congress announced they would not attend the inauguration.
Inauguration Day itself was a grim.  Trump continuing to declare "America First" which really means "corporate profits first."  The removal of the Native American and many other websites and shutting down the White House comment line further set the tone on that first day.  In addition, on the first day a general order canceled regulations on insurance companies marking the start of undoing the Affordable Care Act.
Some protests were held locally and in the capitol by immigrant rights groups.  The Black Block smashed windows, probably infiltrated with provocateurs, and possibly to scare people from coming to the Women's March the next day.
The day ended with Trump sending out his press secretary out to dispute the media on how many people turned out for the inauguration as a way to undermine confidence and create so much mass confusion that only the white supremacist Breitbart News and Trump tweets would rule.
But on Saturday, January 21, 2017 in response to the inauguration of a woman hater, race baiter and union breaker, the sunshine broke out with an unprecedented national and international massive outpouring for the Women's March, the biggest in any single day in our nation's history, led by women, and composed by a majority of women.
The turnout was worldwide –  on every continent including Antarctica.  Washington D.C. and LA had 750,000 participants, NY 500,000, Chicago 250,000. Hundreds of cities and even tiny towns and villages turned out as well with an air of spontaneity, creativity,  love and strength with record numbers.  Everywhere the crowds were so dense it was hard to navigate.  Estevan Nembhard said that in New York it was diverse like in a subway car full of regular people.
At least one in every one hundred people in our country were in a march or rally on that day. Thousands upon thousands were moved to act for the first time.  Everywhere an atmosphere of caring and resolve, looking out for each other and readiness  to resist, calling to mind the atmosphere in Washington DC in 1963 for the March for Jobs and Freedom with Rev. Dr. Martin Luther King, Jr., and the mega marches for immigrant rights in 2006.
Official numbers are 4.5 million in the US, probably 5 million or more.  In Morris, Minnesota population 5,000, turnout was 300.  There were big turnouts in small Republican towns across the South including 1,000 in Smyrna Beach, Florida.
Everywhere that we marched with the Communist Party banners and handed out the People's World and the Handy Guide to Capitalism, Socialism and Democracy we were well received.  There were many great stories from Los Angeles, Tucson, Houston, Washington DC, New York, Philadelphia and Hartford. Of course we can learn to do more and better, including collecting contact information. Overall it was an important initiative and experience.
Speaking from Texas Alvaro said, "Houston loved our banner! The League of Women Voters was a main sponsor and their president was a speaker. I was just thinking that when the League of Women Voters and the Communist Party USA are marching together against Trump, something big has changed."
This development reinforces the fact that on specific issues it is possible to win overwhelming majority support including from those who voted for Trump or did not vote at all.  It validates our strategic approach to build the broadest possible people's front for democratic rights, and to build the Communist Party as part of that.
The March's unity principles interconnect women's rights with human rights with civil rights with union rights with immigrant rights with LGBTQ rights with environmental justice.  Many who took a step forward to organize had no experience and some fell short on inclusion, but going forward there is the basis to learn about how to fight racism, build unity and move forward for equality.
The Women's March was designed not as an endpoint but as day one of the ongoing resistance.  As Angela Davis so powerfully put it: "The next 1,459 days of the Trump administration will be 1,459 days of resistance: Resistance on the ground, resistance in the classrooms, resistance on the job, resistance in our art and in our music."
The potential power is enormous, although many who are part of it may not realize that. Larry Rubin's story "Birthing a Fightback" in the People's World captures the impact of the day on those who participated: feeling alone before the march, feeling empowered while participating in the march, and ready to pledge to be active after the march.
But it has to be organized: which brings us to the point of assessing how this unprecedented, spontaneous upsurge can be consolidated for all the days to come under the Trump administration, to cement unity and solidarity, to raise sights and win victories wherever possible.
Over 500 organizations including the  Communist Party, the AFL CIO and every major union, the NAACP and scores of African American and civil rights, immigrant rights, environmental justice, Latino, Muslim,  and Asian groups are official partners alongside Planned Parenthood and hundreds of women's organizations.
The core forces for social change joined together for this post-inauguration protest along with a wide cross section of the people at all levels.
The labor movement and other organizations have a vital leadership role going forward, as does the Communist Party, to help develop the structure and grounding that can sustain the resistance.  The AFL-CIO is taking an on-line survey of labor bodies to determine how much and what kind of participation their members played on January 21.  We should help foster labor's leadership wherever we are in a position to do so.
At the Political Action Commission ideas were raised about International Women's Day and May Day being good next opportunities to coalesce the immigrant community with labor and women and others for marches and actions.
Since January 21 the resistance is rising:
The Women's March announced 10 actions in 100 days, the first being a postcard campaign to members of Congress about "why I marched."
Planned Parenthood held an on-line training of 2,000 after the march to roll out their action guide and to prepare for the legislative attacks on their funding and on health care.
MoveOn, Working Families, People's Action and Indivisible held an emergency conference call of 60,000 after the march. Nationally coordinated local actions at the offices of members of Congress and elected officials are called for every Tuesday going forward (#ResistTrumpTuesdays).  The emphasis is organizing constituents from the bottom up. New groups are forming of those never involved before in red states and blue states across the country, utilizing an inside-outside strategy in collaboration with the opposition inside Congress.
Working Families and Our Revolution are holding community meetings across the country to map out local organizing on immediate issues of concern with the outlook of developing candidates from the resistance movement for local office.
Resistance includes cities and states.  Immigrant rights groups and their allies are in the streets. California Gov. Jerry Brown pledged to defend every man woman and child against deportations, and to join with other states and countries to take action to stem climate change. Other local governments are considering similar approaches including sanctuary states, cities, schools and campuses.
At the same time since January 21, Trump has launched a frontal attack on democracy.  The president:
Renewed the prohibition on foreign non-profits from promoting or performing abortions if they receive federal funds;
Moved forward on the Dakota Access Pipeline, in an attempt to peel off building trades unions and create divisions between unions and environmental groups and Native people despite the massive opposition led by the Standing Rock Sioux and the ruling by the Army Corps of Engineers;
Instituted a freeze on federal hiring in contempt of public workers:
Withdrew from the TPP and tried to peel off sections of labor. (However, Richard Trumka quickly asserted TPP was already killed by unions and environment groups before Trump took office.)
Coordinated with Republicans in Congress for hearings on his bigoted billionaire military cabinet nominees. (Strong opposition from constituents directed at their Senators has forced postponement on DeVos (Education), sit-ins on Sessions (Attorney General), civil disobedience against Pruitt (EPA) and outcries against Pudzer (Labor).)
Trump issue special orders targeting immigration by Muslims and immigrant communities  and for building the wall.  [Update: Trump's special orders gave way to massive protests in communities and at airports across the country as well as legal action questioning their constitutionality and a focus on expanding Sanctuary Cities.]
Trump and the Republicans are moving fast to get as much in place as they can before Trump addresses a joint session of Congress on February 28.  We should be prepared to voice our response.
The outpouring of resistance expressed through the gigantic Women's March shows new opportunities and new responsibilities.  There is a union saying that "the boss is the best organizer," because sooner or later the boss is going to prove that he's not a friend and workers will see they can't stand up alone.
In the face of the Trump-Republican onslaught each movement needs every other movement to stand together in solidarity when anyone is hit. Withstanding hate and division, and building bigger and bigger unity and solidarity is a necessity.
In this historic and challenging moment how do we harness all our resources in a collective and targeted way to build the resistance movement and to build the Communist Party?
Working on this report gave me a few ideas and questions offered here for consideration:
 Be Bold.  Make the participation and message of the Communist Party USA known as part of our contribution to building unity and solidarity against every attack on democratic rights and human needs.  The response we received at the Women's March showed that the broad movement welcomes us. Our working-class analysis of the extremist right-wing and the capitalist system, and our strategy and tactics for a broad, united democratic front are needed and appreciated.
Preparations should begin now for our national participation on April 29 — the People's Climate Mobilization.
How can we help our state organizations and clubs participate fully with local union and community allies in the resistance to the Trump-Republican agenda, and to make themselves known?
How can we expand our collective approach to the labor movement as key in the resistance in every part of the country, and as critical to fight for unity and solidarity?  What experiences with youth organizing around the country?
Build our Base at the Grass Roots.  All organizations are examining how to connect more closely at the community and neighborhood level.  MoveOn, Working Families, Indivisible are among those creating resources for  local organizing.  How can we help our members get involved with these new efforts, especially in unorganized areas?  How can we help our members and clubs connect to local rapid response networks whenever any section of the people or movement comes under attack?
How can we help consolidate the spontaneous uprising into a lasting movement?  In every community people are wondering what they can do about the hate and fear and how they can become involved in their neighborhood.  How can we gear our resources to building and establishing Communist Party clubs that have the capacity to develop relations and strategy and tactics within their own community or election district?  How can we better utilize the People's World as a tool with stories about local experiences that can contribute to the advance of that struggle? How can we look out for each other and make sure we take care of ourselves and our club members so no one becomes discouraged?
Expand our Media.
The People's World is critical as a vehicle of the resistance for the Communist Party and for the broader movement.  It is based on reality not "alternative facts."  It speaks from a working-class perspective and offers a bigger vision.  It can uncover the truth about the Trump-Republican takeover and what it means for the world. Coverage can be geared to the needs of the battle at the moment.  How can we expand the circulation exponentially?
Cpusa.org is an important vehicle to introduce the Communist Party to new people on-line, as well as to provide the resources and examples needed for local organizing by clubs and states.  We should continue to develop our social media strategy and approach including the use of texts for rapid response and events.
Sharpen our Understanding.  We are experiencing big new political developments that need deeper analysis. The Winter Marxist Series has been a wonderful contribution and the Strategy and Tactics discussion weekend is coming up.  How can the discussions become part of the thinking of the National Board and National Committee for consideration in policy making?
The Political Action Commission has developed a plan of work for 2017.  The Commission will do its best to assist the entire Party to keep abreast of issues, dates, actions and key votes in Congress as well as the development of the resistance movement.  We are paying attention to the 2017 and 2018 elections and the struggle for voting rights as Trump prepares for wholesale voter suppression.
It is an understatement to say that this is a hugely challenging time when we must be at our best for the future of our class, of humanity and the planet.  The extraordinary outpouring for the Women's March affirms that the possibilities to build a broad, democratic movement are bursting forth and they are urgent.  We have an important contribution to make. We need to be part of the resistance and grow. There is no time to lose.
Comments