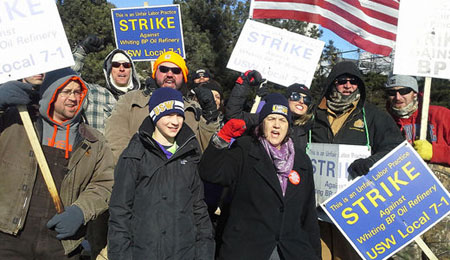 The Labor Commission of the Communist Party, U.S.A., we call on all our members, allies and fellow activists to support the USW oil workers in their struggle for a fair contract and safe working conditions.
The attack on USW oil workers is on the cutting edge of the right-wing corporate anti-union attack on labor and the people's movements.
Oil industry managers are refusing to address issues of safety that include daily fires, leaks, emissions, and explosions; the dangerous reliance on outside, under-skilled contractors; understaffing, extreme workload and excessive overtime; and inhumane and unsafe scheduling practices.
These oil workers are also on the frontlines of keeping our communities safe from environmental disasters and are essential in maintaining safe and healthy living conditions in the communities in which they work.
Please go to the links below to sign the petition in support of the USW oil workers and to make a donation to their strike fund. Also, see peopleworld.org coverage of the strike for more detailed information on the issue.
Peoples World coverage:
Union not surprised by flare-up at Whiting, Ind. BP plant
Safety tops strike demands for oil workers at BP refinery
Ohioans brave severe cold to back oil strikers
Photo: Teresa Albano/PW
Comments