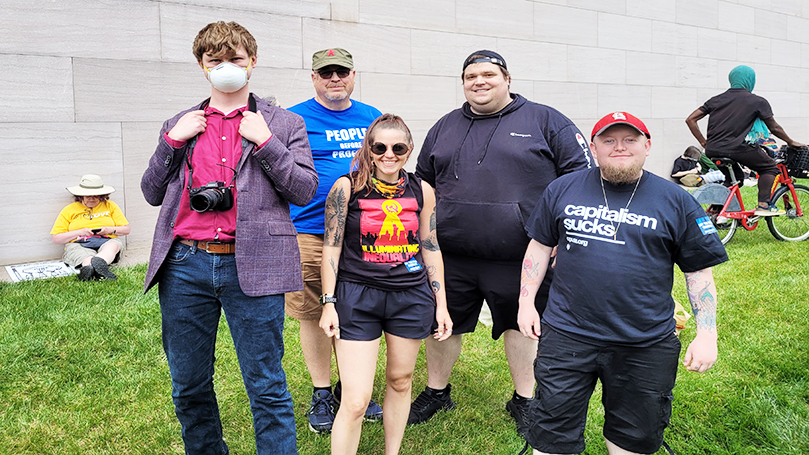 The Central Pennsylvania Club of the Communist Party USA was formed in February. During its first six months, we've been racking up a series of small, but meaningful achievements. We had donated book bags and school supplies to needy families in York, raised money for the Lancaster Bail Fund, and attended protests and gatherings both big and small for workers' rights and for abortion access. In September the Central PA Club was in the planning stages of holding a clothing drive, but a message in the club's group chat forced us to rapidly switch gears.
One of our club members, Jenna, attends a trauma support group. On Tuesday, Sept. 21, she messaged the club: in two weeks, another woman in the support group was about to be evicted, along with her husband and six kids. Immediately, we set out to raise the money needed to keep her in her home, but it was a daunting task. The Central PA Club had run fundraisers before, but the largest had been in the vicinity of $550. Up to this point our cumulative victories were modest, as we were learning to organize for the first time. With only six months of experience, we were now voluntarily taking responsibility for a family's housing emergency. Regardless of how well we had done in the past, we were suddenly forced to find our feet and hit the ground running if we were going to help the family.
Initially, important facts were a mystery because details like names and contact information were not supposed to leave the support group. However, our comrade Jenna was able to relay some of the information since she was in the group. We found out how much the woman owed in back rent and fees and how much she had on hand. We also learned that her electricity was at risk of being shut off. Unfortunately, not all the information we received was to the dollar accurate, so where we had to estimate how much we needed to raise we chose to lean toward the greater number. Most importantly, we learned that we had hardly any time at all to raise the money. All of this was due in two weeks, and we knew from previous experience that GoFundMe would take at least four days to transfer the money, moving our real deadline to that following Thursday. We decided that everything we had planned had to be dropped.
We leapt into action. Raising the money needed in such a short amount of time required a combined effort, so we tapped every platform, resource, and contact we could think of. We sent fundraising emails to the club, reached out to neighbors, contacted other organizations, blasted the fundraiser on social media, and distributed flyers to homes and places of worship.
Our original message read, "A member of our community is facing eviction because of some greedy landlord who has no empathy and is fine with putting a mother and her multiple children on the streets right before winter." Every few hours, we sent variations of this message on social media. Donations began coming in, and we slowly counted down the amount of money needed. As we fundraised, we made sure to keep the family updated on our progress.
Our hard work and determination paid off. In three days, we raised enough money to save the family's home and pay for the electricity. We also heard that she managed to get her life back on track and received two job offers. I've never met or spoken with this person, but when I saw that our contact had quoted her saying "Are you telling me we actually get to stay in our house?!" I could practically hear her voice. Later we posted her statement on GoFundMe:
I wanna thank everyone who helped raise this money for me and my family to avoid eviction. It means a lot to us that you worked around the clock to help raise the money so me and my family have a place to lay our heads at night. I cried the whole time thanking the lord for this blessing you gave my family words cannot express how grateful we are or how happy we are that we get to stay in our home.
Thank each and every one of you who donated and helped fundraise. Thank you for this blessing and God bless.
As proud as we were of our achievement, we were also very aware that this was not an isolated incident. Evictions are frequent, and one of our own club members revealed after the fundraiser that they too were on the verge of having their power shut off. Another club member was working overtime and double shifts just to afford his honeymoon.
We learned later that the woman's landlord was not even a person, but a company. One like many that have been buying up homes and housing units at high prices, driving up the cost of housing, and then price-gouging on rent. With 71% of Americans saying their wages are not keeping up with the cost of living, it's no wonder that housing is out of reach for many Americans. The cost of living has ballooned far out of reason, and many of us do not receive an adequate day's pay for the work we perform. As businesses expect us to work longer hours for less pay, these faceless corporations have no empathy as they cast families onto the street or force us to live like rats without basic needs of modern society like electricity.
Between our fundraiser for the family and our planned aid to the homeless shelter, our concern and empathy for those with unstable housing arose from our collective belief that housing is a human right. We may have been able to keep this family homed, but there clearly needs to be a systemic solution to the housing crisis, one created by a system that is aggressively anti-humane. A home and a living wage need to be enshrined as a human right if we wish to end these barbaric consequences.
Image: In D.C. for the Poor People's March on Washington, June 18, 2022. Source: Central Pennsylvania Club.
Comments