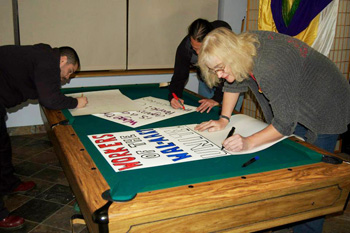 The month of August was a busy one and this one looks no different.  With John Bachtell, who was District Organizer for Illinois , now the National Chairman of the Party, adjustments in collectives and personal are being made. A three day training of district leaders was held from August 25th through August 27th. The training showed how party collectives work, how policy is developed and how the internet and the use of social media expands the reach of the Party.
We just completed a district wide electoral meeting, all the information we have so far on voter registration campaigns and get out the vote strategies by labor and mass organizations was shared. Our aim is to encourage every comrade to participate with their union or a mass organization to win a large turnout in the November mid-term election.
We are committed to deepening our support for the Walmart Workers, we have completed the first of two trainings. We will adopt a Walmart store and help the workers win a living wage. We also decided to work through the Worker Education Society to establish a workers center at the Unity Center where our meetings are held.
Last but not lest we enjoyed a White Sox victory over Texas, and raised a little money too.
Comments