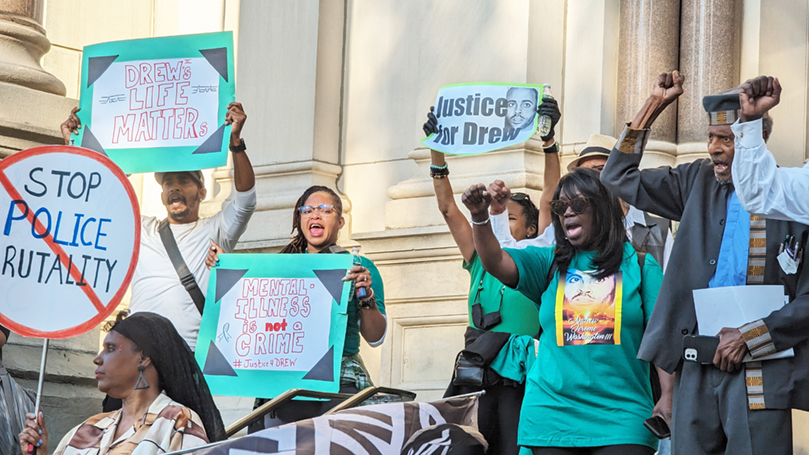 On Sunday, August 27, Andrew Jerome Washington III was murdered by the Jersey City Police Department.
As Washington was going through a mental health crisis, his family called Jersey City Medical Center's intervention hotline for help. Shortly afterward, however, a SWAT team swarmed the block instead, and no mental health professionals arrived on the scene. The family pleaded with police to let them talk with Andrew Washington, and not to enter the building with weapons, but eight officers entered the home anyway, heavily armed with rifles and full body shields.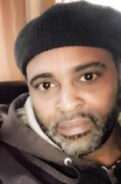 Shortly afterward, Officer Felix DeJesus tased him, and Officer Stephen Gigante shot him twice. Andrew Washginton was carried out motionless on a stretcher, and he died soon afterward. But the family was not notified until hours later that he had been killed.
The next day, without waiting for an investigation, Jersey City Mayor Steven Fulop held a press conference with police stating, "the use of force was justified … and in line with police department training." But why would police ever have to kill a person needing mental health services?
Almost a year and a half ago, Jersey City passed a resolution to establish a crisis intervention program — similar to the statewide Arrive Together program — that would pair mental health professionals with police in situations like Andrew Washington's. But the plan was never implemented.
When the city sought contracts with private vendors for this program, the Jersey City Medical Center asked for a $4 million contract, three times what the city planned to spend.
The Mayor has said the city cannot afford to opt into New Jersey's Arrive Together initiative. However, Jersey City poured $107 million into the police department last year, which was the most expensive item in the budget. Some of that $107 million could have gone toward the crisis response program, which likely would have saved Andrew Washington's life.
Various community organizations, church congregations, and local clergy have stood with the family in pushing forward their demands for a full investigation by the Attorney General, release of the full body cam footage and details of who made the call to enter the home, immediate implementation of the crisis intervention program, an apology from the Mayor to the family and community, and just compensation.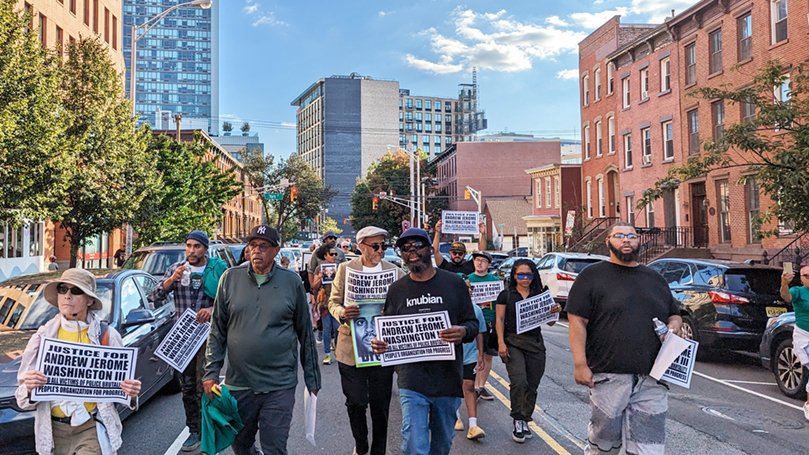 After many collective actions — including community vigils, showing up to local police captain meetings, marching through the city from Andrew Washington's home to the steps of city hall, and speaking out at city council meetings — the Attorney General finally released some of the body cam footage. After reviewing it, Councilmember Frank Gilmore called on Department of Public Safety Director James Shea to resign, and the family is demanding the rest of the footage be released, which would show how they had urged police not to enter the home.
The Hudson–Bergen club of the Communist Party USA fully supports these demands, and calls on everyone in our area to help win them. We also urge everyone to sign the petition from Andrew Washington's sister demanding accountability.
The Hudson–Bergen CPUSA also supports struggles taking place for community control of police. When power over the police is in the hands of the community, full accountability can take place, including immediately firing police who murder people, and bringing criminal charges against them.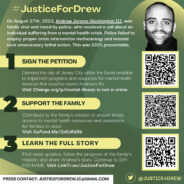 When mass unity is built, struggles for community control can win big victories. In Chicago, major steps are being taken in this direction following a ten-year grassroots struggle that brought together many community groups and labor unions. This led to the creation of a Community Commission for Public Safety and Accountability (CCPS), the first ever police District Council elections, the elimination of the racist and repressive gang database, and the election of Mayor Brandon Johnson, who is supporting these measures.
The fight in Newark, New Jersey and around the state for Civilian Complaint Review Boards (CCRBs) also moves in this direction and needs mass support. So far, a bill that would allow municipalities to establish CCRBs has been sponsored by 11 NJ State Assembly members and three State Senators. Many more elected officials, including Governor Murphy, need to be called on to support these bills and push them forward. Meanwhile, council members in Jersey City and across the state need to issue resolutions calling for its passage, and begin preparing their own vote-ready ordinances.
Images: Family of Andrew Washington protests on the steps of the Jersey City municipal building (Hudson–Bergen CPUSA); Andrew Jerome Washington III by Lisa Mendez (Facebook); people march through Jersey City demanding justice (Hudson–Bergen CPUSA); Justice4Drew action items by Justice4Drew (Twitter)
Comments