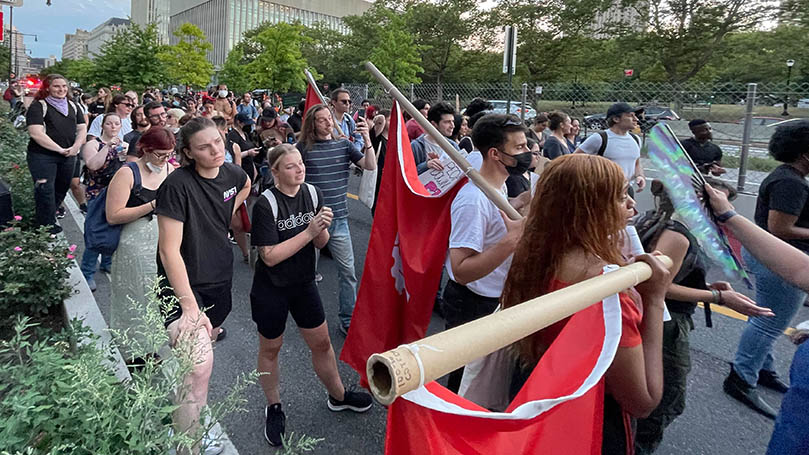 Members of the New York Young Communist League and Communist Party marched with over a hundred strong on the evening of July 6, in protest of the recent police execution in Akron, Ohio, of 25-year-old Jayland Walker. Police  gunned him down in a flurry of 90 bullets, 60 of which entered his body, cutting short yet another young Black man's life.
Jayland, remembered as "one of the sweetest kids" by his high school wrestling coach, had recently lost his fiancée in a car accident and was working as a Doordash driver when he was pulled over by police for unspecified traffic and equipment violations. Following the stop, Walker, unarmed, fled the scene, at which point he was shot 60 times. Police continued shooting even after he fell to the ground, then handcuffed his lifeless body before administering medical aid.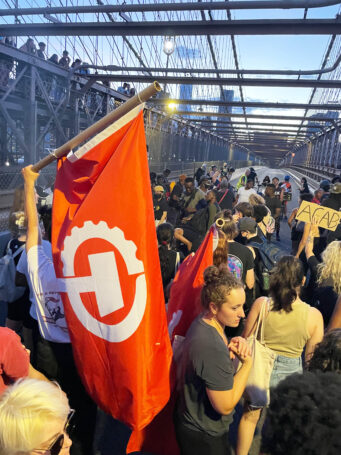 This horrific tragedy has set off a wave of protests across the country that continue the ongoing struggle against the indiscriminate use of force applied disproportionately to non-white men by law enforcement. Since the sustained mobilizations during the summer of 2020, police continue to resort to violence against perceived threats and have largely escaped accountability. Despite minor reforms here and there, the police throughout the country have been further equipped with deadly weapons, with the Biden administration, shamefully, directing states to funnel excess stimulus funds to the police. Amounting to over $10 billion, this money could be used for expanding medical services and public health initiatives, keeping people housed, or properly funding education, but instead is landing in the pockets of some of the greatest abusers of the public. And those abusers especially target poor and Black young workers like Jayland, who has been taken away from his friends and loved ones.
Members of the anti-racist, police abolitionist group Riders for Black Lives led the protest and march, which began at Barclay's Center and wound through downtown Brooklyn before taking over the Brooklyn Bridge, halting traffic into Manhattan. CPUSA and YCL members formed a strong contingent within the march, alongside members of Riders for Black Lives and local community mutual aid and racial justice organizations such as Parents Supporting Parents and Uptown Revolutionaries, among others.
Organizers called for solidarity with all victims of police violence but reminded us that, hidden behind the main headlines, people are being killed every day, many here in New York City, that no one hears about.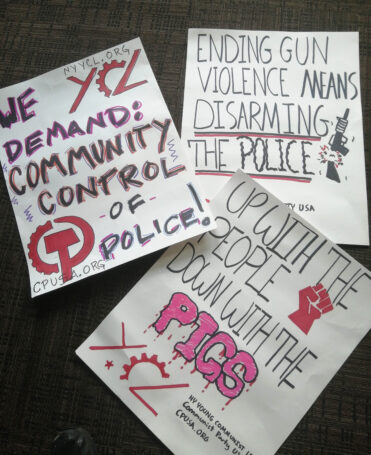 While demanding defunding and eventual abolition of white supremacist law enforcement, calls for reforms in that direction were also put forward, such as community control of the police and blocking police officers from being assigned to patrol neighborhoods where they do not live. Although these reforms fall short of defunding and abolition, they represent steps toward greater public control over how the armed enforcers of "law and order" can operate. Pressuring lawmakers to enact these reforms is just one part of a greater struggle to transform U.S. society, which since its inception has systematically denied equal rights and privileges to certain groups within it. Tanesha Grant of Parents Supporting Parents emphasized that only people united in struggle can change the conditions within which we live. This starts with taking a stand within the immediate communities we are part of.
"Only we can save us!" was the central refrain and call to action, one which the CPUSA and YCL endorse entirely. Justice for Jayland Walker!
Watch video of the march here.
Images: NYC CPUSA and YCL.
Comments