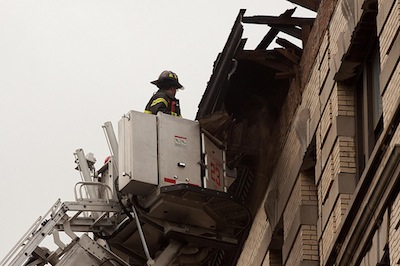 The following statement was adopted at the CPUSA's Nov. 18 National Committee meeting.
Hurricane Sandy left in its wake massive devastation and difficult questions – large and small – that have yet to be answered. From "When will we finally get electricity or heat?" or "Why are so many public housing residents still trapped in their apartments?" to "Where will the money come from to rebuild," "Why is our power system so messed up?" and "What are we going to do about climate change?"
The super storm destroyed whole communities in New York and New Jersey. Pennsylvania, Connecticut, Maryland, Delaware, Virginia, West Virginia and North Carolina were also hit hard. To date 131 people lost their lives from the storm, on top of 69 deaths in the Caribbean and one in Canada. Thousands lost homes, businesses and livelihoods. The Communist Party USA extends its condolences to the families of all victims.
Amid the devastation and questions wrought by Sandy are incredible stories of heroism and generosity, courage and solidarity. Public workers, hospital and nursing home employees and first responders – many who worked as Sandy hit – did their jobs while the storm wreaked havoc on their homes and families. Neighbors who had electricity offering charging stations for power-starved cell phones to volunteers who help give out blankets, food and water. Utility workers, FEMA and Red Cross employees who are trying to get the help to people in need. All should be recognized for bringing out the best in most difficult of days.
Only one week after the storm came the critical presidential elections. During Sandy, it became apparent to millions that the federal government can play a vital role in helping people survive and recover from such destruction. Millions rightfully worried that the Republicans' program of slashing agencies like FEMA (or "turning them over to states") was too extreme.
Two weeks since the storm some are still without heat and electricity. The racial and class inequality that existed before the storm is at work in the aftermath of the storm. The residents of New York City public housing were forced to wait days longer than surrounding homes to get their heat and electricity – or even get the water drained from the buildings. Residents were forced to live in unacceptable – and often dangerous – conditions.
The impact of the storm hit lower income, seniors and people of color harder. It also exposed the inequality that existed before the storm. For example, public housing budgets have been starved of funding, leaving little or no money for capital improvements and modernization.
It is outrageous that power companies in New York and New Jersey, like Long Island Power Authority and Con Edison, did such a poor job of responding because they were trying to save money. There is an investigation of LIPA, whose board has been packed over the years with political hacks. All the promises the companies made as to when power (and heat) would be turned on proved wrong, and predictably so. LIPA did not seek additional workers from outside the state, including from Canada, until a couple weeks after the storm when 50 percent of the outages still existed. It was a similar situation in New Jersey. Why? In a word, money. Con Ed had just finished a big struggle with its union, and the company has cut the workforce in half since the last contract. Where is the oversight? It was obvious even before the storm that these power companies would not do what was needed to protect masses of working people from unnecessary pain and suffering.
Much has been said about rebuilding, but not much about rebuilding in smart and sustainable ways that will address the bigger issues of inequality, poverty and climate change. Building a smart power grid that is truly public would create jobs and invest wisely in the future. The people most affected have to be involved in the rebuilding process, especially younger people and students. There are millions of un- and under-employed people on the East Coast who can be part of the solutions. Out of this tragedy a movement for public works jobs can gain new life, joining with those already in motion coming out of the battle to re-elect the president and pressing on to end the Bush tax cuts for the wealthiest 2% in America. The building of such a movement would go a long way to rebuilding lives and answering the tough questions.
Photo: Hurricane Sandy caused minor damage in West Harlem to this building where a FDNY firefighter stripped away debris. (CC/Dave Bledsoe)
Comments