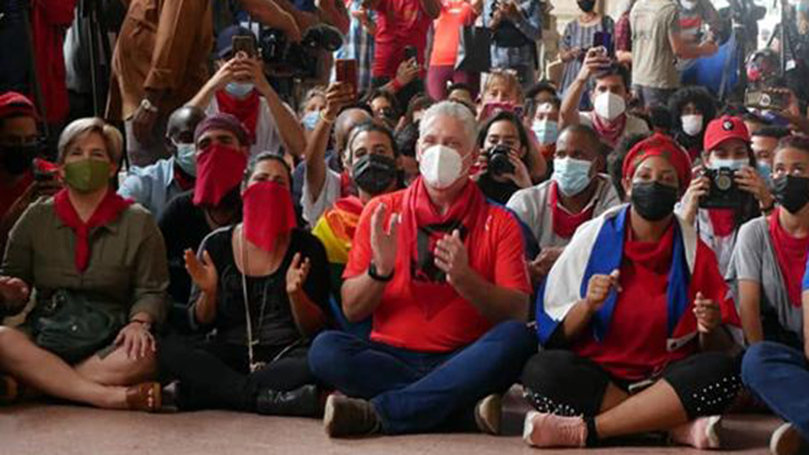 For months, opponents of Cuba's socialist government have been calling for protests on Nov. 15th. Archipelago, the largely internet-confined Cuban activist-led "initiative" organizing what they called a "Civic March for Change" or "N15" protests, promised to flood the streets of Cuba demanding political liberty—and regime change.
These calls quickly found amplifiers in the United States. The Cuban-American right, coupled with a host of sympathetic members of Congress—like Florida Sen. Marco Rubio—sought to utilize the planned disruption to mobilize anti-Cuba sentiment.
The hope was that N15 would see demonstrations even bigger than those which took place on July 11th this year. This summer's marches were some of the largest protests on the island in decades and were largely in response to a pandemic-wrought economic slump and concomitant medical shortages.
Political pundits and hopeful U.S. politicians saw in the protests an opportunity to foment more potential unrest. Lawmakers in Washington quickly responded with threats of further sanctions and re-energized funding—to the tune of millions of dollars—for Cuba-critical news outlets and organizations like the "Foundation for Human Rights in Cuba" and the "Victims of Communism Memorial Foundation."
The actions, of course, prompted Cuban government officials to criticize the U.S. for deliberately instigating turmoil in their country. "In no way will we allow the permanent aggression of the United States," said Cuban Foreign Minister Bruno Rodriguez, "to generate conditions of internal subversion."
Plans for the "N15" protests were rebuked by Cuba and treated as an attempt by a foreign nation to foment unrest. The response from the U.S. was uncompromising: "The Cuban regime clearly demonstrates that it is unwilling to honor or uphold the human rights and fundamental freedom of Cubans," declared State Department spokesperson Ned Price in an official press statement issued Oct. 16.
Political pundits predicted a mass political eruption would break out in Cuba, and U.S. government officials remained hopeful.
The morning of November 15th, however, found Cuba's streets empty of anti-government protesters. As the day went on, the situation didn't change, and pro-dissident media outlets quickly began spinning the failure to mobilize as a product of Cuban governmental suppression. But the reality is that, unlike the July 11th demonstrations, which gathered some popular support, the "N15" protests were totally political in nature.
Whereas the July 11 protests were produced by genuine complaints about shortages, this time the subversive online group Archipelago demanded the Cuban people take the next step and choose between Cuban socialism and U.S.-style capitalism. The result was a stunning consensus for the former: Not only was there no mass street action against the Cuban government, but the streets were actually filled with pro-government counter-protesters, who donned red shirts in support of socialism and shouted down the few dissidents who did show up.
Since July, Cuba has effectively implemented a mass vaccination campaign and has been tackling some of the worst effects of the country's economic downturn. As it turned out, not many people wanted to overthrow the government they saw working hard to improve their situation.
Nevertheless, the anti-Cuba right in the U.S. held to their promise, underscoring their support for regime change with protests in major U.S. cities. Cars in Miami's famously conservative "Little Havana" waved banners bearing the words "SOSCuba" and "Patria y Vida." In New York City, in a clear attempt at intimidation, a small contingent rallied in front of the Cuban consulate. Across from them was a coalition counter-protest expressing solidarity with the Cuban people.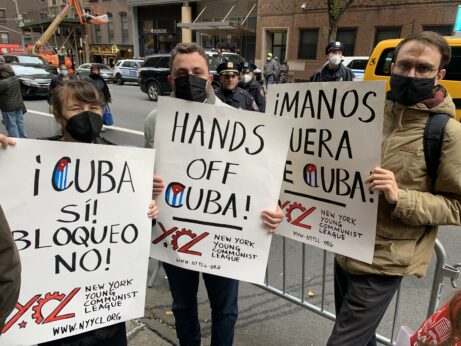 Chants of "Cuba sí, bloqueo no!" and "El pueblo unido jamás será vencido!" clashed against shouts of "Libertad!" and jeering swears from the right. Demands for regime change struggled against demands for international solidarity and an end to the inhumane, decades-long sanctioning of Cuba.
While Cuba remained calm, the sidewalk on Manhattan's Lexington Avenue became an ideological battlefield. The counter-protesters, from all walks of life, of different races, genders, and ages, represented in miniature the broad diversity of the multi-racial U.S. working class, and showed that the fight for international solidarity was a unifying one.
Val Abello, a New York Young Communist League spokesperson, called for Biden to fulfill his campaign promise to re-engage in diplomatic relations with Cuba and demanded that Congress reject what he called "the imperialist Resolution 760," the statement encouraging anti-government protests in Cuba. Abello demanded that the Biden administration "cease its support—both financial and political—for Cuban dissidents," and stop treating the sovereignty of other nations as disposable.
In stark contrast to the undemocratic and warmongering calls for intervention emanating from Washington, the counter-protesters in New York upheld the values of internationalism and respect for sovereignty, demanding that the U.S. government stop interfering in Cuba's internal affairs and end its illegal blockade.
Published at People's World, Nov. 17, 2021.
Images:  Cuban president Díaz-Canel joins the Red Bandana collective at a sit-in to protest U.S. interference in Cuba (Granma); YCLers rally in front of the Cuban embassy in New York (Maicol David Lynch).
Comments