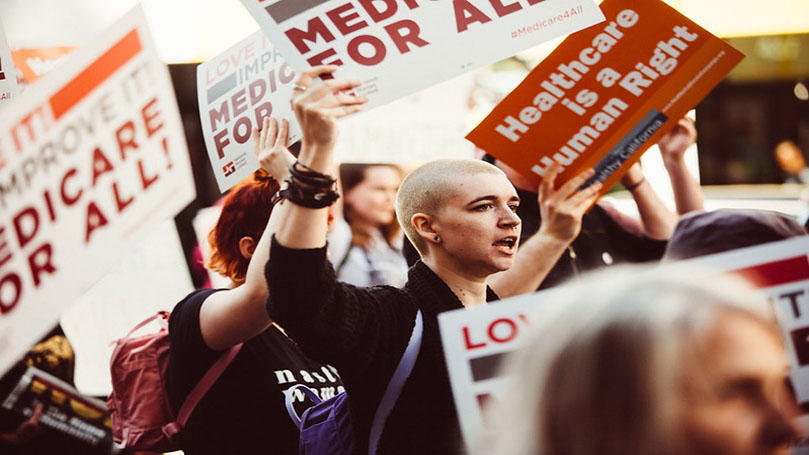 Progressive activists in Maine and elsewhere may pay attention more to local political issues than national or international ones. But certain aspects are common to each venue and, being recognized as such, may determine forms of political struggle, even at the local level. Broadening our horizons and looking at how other countries are bettering people's lives can inform our struggles at home. The struggle for universal health care is one example.
In this struggle, the elephant in the room is capitalism.
Health care in Maine operates under its spell, resulting in dismal health outcomes. The most recent five-year average annual infant mortality rate (IMR) for the three counties with the least favorable rates was 7.9 infant deaths. (The IMR is the number of first-year infant deaths out of 1,000 births.) The average rate for the three highest achieving counties was 3.8 infant deaths. Evidently, 4.1 Maine babies out of 1,000 die unnecessarily.
Presently, 200,000 Maine families don't seek medical treatment or fill prescriptions, because they can't pay. In 2019 10.2% of non-elderly Mainers had no health insurance.
These health care deficiencies co-exist with a plethora of resources. The business of health care accounts for 25% of Maine's economy. Money ends up in places other than care-giving activities. The Maine Health complex of hospitals has eight employees whose annual salaries each exceed $1.2 million; five are executives, two are neurosurgeons, and one is a general surgeon.
A combination of lots of money and spotty care is hardly unique to Maine. From 2000 to 2018, 35 U.S. pharmaceutical companies together scored $8.6 trillion in profits. The U.S. health sector since 2015 has spent more than $500 million annually on lobbying Washington officials. As of 2019, health care marketing was consuming $30 billion annually; drug advertising cost $6 billion.
For fairness and for health, in Maine and beyond, the commercialized version of health care has to go. That fight is both national and local. We need a national program of high-quality, universally accessible health care.
The environmental crisis, the COVID-19 pandemic, and U.S. war making are gigantic problems, global in their impact and dangerously close to home. But the odds of addressing these issues head-on aren't great. That's because almost everywhere the political defenders of capitalism are in charge of our future.
Analyst Lawrence Shoup showed recently that emissaries of the rich and powerful dominate in the Biden administration, especially in regard to military strategizing and foreign affairs. Shoup points out that of the 30 top-level appointees, 13 have ties with corporations, 19 are associated with capitalist-oriented think tanks, and of these, 17 belong to, or are connected with, the Council of Foreign Relations. The CFR, he states, is "the world's most powerful private organization [and] the central think tank of U.S. monopoly-finance capital." And so, "25 members of [Biden's] team of 30 have a close connection to the billionaire plutocratic class."
This is grim news. The United States threatens war against Russia and China. Russia's capabilities for conventional war are no match for those of the United States. Therefore, Russia's nuclear arsenal becomes its last line of defense. China and the United States are roughly equal in their economic, political, and military resources, and, again, nuclear capabilities could be decisive.
These deciders see advantages to fueling a war machine: big industries gain big contracts, the neoliberal world order is defended, and the domestic political opposition is cast as obstructing national defense. The effect is to muffle voices calling for control of nuclear weapons, for lives to be saved, for having resources shifted from war and weapons to programs serving the common good, like health care.
Knowing about capitalist continuities — from the industrial revolution on; from rural to urban to worldwide — fortifies our struggle. Heightened awareness enhances local resistance movements.
For example, Chile's Recoleta municipality, population 162,000, part of Santiago, has achieved much. Citizens led by Mayor Daniel Jadue have expanded health care, provided free education evenings and weekends for all ages, built new libraries, established low-cost rental housing, developed nonprofit, low-cost pharmacies, and offered free optical and dental services.
Long-time Communist activist Jadue is a presidential candidate in an upcoming election and is polling well. The Recoleta experience suggests that developing the political life of communities is crucial to building a socialist alternative.
We pay attention to socialist Cuba for lessons on achieving superior health care outcomes, building human solidarity, and resisting U.S. aggression.
We learn from socialist nations like China, Vietnam, and Cuba on how to reduce infection and deaths due to COVID-19 — and from other teachers adept at social planning for the common good, especially Taiwan, New Zealand, and Australia.
We value the model of the state of Kerala in India. There, the Communist Party of India (Marxist) formed political coalitions that instituted equitable health care and education, and agrarian reforms. Kerala provides hope. People gain confidence from their successes. They multiply and become the great majority that brings about revolutionary change.
Voters just gave the Left Democratic Front, headed by the CPI(M), five more years of political power. Vijay Prashad reports that they overwhelmingly re-elected K. K. Shailaja as health minister. She is a member of the CPI(M) Central Committee. People refer to her as "Shailaja teacher."
This teacher is a student: "Cuba's family doctor system influenced me when we started the Family Health Centers here in Kerala. . . . Cuba has achieved a lot because of their centralized planning and decentralized implementation. Their system of health care is people-centric and patient-centric. Their egalitarian concept and decentralization can be emulated here."
She speaks for people even in Maine as she insists that "there can be no delay in enhancing public investment in healthcare."
Capitalism and systems of greed have no place in her world or in ours.
Image: Molly Adams (CC BY 2.0).

Comments