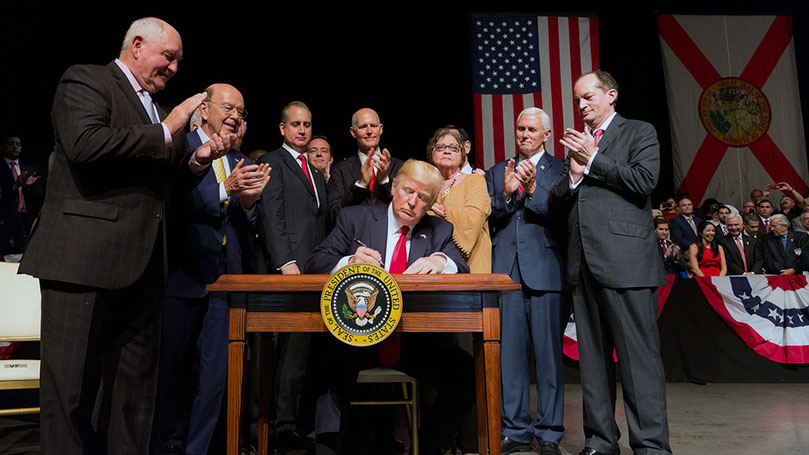 On Friday June 16, Donald Trump, speaking to a right wing Cuban exile audience in Miami, launched a vicious attack on Cuba, and announced the rolling back of some, though not all, of the changes in U.S. Cuba policy that had begun by the historic agreement between U.S. President Barack Obama and Cuban President Raul Castro in December 2014.
Trump announced, among other things, new prohibitions on U.S. citizens doing business with Cuban economic entities managed by the armed forces or security services, and new restrictions on the right of U.S. citizens to travel to Cuba. This was, in part, a delivery on anti Cuba promises that Trump had made during the 2016 presidential election campaign.
As offensive as are the changes, which hurt the Cuban people, violate Cuba's national sovereignty and also trample on the rights of our own citizens, the language which Trump used in attacking Cuba in his speech was completely unacceptable and must be roundly condemned.
The hypocrisy, as well as falseness, of the statements that Trump made in the Miami speech and previously to justify the new course on Cuba is stunning.
Trump accuses Cuba of fomenting violence in Latin America, specifically in Venezuela, which he sees as a threat to the United States. In fact, it is his own government which is working to foment such violence through its aggressive interventionist foreign policy. Cuba's government responded to Trump's accusations by reiterating its willingness to continue to work with the United States on issues of mutual interest, excluding only things that infringe on Cuba's national sovereignty. Cuba in no way represents a threat to the people of our country.
Trump accuses Cuba of harboring criminals wanted for serious crimes in the United States, specifically Assata Shakur. In fact, it is his own government and his political allies in South Florida who are harboring Luis Posada Carriles, a terrorist and former C.I.A. agent who in 1976 was involved in the midair bombing of a Cuban passenger airliner, an incident in which 73 innocent people were killed. The United States has refused to extradite Posada, who walks free in Miami, where he is lionized by some of the same people who were applauding Trump on Friday.
Trump accuses Cuba of undemocratic practices. This is hypocritcal coming from a man who was proclaimed president after winning almost 3 million fewer votes than his Democratic Party opponent In the 2016 U.S. presidential elections, and whose political operatives are working overtime to deprive millions of Americans of our right to vote through various vote suppression tactics.
Trump falsely claims that Cuba violates the human rights of its citizens. Rather, he should look at the policies that he and his political allies are promoting and implementing within and beyond the United States: The Muslim ban, the persecution of immigrants, the threat to deprive millions of people of access to health care, the threats to quality public education and to a clean environment and much more. Are these not violations of the human rights of the U.S. people? Cuba's population enjoys access to free, high quality health care and education for all, plus many other things we are still fighting to get in the United States, and as far as health care goes, has benefited countless thousands of people around the world with its teams of doctors and nurses sent to help some of the poorest nations on earth. It is hard to imagine Mr. Trump lifting a finger to do anything remotely similar, despite the vastly greater resources of this country.
For these and other reasons, the Communist Party USA denounces the tone and content of Trump's Miami speech, and we call for continued action to end the 55 year U.S. economic blockade of Cuba.
We demand that the Trump administration abandon the destructive and illegal course of action announced on Friday.
We call upon the U.S. Congress pass legislation, supported by 73 percent of the United States' people (including even most Republicans), to end the 55 year old trade blockade of Cuba and the restrictions on travel by U.S. citizens to the island nation, as well as halting all interference in Cuba's internal affairs.
We call on progressive people everywhere to follow the example of the citizens of San Francisco, Oakland, Berkeley and Sacramento in California, Pittsburgh Pennsylvania, Hartford Connecticut and Brookline Massachusetts and petition their city, county and state legislatures to pass resolutions calling for an end to the blockade and travel restrictions.
For our part we renew our pledge to fight to end the blockade, the travel restrictions and all interference by the U.S. government in the internal affairs of our Cuban neighbors.
Photo: Public Domain.  President Donald J. Trump signs the National Security Presidential Memorandum on Strengthening the Policy of the United States' Toward Cuba | June 16, 2017 (Official White House Photo by Shealah Craighead)
Comments