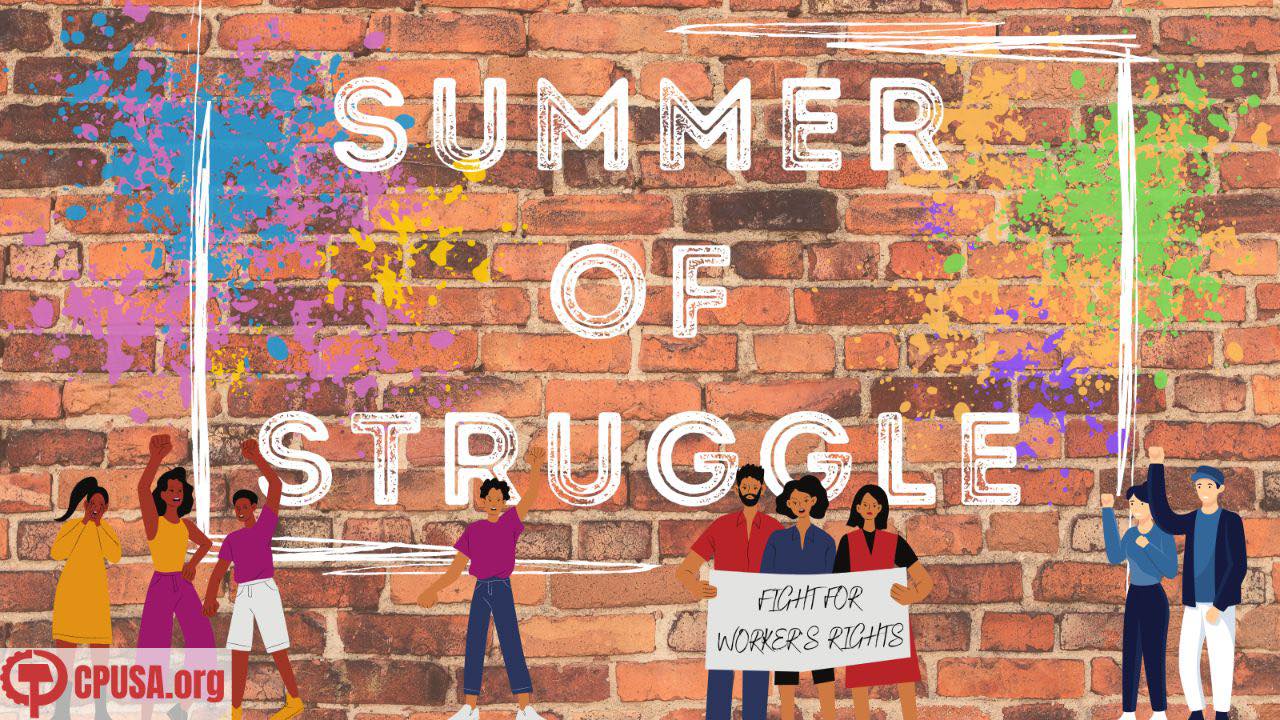 The following proposal was presented by the CPUSA Political Action Committee to the National Board and approved on July 7, 2021.

CPUSA Summer of Struggle 2021
Preamble
The attempt to silence the voice of the people in the 2020 election being carried out with the full force of fascist-minded corporate interests, Republicans in the Senate and House, and those Democrats who are their enablers, must not be allowed to prevail.
Deep organizing is underway demanding action to end the historic and systemic racial, health, economic and climate inequities revealed during the COVID-19 pandemic.  The Poor People's Campaign, the labor movement, and allies are leading strategic mobilizations for voting rights, the right to organize into a union, fully funded green physical and human infrastructure, immigrant rights, justice in policing, and much more. Strikes and organizing drives including at Amazon are underway.
Life-threatening challenges and transformative opportunities are before us.  New levels of unity, solidarity, education, and determination are needed now, leading up to the 2022 and 2024 elections. The times demand a larger and stronger presence and contribution by the Communist Party USA as part of the broad people's alliances.
Therefore we launch CPUSA Summer of Struggle 2021. Don't miss this extraordinary chance to be part of building multi-racial working-class power. There is a way that everyone can participate.
1. Pledge card (e-mail and print) to engage members and for outreach
CPUSA Summer of Struggle 2021
I pledge to join the Summer of Struggle campaign to organize for a just recovery for all and demand passage of voting rights, union rights, and priorities that put people, peace, and planet before profits.  Together we can end generations of racial and economic inequity exposed by the COVID 19 pandemic.
NAME                 EMAIL                          PHONE                    STREET ADDRESS
2. Organizing and recruiting
Discussion and checkup with districts and clubs on setting goals for what each will be doing as part of the Summer of Struggle and how to involve those locally who sign the pledge, including local actions and invitation to club meetings.
Neighborhood distributions, tabling and door knocking, including voter registration
Special club meetings with friends and allies
Participate and/or initiate: marches, rallies, sit-ins at Republican senators' offices, local elections, etc.
Lead up to national membership drive around Labor Day
3. National actions (calendar in formation) Voting Rights, PRO Act, etc.
June 19 to 26             Freedom Ride for Voting Rights: Unite Here (Kickoff to organize in AZ, W VA)
June 21                        Kick-off of year-long organizing by Poor People's Campaign
July 4 to 31                 Deadline for Democracy: For the People Act (Indivisible, Common Cause)
July 17–23                  AFL-CIO actions in 50 states for the PRO Act  (Tool Kit)
– Poor People's Campaign for a Third Reconstruction: Building a movement to overcome systemic racism, poverty, ecological devastation and the war economy. Everybody's got a right to live.
– AFL-CIO PRO Act:  PRO Act toolkit, Leaflets can be ordered from the Working Families Toolkit.
– Indivisible: Deadline for Democracy toolkit. Sign up or create an event here.
4. Our media
People's World
Local stories from clubs and districts
Goals for increased readership
Goals for fund-raising?
CPUSA.ORG
Share articles and podcasts, etc.
Social media campaign, logo, possible posters
5. National literature available
New brochure:  Bill of Rights Socialism
On-line and to be printed: 60 Million Rural Americans: Brothers and Sisters in the Struggle
Immigration: Myths v. Facts updated (available August, on-line and in print)
Black Lives Matter (available from NY office)
Voter Suppression People's World article to be formatted into a brochure
Reprints from cpusa.org and peoplesworld.org on an as-need basis
6. Marxist classes
Win people to an all-out effort to defeat the most backward forces and win everything possible now. What are the major ideological barriers?  Popularize theory. For example: Quantitative change related to qualitative change. Place in bold relief why this moment is so important and how it is directly connected with our future goals.
(List in formation):
July 18  Labor History
July 22  Pro Act
Sept 15  Organizing
July 23 to Aug 1  Little Red School House
Comments