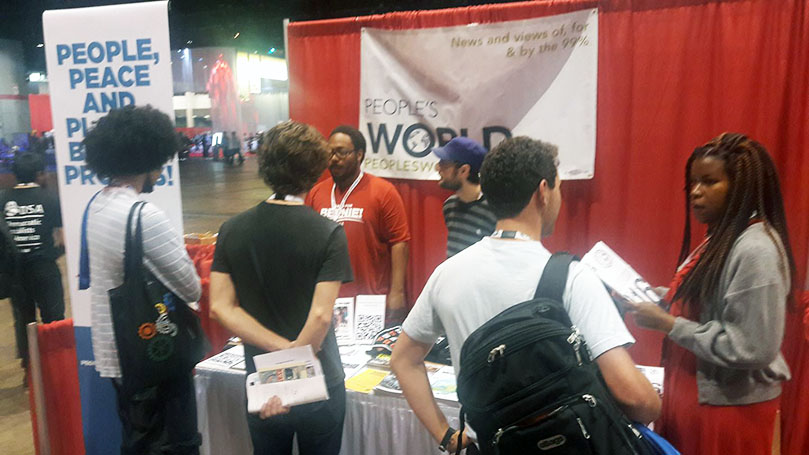 Political revolution, along with defeating Trump and the alt-right were high on the agendas of the nearly 4,000  progressive activists who turned out for the recently concluded People's Summit in Chicago.
This was mainly a gathering of Bernie Sanders supporters, including elected officials and candidates, who discussed lessons from the primary campaign and shared experiences of how they are continuing the fight to build a progressive movement and block Trump and the right wing.
Communist Party members were among them, sharing experiences on several panels and with participants at the CPUSA and peoplesworld.org  booths.
The most exciting news from the tabling is that over the weekend 16 people joined the CPUSA! Almost all are young, eleven are women, 5 African American, 1 Latinx and 1 Asian American.
"I've been meaning to come by and sign up since I saw you were here," said one labor organizer from Texas.
Another new member is planning to run for office. We were able to talk about other CPUSA members who have recently run for city council and won.
"We really need the CPUSA in the Western suburbs of Chicago. I can't wait to start a local group," said another new member.
All have one thing in common: they are activists, including from labor, campuses, political campaigns, criminal justice reform and environmental justice movements.
The tabling was a fun time; welcoming people who stopped by, handing them literature and answering whatever questions they had and encouraged them join and sign up for the mailing lists.
We asked participants to consider: if you are a Marxist, a socialist/communist or interested in socialism, then you belong in the CPUSA. Then we asked them to join and handed them a membership card.
Those who joined did so without hesitation, as if it were the most natural thing to do. And it is!
These new members are part of a surge in growth. About 800 have joined online since the 2016 elections, more than join in a typical year.
What's new is that people are joining in groups. For example, twelve joined at a party sponsored public event at Ohio University in Athens. And just last weekend over 30 signed up at the annual Juneteenth celebration in Buffalo, NY. The Houston TX club has grown to over 140 members as a result of steady recruitment at demonstrations, meetings and other events.
Key to the Houston experience is having regular events for members to participate in: club meetings, movie nights, and a socialist reading group are among the top attractions.
"We're picking up steam," said Joe Sims a CPUSA national board member. "First it was online, now it's face-to-face – and whole groups are joining. This is clearly something new."
Why not give tabling a try the next time there is a local demonstration or street fair. Demonstrations, protests or any gathering of activists are especially fertile ground. You'll meet a lot of interesting people and given the atmosphere now, many will be interested in socialism. After all, Bernie is the most popular politician in the country these days!
You'll be surprised at how easy it is to get people to join. Left and socialist groups are growing now including DSA who have tripled their membership since last fall.
If you would like someone to help with a step-by-step "how to" or training please contact us at membership@cpusa.org  And let us know your experiences. You'll be ever so glad you did.
Photo: Earchiel Johnson PW
Comments