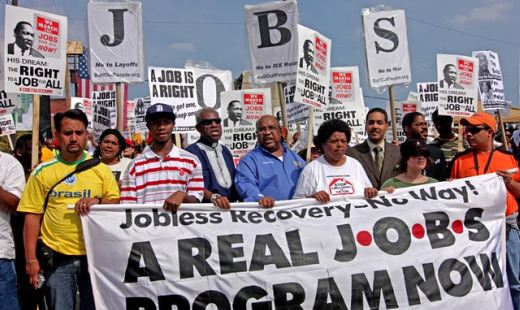 Some good news for a change! There are some very positive things happening on the fight for jobs and economic justice. The Painters Union is doing a bus tour about jobs, Obama has called for a six-year plan to rebuild our nation's infrastructure, the Ed Schultz show on MSNBC had AFL-CIO President Richard Trumka on talking about the October 2nd march and there are already an estimated 250,000 people preparing to attend that march!
Here is an important article on the significance of October 2 by CPUSA's Sam Webb.
2010 IUPAT Bus Tour: Let's Get America Working Again The International Union of Painters and Allied Trades has launched a coast-to-coast bus tour from Seattle to New York City titled, "It's All About the Jobs." The well-timed event is to help educate candidates about the importance of creating good jobs for America.
Standing Firm for Jobs Creation On Labor Day, President Obama came out swinging against the Republicans for being the "Party of 'No'" and as a champion for rebuilding the infrastructure.
New York Times columnist Bob Herbert has an excellent opinion piece on how Obama is now rising to the occasion. The president is suggesting $50 billion to make improvements to the nation's transportation infrastructure. The money would be used for the construction and rehabilitation of highways, bridges, railroads, airport runways and the air traffic control system. This is a positive step and needs to be supported because of the "absolutely critical task of putting millions of unemployed Americans back to work."
October 2nd March for Jobs – Round-up
As we know, Glenn Beck tried for months to gather a huge crowd for his ill-timed August 28th "Restoring Honor" rally on the anniversary of Martin Luther King's "I Have a Dream" speech. Even with all the free press, money from billionaires like the Koch brothers and Sarah Palin as a headliner, they had (probably much) fewer than 200,000 participants. With a month to go to the October 2nd march, MSNBC's Ed Schultz has thrown his support behind organized labor, the NAACP and several other progressive organizations to build the event. Recently, he had AFL-CIO Presdient Richard Trumka on to talk about October 2nd and what it means for the nation. Already there are at least 200,000 people committed to coming to the event. Let's keep building it to make it double the size of Beck's hate and bigotry fest.
In the Peoples World, Dan Margolis wrote of New York leading the way by sending over 1,000 busloads of working families to help get the message of jobs out. Read the entire article online here.
The blog Daily Kos has recently highlighted the October 2nd March on its site.
Comments