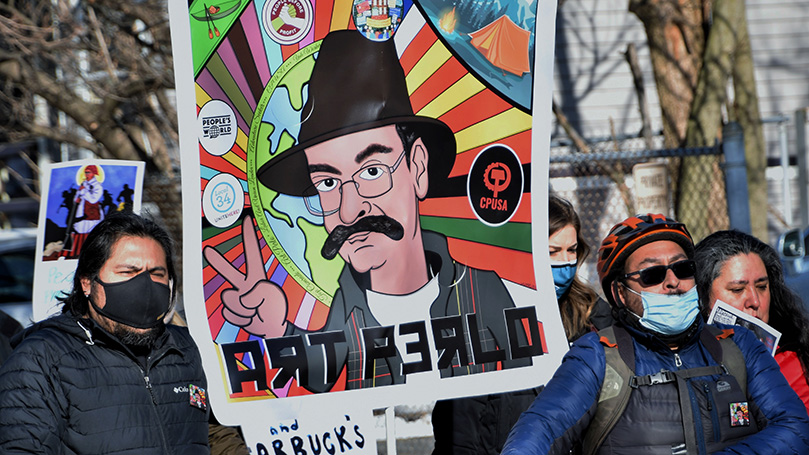 An exciting website was launched this week carrying forward the legacy of lifelong activist and Marxist economist Art Perlo, making available his decades of contributions to the struggle for "People, Peace, and Planet before Profits." The project is designed to guide, inform, and inspire grassroots organizers for social change.
Titled "Art Perlo Presente," the website is filled with writings, videos, and analysis, along with an array of recipes to test out, photos to enjoy, current articles and classes, and an invitation for visitors to participate by sharing reflections and strategies toward a just society.
Art Perlo's articles on a wide range of subjects published in People's World are featured on the site, including many that reflect his own organizing experiences.
As a founding member of Local 34 Unite Here at Yale, he produced a video on the union's 30th anniversary, which is featured along with a number of other video productions. He was an early proponent of restructuring Yale's hiring practices to open job opportunities for Black and Latino New Haven residents.
Especially relevant are his consistent writings, videos, and organizing for economic, social, and racial equality.
Included in the website is a PowerPoint from the 2006 Coalition to End Child Poverty in Connecticut. Art's presentation was shown across the state as part of a campaign for a wealth tax dedicated to ending child poverty, a forerunner of today's child tax credit, and the movement to tax the rich.
In recognition of his research connecting the lack of youth jobs to youth violence in 2011 which laid the foundation for the Jobs for Youth – Jobs for All campaign, the Young Communist League in Connecticut dedicated their Black History Month march this year to Art Perlo. The video and testimonies are included in the website.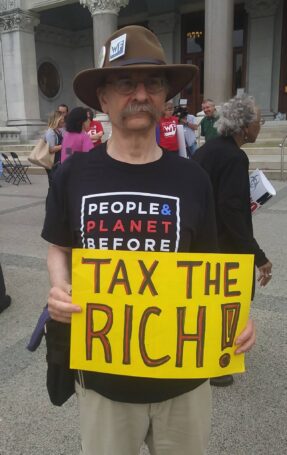 Art gave various lectures locally and nationally. The website includes a video of his popular analysis "An Activist's View of Piketty's Capital in the 21st Century," presented at the New Haven Free Public Library in 2014 which exposes capitalism and projects the need and possibility for socialism.
Art was instrumental in educating and encouraging new generations of activists in his union, community, and in the Communist Party.
During the 2020 presidential election, he led a strong voter registration and "Dump Trump" get-out-the-vote effort in New Haven's Ward 24. Alder Evette Hamilton called him a "gentle giant" for his kindness, commitment, humor, and broad knowledge that touched the lives of so many in the city, state, and around the country.
A number of his reports to the Connecticut and national Communist Party are included on the website, most recently addressing the economics of the coronavirus crisis. His 2012 report on the U.S. Economic Situation and the 2012 Elections anticipates the rise of the extreme right wing and white supremacy and the need for broad unity and solidarity to protect and expand democratic rights.
The website is colorfully designed, reflecting the iconic artwork of Jahmal Henderson's depiction of Art, which is used as the logo and also available as a button. It includes Art's life story and tributes.
Art moved to New Haven in 1974 to join life partner Joelle Fishman's history-making People Before Profits campaigns for Congress and mayor on the Communist Party ticket. They shared 46 years of marriage and joy in the struggle, during which Art gave full support to Joelle's leadership role in the community and the Communist Party in Connecticut and nationally.
Art was deeply respected for his willingness to take on any task, no matter how small, in the community or the union, and for his courage and unwavering commitment to equality, peace, environmental justice, and an end to exploitation to make the world a better place
The website was initiated by the People's World Amistad Awards Committee in response to Art's passing just a week after the December 2021 event and is sponsored by the Connecticut People's World Committee.
Visitors to the site are encouraged to share their strategies and experiences in the "Add A Post" section.
Visit the site at https://artperlo.net/.
Published on June 2, 2022, by the People's World.
Images: Top, youth march in Connecticut with portrait of Art Perlo by Jahmal Henderson (artperlo.net); Art Perlo (artperlo.net).
Comments