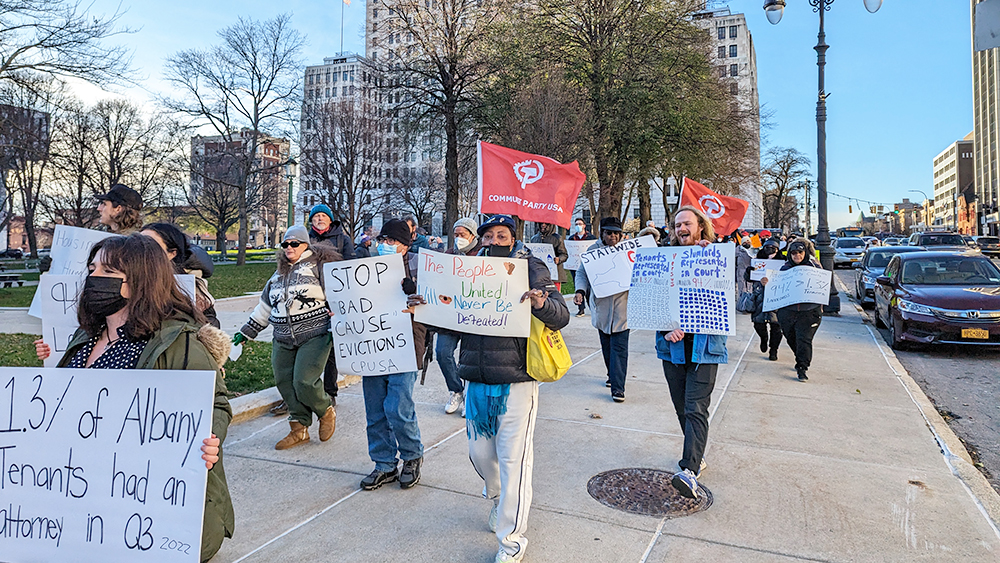 Members of the New York State Communist Party joined the housing movement in Albany on Monday, November 21st, to demand statewide legislation that would empower tenants in the fight for the right to housing.
Property owners are currently trying to evict nearly 270,000 renters across the state, yet only a small percentage of tenants will go into court with a lawyer. In the third quarter of this year in Albany, for example, only 1.3% of tenants had a lawyer, while 94% of landlords had one.
Albany County Central Labor County President Rev. Ibrahím Pedriñán was among those present, speaking on behalf of the Right to Counsel coalition. Pedriñán is also on the board of United Tenants of Albany.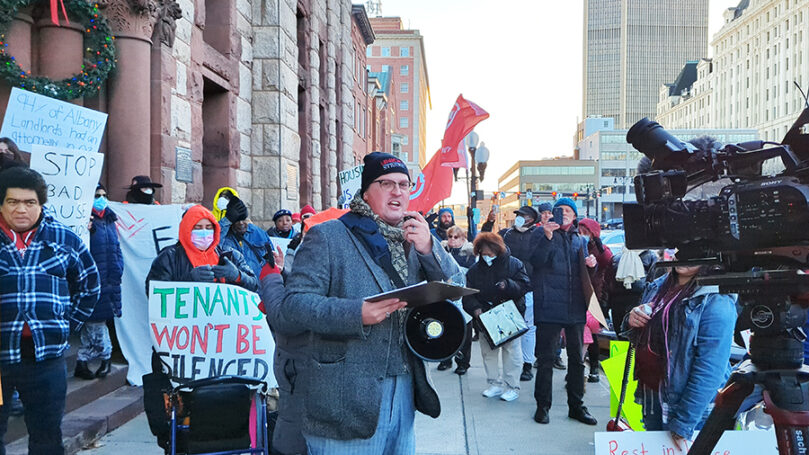 "We as union members know what it means to have the right of representation," Pedriñán said, drawing a comparison between union members' Weingarten rights and the tenants' proposed legislation.
Weingarten rights provide union members the right to union representation in any interview with their boss that they reasonably believe could lead to discipline. Right To Counsel would provide tenants across the state with legal representation in any situation that could lead to an eviction.
While all people nominally have the right to a lawyer in court, in reality, legal representation is limited to those who can afford it. Right to Counsel would create the funding and mechanisms necessary to make that right a reality.
It would also provide lawyers for tenants who bring cases against their landlords regarding repairs or harassment, and for tenants fighting termination of their Section 8 subsidies.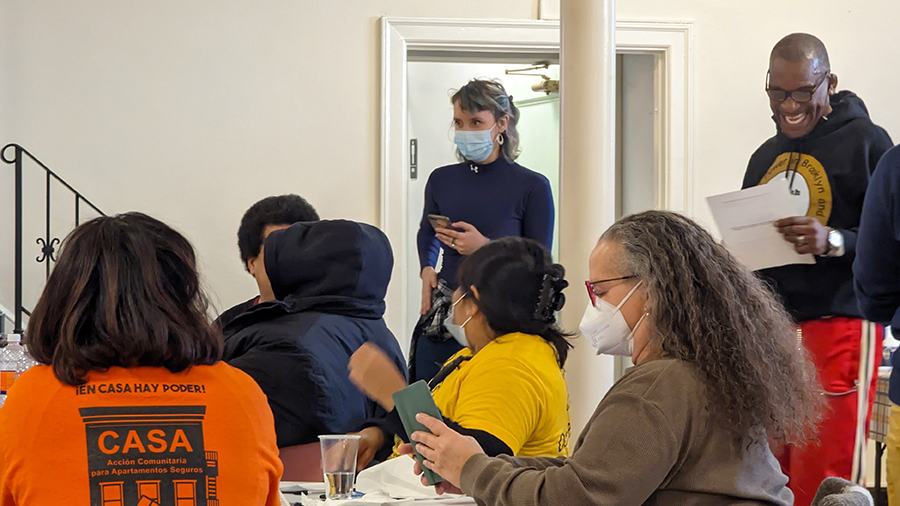 "This is about equaling the playing field," said one Flatbush Tenants Coalition member during the day's events.
The action began with a community meal and informational session on details of the law at the Westminster Presbyterian Church, followed by break out groups and a training session on agitation, so those present could be better prepared to organize their fellow tenants into the fight.
Following the meeting, the tenants braved the bitter cold, marching to the Albany Civil Court for a rally and speakout.
Barb Rivera, an organizer with Citizen Action in Rochester, led the crowd in a series of chants.
"Hey, hey! Ho, ho! Evictions got to go!"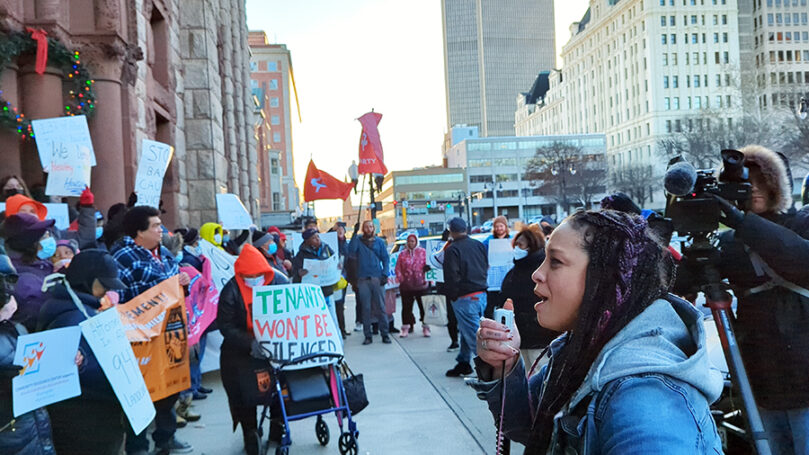 Danni Smith, a former housing services advocate with the city of Albany, pointed out that most of the evictions taking place are happening in the city's historically red-lined communities.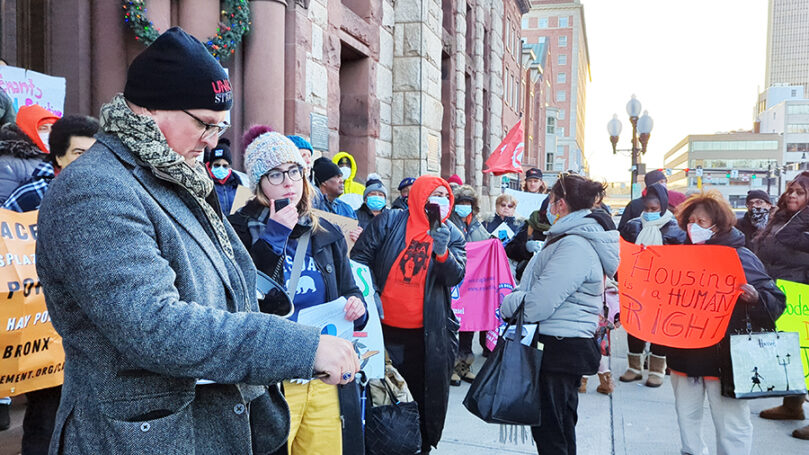 Albany tenant Nikkiea Philpot described a series of nightmare scenarios involving unaddressed roaches, lack of heat, basement flooding, leaks, broken windows and railings, peeling carpets and getting the run around at housing court.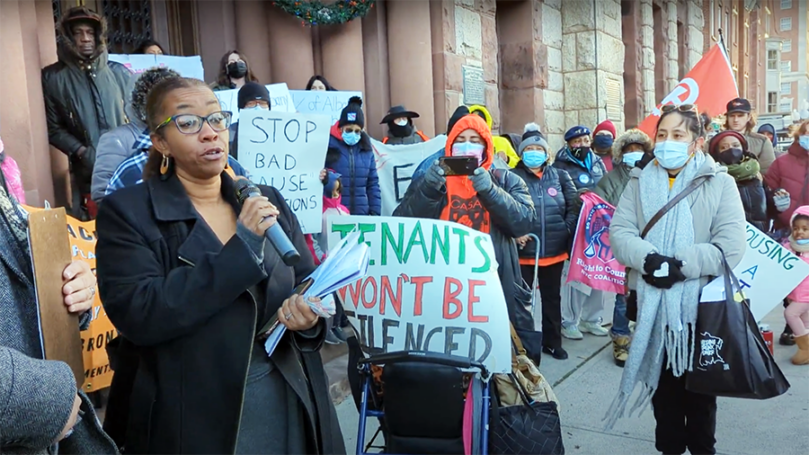 After her kitchen ceiling collapsed, she contacted disability rights advocates, legal aid, and even the mayor. "No one could help me," Philpot said. "I was told, 'There's nothing we can do because you are not being evicted.'
"So you see Right To Counsel is not just for those who are being evicted. It's pertinent for those of us who are living in homes with health hazards."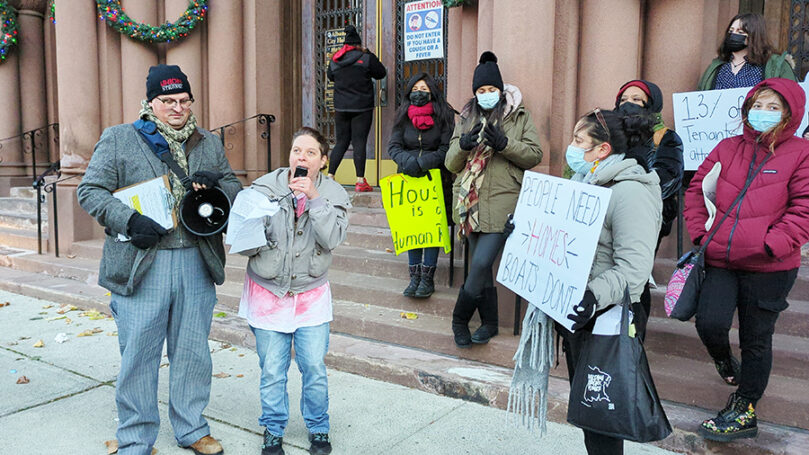 Dio Kaufman is a resident of Lakeview Mobile Home Park on Saratoga Lake. Her current landlord, Mike Giovanone, recently bought the park with the clear intention of using it to expand his neighboring boat storage business. Since then, it's been nothing but constant harassment, and many tenants have already left.
"I've been told repeatedly by various people that if they had access to lawyers they'd be making different choices," Kaufman remarked.
Albany County Legislator Sam Fein and Albany Common Council Members Alfredo Balarin, Gabriella Romero, and Owusu Anane also stood with the coalition on the steps of the court.
Responding to their statements, a tenant leader in Rochester named Oscar declared, "If we had that kind of energy in Rochester, we could move some mountains. … We only got three council members fighting for us. That is sick!"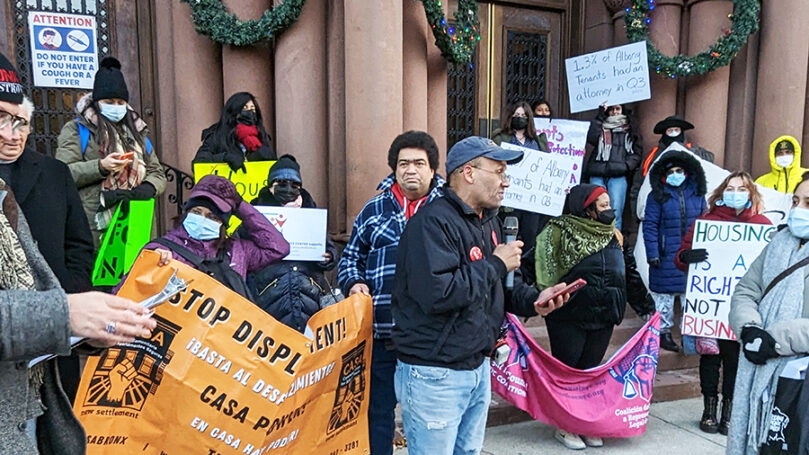 "Across the state children are suffering," he added. "The majority of children in Rochester have to worry about when they come home from school, 'Does mom and dad still have a place for me to live at?' That's not fair for any child to have to deal with."
Peter Cook, the Executive Director of New York State Council of Churches, also spoke at the rally. Cook quoted a number of biblical passages condemning those who show no concern for the poor, highlighting the progressive thread that has long existed within many religious traditions.
Images: CPUSA
Comments