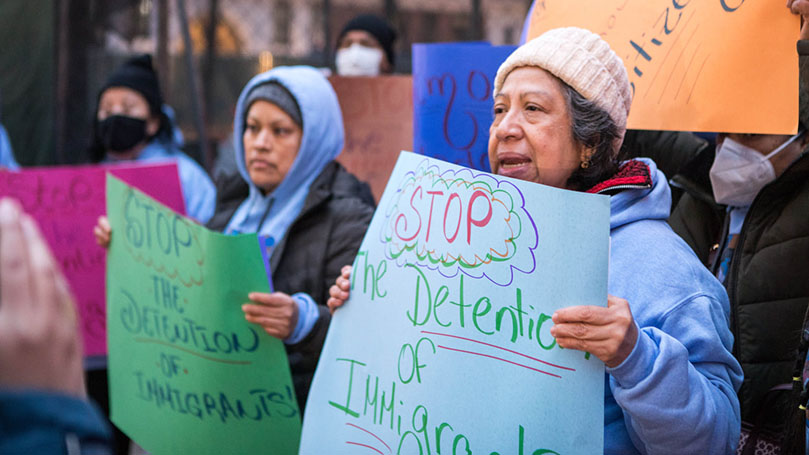 The Communist Party USA (CPUSA) strongly condemns the interstate transfer of migrants seeking asylum. For the past several months, anti-immigration Republican governors have been sending migrants, through deceit and coercion, to northern states and Washington, D.C. They are cruelly using human beings as pawns to score political points. This is being carried out by extreme-right elements deeply entrenched within the Republican Party that espouse a racist and hateful ideology going back to the days of slavery. The political stunts by Governors Greg Abbott of Texas, Ron DeSantis of Florida, and Doug Ducey of Arizona are a gross abuse of their power.
The transfer of migrants is the latest in a series of human rights violations by the United States. These abuses include mistreating and dehumanizing migrants by providing poor care and housing them in cage-like facilities, separating children from their families, and turning away asylees at the Mexico-U.S. border. This last abuse is a violation of international law, as outlined in United Nations' Universal Declaration of Human Rights and the 1951 Refugee Convention.
This dehumanizing of migrants is racist to its core. It is a repeat of the so-called Reverse Freedom Rides of 1962, when southern segregationists bused African Americans like Lela Mae Williams and her children to the North. Like today's trio of racist governors, the segregationists played games with people's lives just to score political points against liberals.
The solution to the immigration crisis lies not in political theater but in good policy: an immigration bill that provides opportunities for citizenship for all. The House passed such a bill — the American Dream and Promise Act of 2021 — which would give a pathway to citizenship for Dreamers and other immigrants, making 4.4 million individuals eligible for permanent residence. Passage of this bill by the Senate would be a modest beginning.
To address the immigration crisis honestly, we must acknowledge why it is occurring in such large numbers: centuries and decades of colonial and imperialist ventures that suppressed the ability of peoples to develop their own governments and resources; wars like those in Iraq, Afghanistan, Yemen, and Ukraine that upend governments and economies, causing terrorism, hunger, and internal displacement; corporations that today strip nations of their natural resources and pay pittances to workers; and the devastating effects of climate change, borne most by poor nations like Pakistan while Western nations contribute most carbon emissions per capita. In short, the crisis is part of the DNA of capitalism.
Therefore, our nation must do more than acknowledge these causes; we must demand that the U.S. offer redress by ending its meddling in other countries' affairs and, at minimum, pay our fair share to less-developed nations to compensate for the ravaging effects of climate change and corporate super-exploitation.
It is also important to take to task state apparatuses such as the Department of Homeland Security, Immigration Customs Enforcement (ICE), and the Border Patrol, to name a few. We must organize and hold them accountable for their abuses of human rights.
The CPUSA rejects the notion that human beings are illegal. We demand that the U.S. adhere to international law regarding asylees. We stand strongly in solidarity with immigrants and their families at home and abroad.
Issued by the Immigrant Rights Subcommittee of the Political Action Commission.
Read and download the CPUSA pamphlet "Immigration Myths & Facts: A Look at the Anti-immigrant Furor" in English and Spanish.
Image: National Network for Immigrant & Refugee Rights (Facebook).

Comments