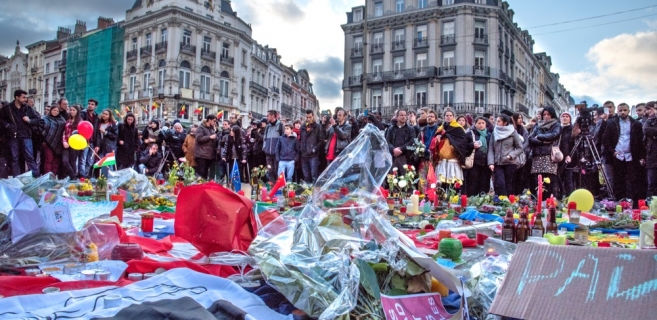 The Brussels terror attacks: between rage and resilience
Workers' Party of Belgium (PTB)
March 23, 2016
On Tuesday, March 22, the blind terror of Islamic State sent shock waves through Brussels, and far beyond. Terrorist bomb attacks, one in Brussels Airport and another one in the Maalbeek metro station, near the EU buildings, caused at least 31 deaths and 250 injured, many of them seriously. Baggage handlers at the airport, train personnel at the metro, travellers and commuters, common people from all walks of life, individuals and families from different nationalities, convictions and origins are among the victims.
"Their lives have been taken away by barbaric fanatics", said Peter Mertens, Chairman of the PTB (Workers' Party of Belgium) in a first reaction. "There are no excuses whatsoever for these cowardly acts of terror, aimed at destroying our living together. The IS terrorists want to impose their world view of mutual hatred, increasing division, more militarisation and new wars. But they won't succeed. Because solidarity and resilience stand in their way. As in the touching case of Alphonse Youla, the black baggage handler who helped six or seven people escape the nightmare at Brussels Airport. As in the thousands of messages on social media with the hashtag #Iwanttohelp: people offering a ride out of Brussels, a place to spend the night or donating blood. The very day of the attacks, hundreds of people spontaneously gathered at Brussels' central Bourse Place, where Iraqi oud player Hossein sang a song of hope."
Dirk De Block, PTB Brussels Chairman, and Youssef Handichi, member of the Brussels Parliament for the PTB and himself a former bus driver and trade-unionist, immediately tweeted: "We won't let those cowards destroy what we have built together", thus expressing a widely held sentiment among the Brussels population. In Brussels and in many other cities throughout Belgium, these days several solidarity vigils, marches and assemblies are being held, in which the PTB takes an active part.
But today we also have to ask many questions, and many answers will need to be provided. Since the Paris attacks last November, people in Brussels have had to cope with heavily armed military in the streets. They now come to the conclusion that these have certainly not helped to avoid terror attacks. The authorities have been blaming entire communities as hotbeds of terrorism that needed a thorough "cleaning up", thus putting their inhabitants' democratic rights at stake, instead of using specific and selective measures aimed at precise terrorists and their network. Other issues come to the fore with even more force than before the Brussels attacks. How to tackle racism and exclusion, discrimination and inequality, while stimulating and enhancing the people's unity and resistance against the government's anti-austerity measures? How to promote a just and lasting peace in the Middle East and particularly in Syria, through dialogue and negotiations with all local and regional actors involved, instead of taking the military option and adding more bombs and destruction?‬ How to efficiently combat IS and its ultra-reactionary ideology, if not by taking on the financial and logistical support it continues to get via Saudi-Arabia, the Gulf States and Turkey – all NATO allies? For in the medium term, it is only by tackling the root causes that we will be able to effectively counter terror and war, hate and division, racism and exclusion.
—————
Attaques terroristes de Bruxelles : entre la colère et la résilience
Parti du Travail de Belgique (PTB)
23 mars 2106
Le mardi 22 mars, la terreur aveugle de l'État islamique (Daesh) a envoyé ses ondes de choc à travers Bruxelles et bien au delà. Les attaques terroristes à la bombe, l'une à l'aéroport de Bruxelles et l'autre à la station de métro Maelbeek, près des bâtiments de l'Union européenne, ont causé au moins la mort de 31 personnes. Il y a en plus 250 blessés, dont certains très gravement. Des bagagistes à l'aéroport, des membres du personnel du métro, des voyageurs et des navetteurs, des personnes de tout horizon, des individus isolés comme des familles de différentes nationalités, convictions et d'origine sont parmi les victimes.
Peter Mertens, président du PTB, dans une première réaction, déclarait: « Des vies enlevées par des fanatiques barbares. Il n'y a pas d'excuse pour ce terrorisme. Il n'y a pas d'excuse pour ces lâches qui veulent détruire notre vivre ensemble. Aucune excuse. Ils ne nous détruiront pas. Parce que la solidarité et la résilience leur barrent la route. Les terroristes de Daesh veulent imposer leur vision du monde : la haine de l'autre, une division de plus en plus grande entre les uns et les autres, la militarisation, de nouvelles guerres. Mais ils ne nous détruiront pas. Pas avec la terreur, pas avec la haine. C'est ce que j'ai retenu du témoignage poignant d'Alphonse Youla, un bagagiste « black » qui a apporté son aide à six ou sept personnes dans le cauchemar de l'aéroport. C'est aussi ce que je lis parmi ces milliers de messages sous le hashtag #jeveuxaider & #ikwilhelpen, de personnes qui offrent un lift à ceux qui quittent Bruxelles ou un logement pour la nuit, de ceux qui font des dons de sang, des taxis et hôtels qui offrent le trajet ou la nuit gratuitement. Notre pays résiste. Et continuons : aidons là où nous le pouvons. C'est ce qu'ont fait les centaines de personnes qui se sont rassemblées, spontanément le soir même des attaques, Place de la Bourse au centre de Bruxelles où Hossein, musicien irakien, chantait l'espoir »
Dirk De Block, président du PTB de Bruxelles et Youssef Handichi, membre PTB du Parlement bruxellois et ancien chauffeur de bus et syndicaliste,ont immédiatement tweeté : « Nous ne laisserons pas ces lâches détruire ce que nous avons construit ensemble », exprimant ainsi un sentiment largement répandu dans la population bruxelloise . A Bruxelles et dans de nombreuses autres villes de Belgique plusieurs veillées de solidarité, des marches et des assemblées sont organisées, dans lequel le PTB prend une part active .
Mais aujourd'hui, il est également nécessaire de poser de nombreuses questions, et de nombreuses réponses devront être fournies. Depuis les attentats de Paris en novembre dernier, les habitants de Bruxelles ont dû faire face à des militaires lourdement armés, dans les rues. Ils sont maintenant arrivés à la conclusion que ceux-ci n'ont certainement pas aidé à éviter les attaques terroristes. Les autorités politiques ont stigmatisé des communautés entières comme des foyers de terrorisme qui devaient être complètement nettoyés, mettant ainsi les droits démocratiques des habitants en péril, au lieu d'utiliser des mesures spécifiques et ciblées visant les terroristes et leurs réseaux. D'autres questions se posent avec encore plus de force depuis les attaques de Bruxelles. Comment lutter contre le racisme et l'exclusion, la discrimination et l'inégalité, tout en stimulant et en renforçant l'unité et la résistance populaire contre les mesures d'austérité du gouvernement? Comment promouvoir une paix juste et durable au Moyen-Orient et en particulier en Syrie, par le dialogue et les négociations avec tous les acteurs locaux et régionaux concernés, au lieu de poursuivre l'option militaire avec plus de bombes et de destruction? Comment lutter efficacement contre Daesh et son idéologie ultra-réactionnaire, sans s'attaquer à ses soutiens financiers et logistiques qui se poursuivent via l'Arabie Saoudite, les autres États du Golfe et la Turquie – tous des alliés de l'OTAN? Car, à moyen terme, c'est seulement en luttant contre leurs causes profondes que nous serons en mesure de lutter efficacement contre le terrorisme et la guerre, la haine et la division, le racisme et l'exclusion.
Comments