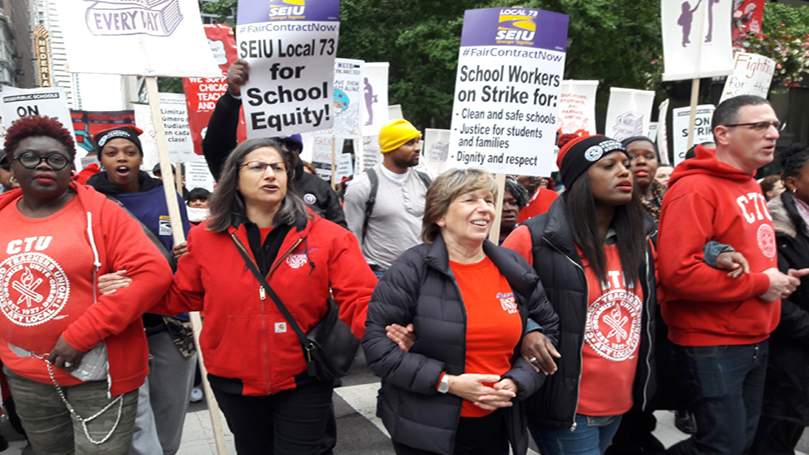 Editor's note: This response was part of the discussion of the National Committee reports at the  December 15, 2019, webinar.
I really appreciate the opportunity to add a brief comment to this important discussion. In his keynote, Joe Sims pointed to the affirmative energy of today's broad anti-right, pro-democratic movement. As he mentioned, one source of this energy is the labor movement, whose new strength has been demonstrated in a powerful and successful strike wave over the past two years.
In 2018, nearly half a million workers in America went on strike or stopped work because of a labor dispute, the largest number since 1986. The numbers for 2019 will almost certainly be larger. Even more striking than the numbers is the range of workers and sectors who struck, including teachers, auto workers, and housekeepers. Popular support for the strikes has been strong. Polls show a dramatic increased interest in joining a union, and a high and rising degree of union approval, across party lines.
This positive view of the labor movement is reflected in popular culture, such as the box-office success of the radical film Sorry to Bother You and the sudden burst of Netflix shows with union content, like The Irishman, Damnation, and American Factory.
We should note, however, that union membership numbers don't yet reflect this rise.
In our moment, which Joe has called a "socialist moment," a lot of people like the idea of socialism. Even more people like the idea of unions. Just as we need to connect a "like" for socialism to material action, we need to connect the rising interest in the idea of unions to actual union membership and material labor power.
As Dee Miles put it in her convention report, "Remember, Marx said that when an idea is taken hold by the masses, it becomes a material force. . . . When we are successful in having a good working-class idea embraced by the masses, it can become realized; and in becoming realized, it becomes a material force, and the experience of it is profound."
One channel for translating popular approval of an idea into material realization is legislation. As we look for ways to defend and expand democracy, let's spotlight each candidate's promises to workers. Has the candidate promised to overturn right-to-work laws, end "at will" employment, expand workers' rights to strike, and permit collective bargaining across all domains and sectors? Have they promised to fix the loopholes that exclude domestic workers and farmworkers from even the basic protections other workers already receive? If not, why not? If so, we have to hold them to their promises.
Here in the South, where the union movement was kneecapped in the early 20th century by segregation and Jim Crow, a wave of media-savvy grassroots labor organizing has gained significant momentum. Examples include Raise Up/Fight for $15 and a Union, Rideshare Drivers United, and We Dream in Black. Though they do not fit the traditional union model, they have the potential to be, at the very least, a place where people realize their power.
In North Carolina, with support from the National Labor Commission, our club has helped build a coalition of workers' rights groups who are now organizing a Raleigh Workers Assembly. We don't know exactly what it will be. We do know that if the labor movement gains strength in the South, the place that has always been its Achilles' heel, this will be something historically new. It will change the balance of forces in the U.S., maybe even the world.
Image: Photo by John Bachtell
Comments