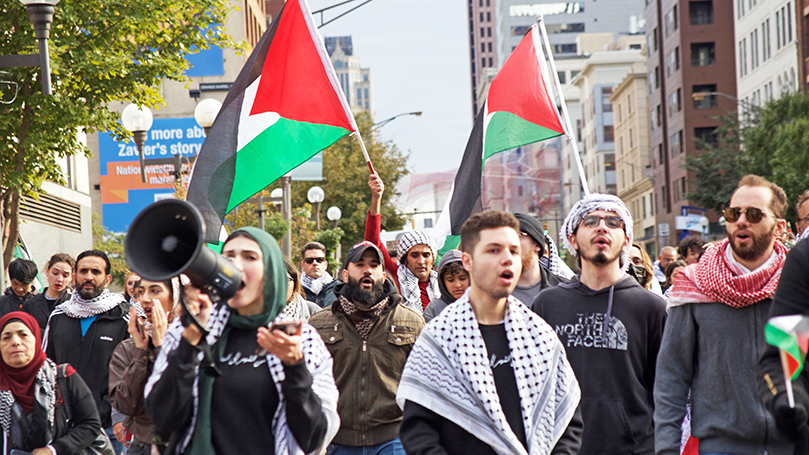 Editor's note: This statement was forwarded to us by the Palestinian People's Party.
To all friends and supporters of our Palestinian people and advocates for freedom and justice worldwide,
The Palestinian Democratic Coalition, on behalf of our people living under Israeli occupation, terrorism, and crimes, issues this urgent appeal to friends and supporters of the Palestinian people, from nations, communities, parties, solidarity movements, and believers in the values of freedom and justice around the world. We also address international organizations.
Through this appeal, we urge you to swiftly and forcefully act, applying pressure on the governments of your countries, decision-makers, and international bodies through all available means. Our demands are as follows:
First: Immediate intervention to halt the ongoing military aggression launched by the Israeli occupation state, with all its military might, against our besieged Palestinian people in the Gaza Strip since October 7th. This aggression is carried out with the sponsorship and partnership of the United States of America and its Western allies.
Second: Promptly lift the siege on the Gaza Strip, restoring vital supplies to its residents, including electricity, water, fuel, food, medicines, medical supplies, and communications. Ensure the entry and flow of various relief aid into the region.
The Israeli occupation continues its indiscriminate and round-the-clock bombardment of residential neighborhoods and civilian facilities in Gaza using warplanes, battleships, and artillery. This includes hospitals, health and food centers, places of worship, educational institutions, and the personnel within these sectors. The deliberate daily massacres target defenseless civilians, coupled with the invasion of parts of Gaza, resulting in the killing of over 11,000 citizens, including at least 4,412 children and 2,918 women. The number of injured has exceeded 28,500, including hundreds in critical condition. The majority of victims are children, women, and the elderly (74%). Additionally, around 2,650 citizens are still missing under the rubble, including more than 1,400 children. Whole families have been exterminated and erased from civil registries.
This aggression has also led to approximately 1.5 million displaced people throughout Gaza, widespread destruction, and devastation affecting numerous residential homes, buildings, facilities, and civilian infrastructure. This includes suburbs and neighborhoods leveled to the ground as a result of scorched earth policy, genocide, and forced population displacement on a large scale.
Furthermore, the crime of tightening the siege on over two million people living in Gaza persists, cutting off supplies of water, electricity, fuel, food, medicines, medical supplies, and various communications.
We emphasize that the international community's silence regarding the Israeli-American aggression against our people and its failure to bear responsibilities and take tangible measures to curb this aggression and its practices encourage the continuation of these crimes.
The Palestinian Democratic Coalition urgently calls for exposing and condemning this open and systematic war against our people in all occupied Palestinian territories — the West Bank, Gaza Strip, and Jerusalem. Israel, as the occupying power, continues this aggression with explicit support and active partnership from the United States.
We call on you to:
Restrain all Israeli policies and practices, working to boycott, divest from, and impose sanctions on it as an occupying force and a state sponsor of terrorism.
Oblige Israel to abide by international laws and conventions, especially the Fourth Geneva Conventions for the Protection of Civilians in Occupied Territories and in Times of War and Armed Conflicts.
Oblige the international community to promptly implement international legitimacy resolutions related to the rights of our Palestinian people.
May you always be well, and may humanity be safe and sound.
Palestinian Democratic Coalition
10/11/2023
Comments