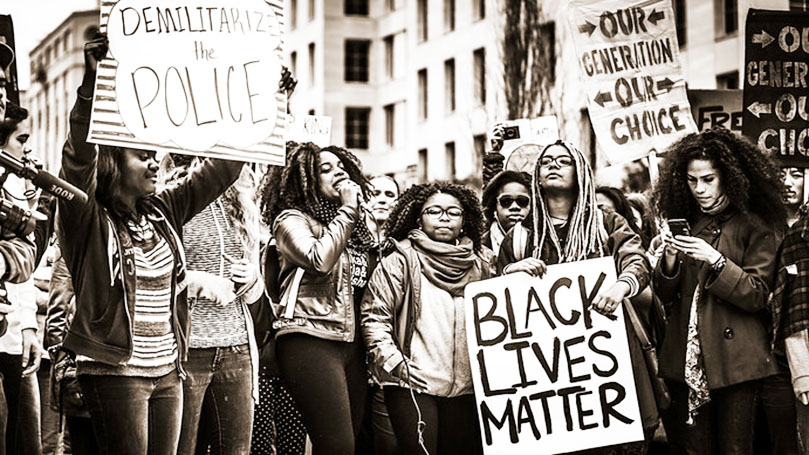 In the early to mid-2010s, a new generation of Black people in America began to understand the connectivity of police violence, economic oppression, and disenfranchisement under the capitalist system. In 2012 we saw a child, Trayvon Martin, murdered at the hands of a vigilante wannabe cop. In 2014 we saw the murder of Mike Brown and Eric Garner at the hands of actual cops. Tamir Rice, Sandra Bland, Philando Castille, Walter Scott, Elijah McClain, Walter Wallace, Breonna Taylor, Ahmaud Arbery, George Floyd, and many other Black Americans were all murdered by police officers or white bystanders in the last 10 years. In that time, many Black people began using the phrase "stay woke" as a reminder to our community that our experience under capitalism is one that is undeniably different from the white experience.
"Wokeness" became a dog whistle for any resistance by oppressed groups.
Of course, the far right has a problem with the Black community recognizing and understanding their oppression. Acting on the belief that these movements were built on entitlement, "wokeness" became a dog whistle for any resistance by oppressed groups against their oppressors. Black Lives Matter along with the LGBTQ equality movement, MeToo, and even the Land Back movement all became demonized as "liberal IdPol wokeness."
We are now seeing a new surge of anti-"wokeness" among people who consider themselves Marxists. Although they are not always using the same vernacular as the far right, their bigoted attacks serve the same purpose: to delegitimize genuine workers' resistance against oppression. While they see democratic struggles and class struggle as two distinct fights, with the class struggle taking primacy, we understand that democratic struggles are a vital part of the class struggle. The fight for Black liberation, women's liberation, queer liberation, and Indigenous liberation is the fight to advance the working class toward total socialist liberation.
William Z. Foster, longtime CPUSA member and Party chair, understood that to win over the masses, special consideration must be made to workers who face super exploitation. In his book Toward Soviet America, he says, "The capitalist class not only robs the workers as a whole, but it visits special exploitation upon those sections of the working class — Negroes, foreign-born, women, youth, the aged, etc. — who, for one reason or another, are the least able to defend themselves in the class struggle." From the early days of our Party's history, our leaders understood the relationship between class and special oppression.
Black women serve as the benchmark for the oppression of all workers.
Claudia Jones expands on Foster's thoughts with her analysis of the triply oppressed working Black woman. In her article "An End to the Neglect of the Problems of the Negro Woman," she argued that "Negro women — as workers, as Negroes, and as women — are the most oppressed stratum of the whole population." At the time, Black women who had to work to live, single or married, were excluded from almost all jobs, except the most underpaid ones. This was just one play from the age-old capitalist playbook: drive down wages as much as possible to extract the maximum amount of surplus labor value for profit. The oppression of marginalized groups, such as the Black community, serves to justify and reinforce this super exploitation. Liberative unity among the broad mass of proletarians must be predicated on the eradication of the oppression of working Black women, as they serve as the benchmark for the oppression of all workers.
How do we as Communists build unity for working-class liberation that puts the most oppressed, the working Black woman, at the forefront of our struggle? Let's look at the current economic struggle of Black women. The average wage of a Black woman sits at about $13/hour, whereas the white man makes almost $10 more an hour at $21/hour. As Black people attempt to improve their wealth through education — with 41% of young Black women and 33% of young Black men enrolling in college as of 2018 — they hold almost twice as much student debt as white students. Black women have accrued the most debt, with an average of about $44,200 owed after graduation. This glaring disparity gives us a microcosmic glance at the profound effects of capitalist super exploitation.
Black women are not unaware of their position in American capitalism. With the rise of the Black Lives Matter Movement, and other democratic movements, we are seeing the beginnings of a genuine workers' movement. The support for BLM among Black Americans has remained high at 83%. Unlike in past movements for Black liberation, Communists were not sufficiently organized enough to play a leading role during the 2020 uprisings. This led to unsatisfactory results, despite blood, sweat, and tears from our community. We must now be ready to quickly entrench ourselves in the BLM movement as demonstrators and organizers to advance the struggle on Black working-class terms and be unrelenting in our demands. This is not an embrace of liberal identity politics; this is understanding of where we are, who we are, and how we get to socialism.
Philadelphia is a majority-minority city, with the Black community making up almost half the population. We also have a robust and thriving queer community. It is imperative for Marxists in our city to consider the special oppression of these groups. The Philly Young Communist League wholly rejects the reactionary ideas of anti-woke "Marxists" such as Caleb Maupin and his CPI or Haz and his Infrared following. We honor the legacy and contributions of past Communist leaders such as William Z. Foster and Claudia Jones in our analysis of class struggle and politicized identities.
The struggle continues.
Image:  Black Lives Matter protest, Johnny Silvercloud, photo cropped (CC BY-SA 2.0).

Comments