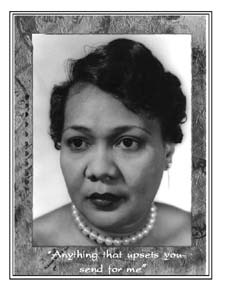 Black History Month Special
Part of a series on African American communists in US history.
Jonnie Lumpkin Ellis, who was known by her adopted name 'Pat', was born in Washington, GA. Her family moved to Orlando, Florida, where they worked picking oranges.
In 1939, Her brother-in-law, Taft Earl Rollins, returned to Fort Bragg, NC, unaware that a racist riot was raging. The Army sent his body back to Orlando with no explanation. The sergeant who accompanied the body had strict orders to keep the casket closed.
Jonnie defied the orders, opened the casket and saw that Rollins head had been smashed in. It was a lynching, not an accident. Jonnie did not let the Army cover up the crime. She insisted on an open casket funeral.
Jonnie moved to Buffalo, NY with her family in December 1941, where she worked as a housekeeper for a communist couple. She soaked up their message of class struggle and socialism and joined the Communist Party.
She was later hired at Bell Aircraft in Niagara Falls, where she became a shop steward and filed a discrimination complaint with the new Fair Employment Practices Commission (FEPC) that resulted in Bell Aircraft upgrading 233 African Americans from janitors to production work.
Lumpkin married Henry 'Al' Ellis in 1949 and, in 1950, became the Communist Partys section organizer in Harlem. In 1955, the couple moved to Chicago. Soon after they arrived, the murder of 14-year-old Emmett Till shocked and angered decent people all over the world.
Pat and another comrade, Arlene Brigham, encouraged Mamie Till Mobley, mother of Emmett, to have an open casket funeral. Mamie Till Mobleys brave act triggered a huge protest. In addition to her community activism, Ellis served as organizational secretary of the Illinois Communist Party for many years.
For more information: Black Women Workers by Tim Wheeler
(Compiled by Kevin Lindemann)
Comments