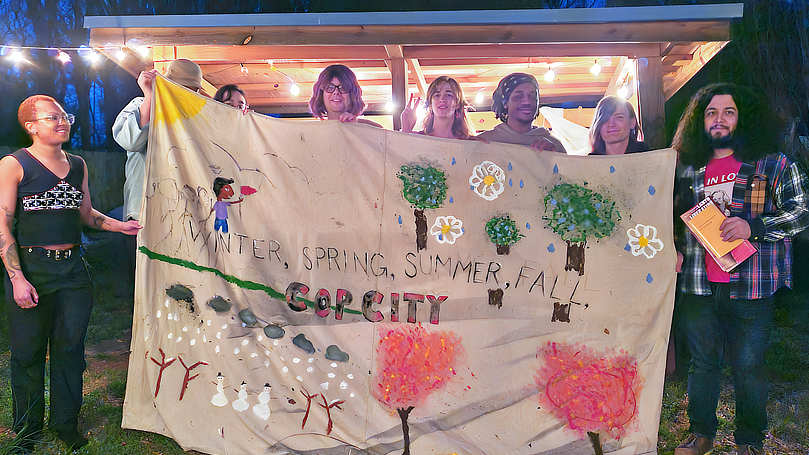 Since having its first meeting in July of 2022, the Atlanta club has undergone major development, with it now showing it has the potential to be a vibrant garden of organizing and dedicated political work throughout the state of Georgia. With club members ranging from Augusta to Macon to East Atlanta, efforts have been centralized into the City of the South in order to push forward a dedicated group of young workers in the fight to put people and planet above profits.
Before much effort could be put into hands-on organizing, members knew that it was important to decide on a concrete plan of action, as well as cover the basics of organizing a Communist Party club. Members studied the party program and constitution. Additionally, members created study guides for the club guidelines in order to better understand them, as well as for the purpose of teaching them to other comrades. The club collectively decided to meet every two weeks and, to this date, has kept to this agreement. Not every meeting was lengthy and packed. However, members knew that the key to a healthy club was consistency. The workers' and people's fight is a marathon, not a sprint.
Early on in the formation of the club, members prioritized mobilizing to events held by other organizations for the purpose of building coalitions and establishing contacts. We mobilized to Starbucks Workers United rallies and "sip ins," radical book fairs connected to the Stop Cop City movement, and rallies for victims of police murder such as Jamarion Robinson. Many of the connections made at these events would go on to serve as the club's initial base of contacts for our first event.
Throughout the organizing of the club, education of the membership was delegated to a member who volunteered to lead members in a weekly reading of Marxist-Leninist literature. Reading from authors such as Vladimir Lenin, members have found a way to challenge their political thinking in an environment where curious learning is encouraged and new solutions to today's problems are formulated. Our club places great emphasis on the need for members to seriously engage with works of Marxism-Leninism, so that they will be empowered with the theoretical tools necessary to guide the club in the right direction in all areas.
Members quickly grew closer to each other through regularly meeting and mobilizing. One member stated: "Joining CPUSA has given me the opportunity to learn how to improve our place in the world [and] easily access resources to help bring awareness to my fellow workers." Others enjoyed how the club put them in an environment that challenged them to be politically conscious and outgoing. Members have noted how joining CPUSA has given them the "privilege of being surrounded and supported by great people who bring out the best in one another."
As the club continued to organize and meet, a major political struggle began brewing in Atlanta against the racist policing of Black neighborhoods, and against the destruction of our fragile ecosystems. This collective social movement known as Stop Cop City emerged to prevent 300 acres of forest from being turned into a tactical training compound featuring a mock city, which would serve as a playground for the Atlanta Police Department. The Atlanta club realized the movement offered the perfect opportunity to enhance the strength and solidarity within the club, for members to gain organizing experience, and to become closer to already existing organizations in the Atlanta area.
The club took initiative and sprung into action. With the help of Yes, Please, a local community library centering Black women authors, the club hosted a community art night in memory of Tortuguita, a forest defender that the Georgia State Patrol killed in mid-January. It was at this time that, like many other CPUSA clubs, our members decided a name was needed, and collectively chose Angelo Herndon Club. Angelo Herndon led the first integrated strike of Black and white unemployed workers in the 1930s in Atlanta. With the movement demanding a revolutionary united front, the name seemed fitting.
With help from the party's national leadership, the club has been able to spread beyond just Atlanta, and is recruiting applicants from all over the state of Georgia. While recent history has been bleak for CPUSA in the Peach State, the Angelo Herndon Club provides Georgians an opportunity for CPUSA members to become active in their local community and abroad. With all the groundwork laid down so far, the club is certainly set up for a successful 2023 and beyond.
Image: Members posing with an (incomplete) banner made during the art night (CPUSA)
Comments