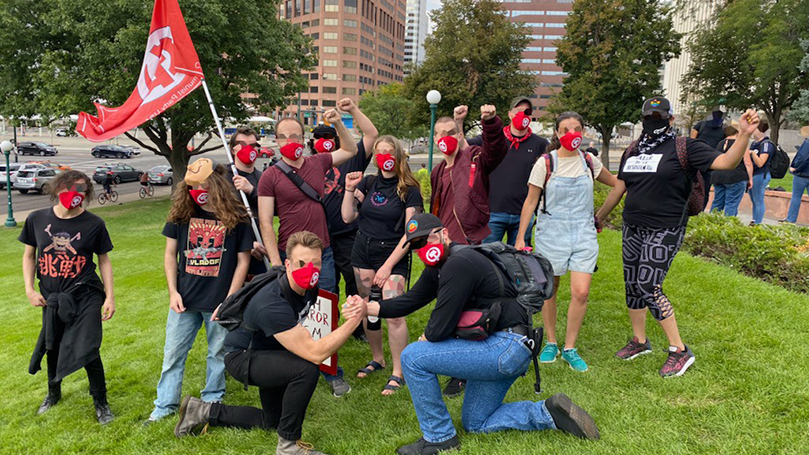 On Thursday, September 17, police officers in Denver and Aurora, Colorado, made coordinated arrests of members of the local Party for Socialism and Liberation (PSL) Denver. Six members were charged with felonies, in relation to their organizing efforts for the Black Lives Matter movement. In the past several weeks PSL has organized large-scale protests demanding justice for the killing of Black people here in Colorado, including Elijah McClain, a young Black autistic man killed in Aurora.
The local CPUSA club in Colorado, known as the May Day Club, has participated in these protests. These rallies, marches, and actions have been peaceful on the part of the protestors. Only the fascist opposition has engaged in acts of violence. For example, a car plowed into protestors at a recent march. Luckily, the driver did not hit anyone; however, a protester, fearing for his life and the lives of others, discharged a firearm, hitting a member of the May Day Club. Our wounded comrade is now in the process of recovery. In response the May Day club has organized a petition on these issues.
We the members of May Day/CPUSA Colorado believe the charges against our comrades in PSL to be unjust. These arrests are a blatant malpractice of law and justice and an example of the ever-increasing fascist leanings of the U.S. government. This situation is a gross violation of the First Amendment which guarantees the right to peaceable assembly. For these reasons the May Day comrades participated in further protests demanding justice for PSL, protesters, Elijah McClain, and Black Lives.
Image:  May Day Club, Colorado. To protect the safety of the protesters, their identifying features have been redacted.
Comments