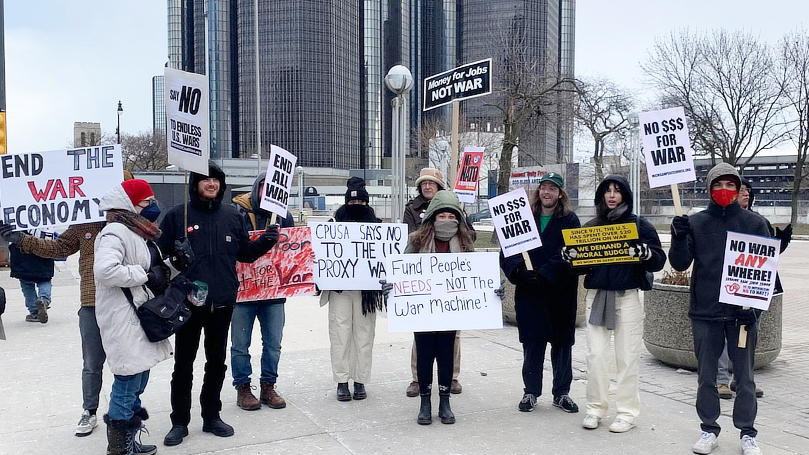 On the 20th year anniversary of the U.S. invasion of Iraq, the Detroit Club, CPUSA joined other anti-war organizations and activists at Hart Plaza to demand peace in Ukraine. The rally was held in solidarity with over 200 anti-war organizations that gathered nationwide to condemn NATO and U.S. involvement in the Russia–Ukraine conflict. Those in attendance made their stances clear, denouncing imperialism, the war economy, and the government's continuous funding of war, rather than working class and people's needs.
Bill Meyer of the Michigan Peace Council, an activist for over half a century, reflected on his work in the peace movement throughout the years. Despite acknowledging U.S. imperialism and war as one of the greatest threats to humanity today, Meyer expressed a sense of optimism from the increasing number of youth joining the movement. As we see more young people rejecting war and imperialism, we must take this as an opportunity to develop a mass peace movement in the U.S.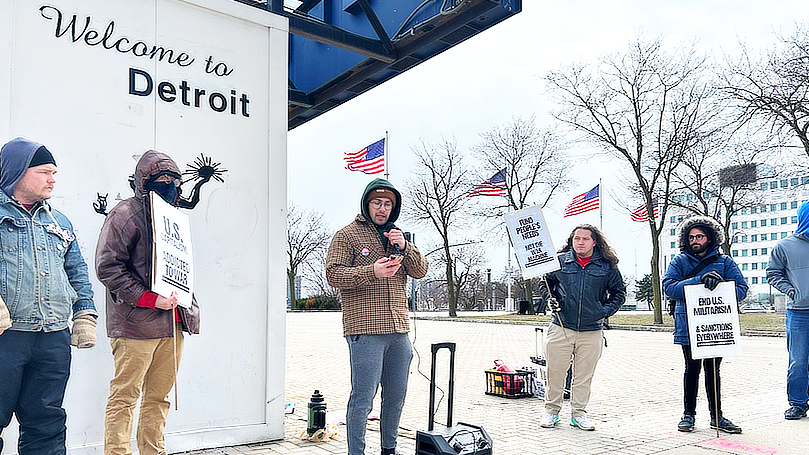 Joseph Bierlein, member of the Detroit Club CPUSA, stated, "Our main duty as internationalists against imperialism is to fight against our own ruling class, who happen to be the largest, most powerful and brutal imperialists known on the planet. It is not our priority to criticize other countries in times of imperialist war but rather our own government's role. We seek to build a powerful anti-war, anti-racist, anti-sexist, and anti-fascist movement here in our country. This is the best way for us to help the workers and oppressed of other countries."
Since 9/11, the U.S. has spent over $20 trillion on foreign and domestic militarization, satisfying the profit demands of the armaments monopolies with taxpayer dollars, but cannot provide the right to housing or healthcare. The Biden administration recently submitted the proposed 2024 defense budget, which totals $842 billion, a $25 billion increase from the 2023 budget. The ruling monopoly-capitalist class in the U.S. continues to allocate funds for inciting conflicts around the world in their pursuit of maximum profits, heightening the exploitation and oppression of people here in the U.S. and around the world.
We maintain our role in the peace movement and act in solidarity with the international working class and people by uniting the U.S. working class and people in the fight for healthcare, education, housing, jobs, and peace, and exposing the imperialist roots of U.S. policies here at home and abroad.
Comments