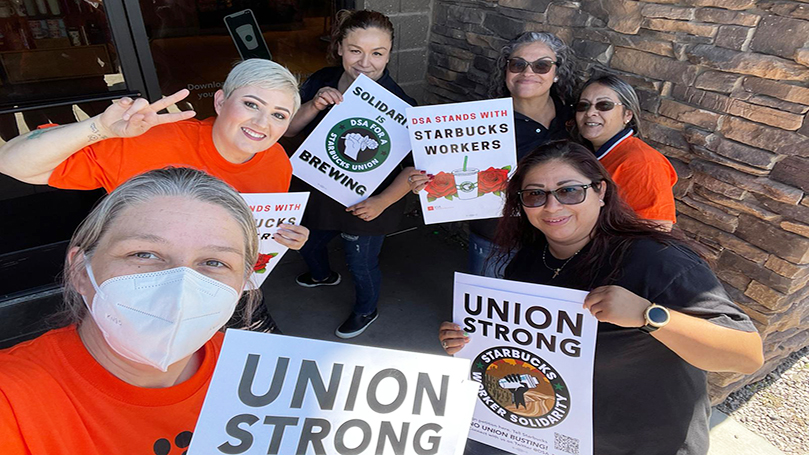 Around noon on April 5th, activists, community supporters, and employees from several Starbucks locations in and around Phoenix, Arizona, gathered outside the Starbucks at Scottsdale Rd. and Mayo Blvd. to protest the illegal firing of Laila Dalton. Laila, a longtime partner and leader in her store's organizing drive, was fired the day before ballots were to be sent out for a vote to unionize the store. The consensus among the crowd was that the firing served as an intimidation tactic.
It was a hot day in the valley, but that didn't stop the crowd of thirty from gathering along the drive-through line, intermittently reciting pro-union chants, and inciting numerous supportive honks, questions, and at least one middle finger from patrons in the area. The attention the crowd drew, including coverage from 12news, allegedly prompted a store manager to hide in the bathroom. All of this reinforced what Laila made clear in one of her addresses to the crowd: the nationwide movement to organize Starbucks was a big moment, not just for their specific location, but for service industry workers everywhere.
Among attendees were several organizers, staffers, and rank-and-file members of SEIU's Workers United. Representatives of socialist parties of various stripes were also in attendance, including members of the DSA's EWOC and our own Phoenix Communist Party club — of which at least one Starbucks employee and organizing drive leader is an active member.
Our comrade on the frontlines of this nationwide effort reminded us, "Active support and encouragement from fellow Party members in particular means everything as my coworkers, and partners across the country, continue to develop class consciousness."
Watch video of the protest here.
Image:  Western States Workers United – SEIU (Facebook).
Comments