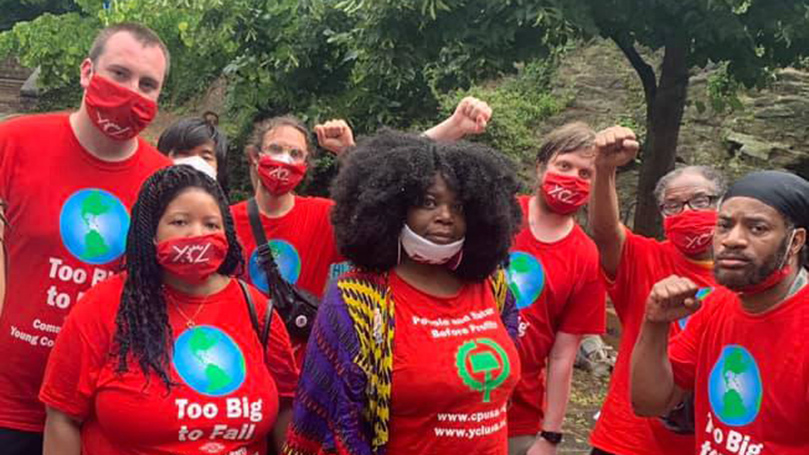 On June 30, Marcey Lynn Jones marked 4,000 masks she had sewn since the COVID-19 pandemic hit. A member of the Winchester-Newhallville Club of the Communist Party in New Haven, Connecticut, she has sewn masks for seniors, youth, community members, and participants in protests against police killings of Black people and systemic racism. She tells her story here.
Initially at the end of March, when the public was urged to wear masks during the COVID-19 pandemic, I realized there was a shortage of regular masks. All of the masks that used to be available had been purchased by health-care facilities.
Knowing how important masks are in health-care facilities and how important to the general public, I went back to sewing. I started to sew when I was six years old when my mother taught me, something I always loved to do.
Initially I started out making basic masks with a double layer and put filters in. Then I began making masks for a friend who wanted different styles and designs. I ended up with 11 different designs.
I asked for free-will donations with a suggested donation of $5. I used the money for supplies. I began donating to disabled veterans, and dropping off 25 masks at different senior centers and senior housing facilities. At the point when I had to get the help of two delivery people, I realized how many masks I was actually making.
About three weeks into it, I had my first COVID-19 test (negative). After a month of making masks, I started doing contact tracing on who I was giving the masks to. In the first month I made 1,500 masks, mostly for health-care workers, seniors, children, and local community members who literally could not get surgical or fabric masks of any kind.
In April when I saw that it was possible to order masks on Amazon, I stepped up and made even more masks. I made sure that I had 50 on hand at all times and started accepting special orders from organizations like the New Haven Firebirds, Hamden Fire Department—who helped my mom in a horrible fire at her house on March 25—North Haven Fire Department, disabled vets from Middletown to New Haven, and other organizations.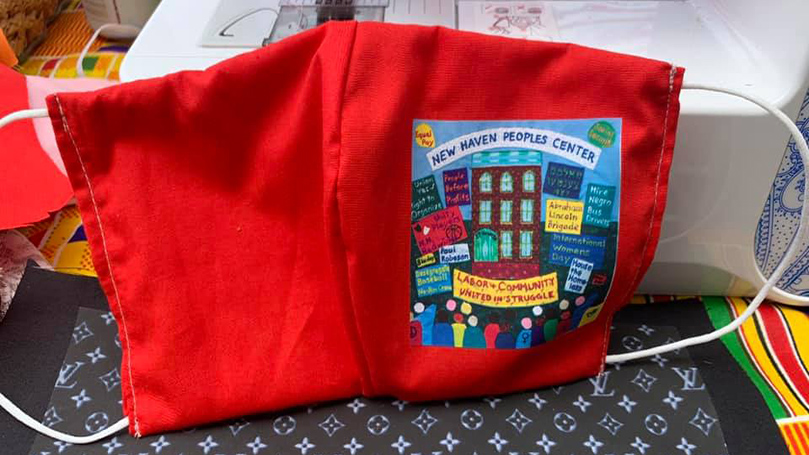 In the beginning of June I had reached 3,200. The demand became more critical in the area where I live. Families in Brookside began asking if it was okay to send kids to my door to get masks. They placed a notice in the community newsletter. I gave 300 masks to kids alone in Brookside, Rockview, and the Manor.
Around then George Floyd was murdered. Organizations like Black Lives Matter, We All Really Matter, and Ice the Beef asked for hundreds of masks for protests and rallies. I made masks for Black Lives Matter New York, Chicago, and California.
My masks have gone as far as Kuwait. A young soldier contacted her mother and explained that the masks they had been given were replaced by handkerchiefs, and people were getting more sand in their mouths than food. It took a month for her to get the masks I sent. After finding that out, I sent more for others stationed with her.
What touched my heart most and keeps me motivated is knowing that I am helping people be courteous to others by wearing the masks. And encouraging them by putting their favorite design on the masks. Especially the ones I made in memory of the ones that families have lost.
As of late I have been making T-shirts for families losing people not only to COVID-19 but also to gun violence, kidney failure, and cancer.
A special mask I make is called the smile mask. The middle is made of clear plastic so you can see someone smile. Not all of us can smile with our eyes right now. This mask is especially for daycare providers and pre-school providers because it encourages kids to see the smile of their teachers.
Recent designs include the New Haven Peoples Center and the YCL, and now I am designing a mask for all of the CPUSA.
My daughter Love has been cutting out a lot of the masks. I am extremely happy and pleased by doing the work I do and will continue until I can't or until the COVID-19 pandemic is over.
I want to thank everyone who has donated to this project. With the donations I have been able to keep fresh masks going to senior centers and kids in all neighborhoods. This project has cost me money, but it's nothing compared to giving people hope in the situations that cover us right now in the United States. I am withholding nothing.
Comments