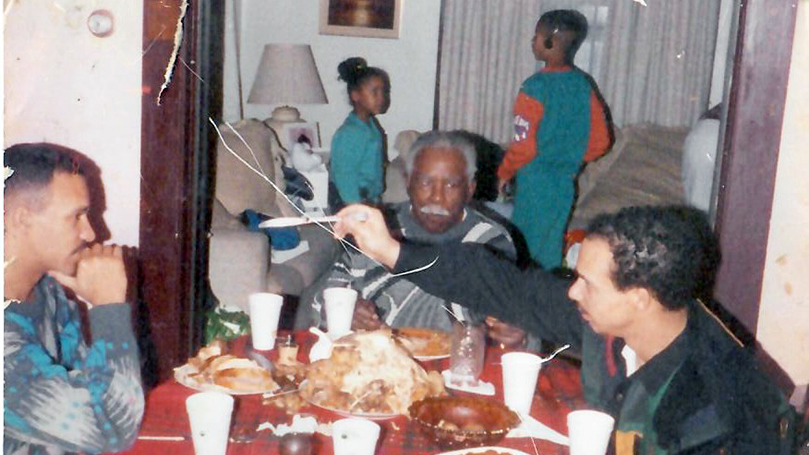 December 25th would have been our father's 102nd birthday. A Christmas baby, Joe Sims Sr., like his deeply religious mother, Pauline Taylor, disdained its ornaments and trappings, preferring to spend the day at home with family or more than likely in the steel mill's boiler room, where he worked the swing shift. Notwithstanding his spartan attitude toward Christ's and his own birthday, come Xmas, our home had trees and presents aplenty and I've fond memories of breathing pine and throwing tinsel along with sleepless nights spent in anticipation of the morning's gifts.
One Christmas, however, for some reason, Dad decided not to get a tree and steelworker stubborn as he was, nothing we could say would change his mind. Our older brother Carl solved the problem by means of a midnight raid on the Christmas tree lot on Glenwood avenue. It was the scrawniest, sparest tree you'd ever seen, a disgrace to other trees really, that no amount of decoration could rectify. We put it up anyway and it stood proud and ugly in its appointed spot, the old man's agreement in this case be damned.
I don't remember Dad ever really celebrating his birthday, other than receiving the usual "Happy Birthday Daddy" early in the morning or towards twilight when he got off of work. One year, I recall buying him a tool kit that he received grudgingly, grumbling a "Well, they'll make up for all the tools you guys have lost or destroyed." But he took them anyway and that was that!
One of my first memories of Dad was his rolling around the floor with us, growling, he, the lion, panther, bear, and we, his cubs, the stubble of his beard grazing our arms and necks. He'd roar and we'd roar back and scramble, while his big, black, pit bull, King, farted and looked on in disdain.
It fit. If anything Dad was a fighter. He took to boxing as a young man and was a welter-weight and middle-weight champion, winning 21 professional fights before he lost one and quit. Also, in his youth, he hunted and while giving up the the killing game as he grew older, his bow and arrow, shotgun, and hornet rifle were as much a part of his persona as was his bushy mustache and ferocious, and I mean ferocious, but crippled, bull dog.
But Joe Sims's pugilism, extended far beyond the boxing ring and hunting trail – he was a Black liberation and class warrior of the first order.
As the story goes, he and mom first met as they fought their way in and out of South Side swimming pool while trying to integrate it in the early 1950s. We joked that she admired his left hook, a punch borrowed from one his favorite boxers, the great Sugar Ray Robinson. Dad, along with his mother founded one of the first groups to study African and African American history. He was both well read and well spoken, rarely used slang, but would "God Damn-it" grit and grind his teeth and smack his palm against his forehead at the slightest provocation. He was a union man and lifelong member of the NAACP.
Joe Sims was brilliant. Really brilliant. He could argue any position and reveled in doing so. One of his favorite pastimes was inviting Jehovah's Witnesses into the house and arguing Biblical fine points. I remember meeting a long-lost friend of his at an event who marveled, "Your dad was the smartest guy I ever met."
Dad held forth from three positions in our household: At the head of the table near the window and backdoor, on his easy chair in the living room, where he'd sit smoking Lucky Strikes while watching the CBS evening news, and snoring away in the first floor bedroom.
He was a good provider. He drank Maxwell House coffee daily and maybe one six-pack of Miller beer a year on a hot summer day – one. He was a proud man. And determined. And he had a fierce temper. He loved his mother and children and grandchildren. His face and eyes would beam with pride at our achievements: it's likely he cried silently, privately, at our failures, though he rarely did so in public.
He could be stoic and bitter and silent. His silence became a thing when the mills closed during his winter years as he looked out onto the world from his living room chair but, the deed was already done, the tale already told for those who took time to see and listen.
Comments