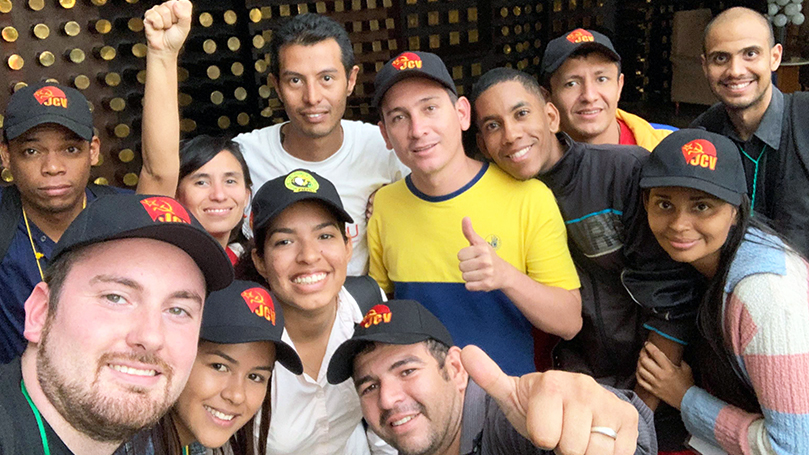 Thank you to both the youth of the United Socialist Party of Venezuela and the youth of the Communist Party of Venezuela for hosting this General Council Meeting of the World Federation of Democratic Youth and for helping an American citizen like myself enter the country under such dire circumstances.
As many of you can probably imagine, the youth of the Communist Party USA has had no break since the election of Donald Trump to the U.S. presidency in 2016. Since then, over 3,000 new members have joined our ranks; mostly under the age of 35. The excitement over socialism has been put forth by Bernie Sanders' presidential campaign, Alexandria Ocasio-Cortez's #GreenNewDeal proposal and Trump's announcement in early February that, "America will never be a socialist country".
In addition to building and participating in the broader leftist movement against Trump and the extreme right, the CPUSA youth recently hosted a National Marxist School in Chicago which was attended by 40 comrades in person and hundreds more online. There we explored the classics by Marx, Engels and Lenin and put our science of Marxism-Leninism into practice upon arrival back to our home states and cities. Our youth was active in the November elections which saw the election of the most diverse House of Representatives in U.S. history. Muslim women of both Somalian and Palestinian background were elected. Two Native American women were elected. LGBT persons and self-identified socialist candidates were elected. This is progress, comrades.
Our youth has also participated in the #YouthClimateMarch and #HandsOffVenezuela marches and demonstrations in recent months in addition to launching our own podcast channel on cpusa.org titled, "The Specter". Our increased presence on social media has not only built our party's youth movement but it has developed youth leadership in the party as well. Just last month, two young comrades were sent to China as part of a CPUSA delegation to celebrate the 70th Anniversary of the Chinese Revolution. Other comrades are writing weekly articles for the People's World news website and starting local CPUSA chapters and book clubs in their communities and on their campuses.
Our youth is active in the fight for rent control and affordable housing. Our youth is active in the demonstrations and online campaigns which demand #MedicareForAll, free college tuition and an end to families being separated at the border. Yes, families separated at the border; children locked in cages. If this isn't fascism rising, I don't know what is.
The #MeToo movement is also another movement that our comrades, both male and female, have taken up arms in as well. Since Anita Hill's testimony in 1991 against Clarence Thompson to Christine Blasey Ford's testimony last fall, it is clear that capitalism seeks to not only silence women but to also dismiss them as liars and traitors to our pathetic excuse for a democracy. This is what it is like to live in the belly of the imperialist beast, comrades.
Early last month, one of our own comrades, Tony Pecinovksy, ran for alderman in St. Louis, Missouri (a former slave state) and lost by only 52 votes to the incumbent. Youth from around Missouri and the country flocked to his campaign to help in canvassing and reporting. Therefore, despite the close electoral defeat as a result of red-baiting and the last minute changing of voting locations in the precinct, Pecinovsky's campaign was a victory for the movement and our youth.
This year, the party will celebrate its centennial and 31st National Convention in June. We look forward to seeing many representatives from your countries there and we beg you to NOT give up on your American comrades. We stand firmly with you all in the fight against monopoly capitalism and imperialism! We are fighting the beast from within! No to the imperialist embargo on Cuba! No to Trump's intervention in Venezuela! No to the unlawful occupation of Palestine!
Viva Chavez! Viva la Revolución Bolivariana! Manos fuera de Venezuela!
Comments