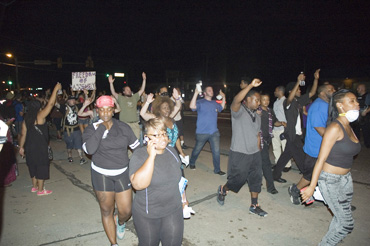 With the cold-blooded murder of 18-year-old Michael Brown, who was shot six times by Ferguson police officer Darren Wilson, once again our hearts and souls are torn asunder. Once again, millions of African Americans and people of all races are asking, "How long will these injustices endure?"
We must renew the struggle and confront and defeat the racist idea that Black lives are expendable in this country that is our home.
Daily mass demonstrations all over the world have continued for over a week. A new mass upsurge against racism and against police crimes is being born.
We must tell our children that although we have traveled the long and arduous roads toward freedom, we have not arrived yet. We still must struggle for a just and fully inclusive society. In times such as these, African American people are looking for approaches that will bring about swift justice and accelerate our fight for freedom.
In Dr. King's I Have a Dream Speech (1963) he spoke of many trials and tribulations that the American Negro has historically faced. His words still ring true today:
"We can never be satisfied as long as the Negro is the victim of unspeakable horrors of police brutality. We cannot be satisfied as long as the Negro's basic mobility is from a smaller ghetto to a larger one…. We can never be satisfied as long as our children are stripped of their selfhood and robbed of their dignity with signs saying 'For Whites Only.' We cannot be satisfied as long as the Negro in Mississippi cannot vote and a Negro in New York believes he has nothing to vote for. No, no, we are not satisfied and we will not be satisfied until justice rolls down like water and righteousness like a mighty stream."
What do those words mean for us today?
First and foremost, we must demand justice for Michael's family and community!!
We must demand a full federal investigation into the murder of Michael Brown!! If any evidence of excessive force is found-and we firmly believe this is true-Officer Darren Wilson must be prosecuted to the fullest extent of the law. We demand that Governor Jay Nixon appoint another prosecuting attorney because St. Louis prosecutor, Bob McCulloch, has a record stained by racial bias toward people of color. Furthermore, considering the history of racism in the courts, the jury selection should reflect the racial makeup of the community where the crime took place. As of now, we've learned that the Grand Jury is two-thirds white when the majority of the St. Louis County population is Black.
We also demand that a full apology be extended to Michael's family and community by the captain of the police department of Ferguson. Although a price tag cannot be put on the loss of one's child, city and state authorities should compensate the family for what Michael would have potentially earned had his life not been prematurely taken. What we lost was more than a life: It was an opportunity to contribute to building a stronger community. It was an opportunity for this young man to get an education and a decent job, and raise a family.
We need broad-based unity within our own communities!!
We must bring together both organized and unorganized sectors of the Black community. Mobilize the Black vote for the November mid-term elections, including a special effort to win more progressive Black representation on all levels of government.
We must have police review boards that have prosecutorial powers!
When police officers commit a crime against humanity, they too must go to jail!!
We must be full participants in the fight for good union paying jobs for our people! We must challenge all racial discrimination in hiring!
According to Senator Bernard Saunders from Vermont, Afro-American unemployment is at 35 percent and in St. Louis, it's even higher.
Work with the ACLU especially in communities of color. Since young people are a special target for racial profiling, they should know their rights and how to protect themselves in the event they are stopped by the police. It must be mandatory for every school district to provide this training.
All police – old and new– must go through extensive race relations training.
Community-sponsored events must define What are our rights when dealing with law enforcement?
Recruit law enforcement from the respective communities.
Federal and local funding for more recreational facilities in communities of color.
Bring back Black History Classes to our schools! Our children must learn accurate representations of their history. If the educational system is so poor that the children can barely read or write, we run the risk of lowering the nation's productivity and creating an unsafe and unhealthy environment for Americans.
More free mental health clinics for all.
The struggle for many of these ideas will take time. Once again, the cry reverberates throughout our land, "How long?" We believe not long, if we can successfully dislodge the underpinnings of institutionalized racism.
This can only happen if we seek every opportunity to build greater unity within the working class despite color, gender or religious beliefs -a goal not easy to achieve, but fundamental to the liberation of us all.
As MLK stated (1963):
"But we refuse to believe that the bank of justice is bankrupt. We refuse to believe that there are insufficient funds in the great vaults of opportunity of this nation. And so, we've come to cash this check, a check that will give us upon demand the riches of freedom and the security of justice.
"We have also come to this hallowed spot to remind America of the fierce urgency of Now. This is no time to engage in the luxury of cooling off or to take the tranquilizing drug of gradualism. NOW is the time to make real the promises of democracy. NOW is the time to rise from the dark and desolate valley of segregation to the sunlit path of racial justice. NOW is the time to lift our nation from the quicksands of racial injustice to the solid rock of brotherhood. NOW is the time to make justice a reality for all of God's children.
The Communist Party USA is committed to broadening multiracial people's unity to achieve that goal. Join with us!
Comments