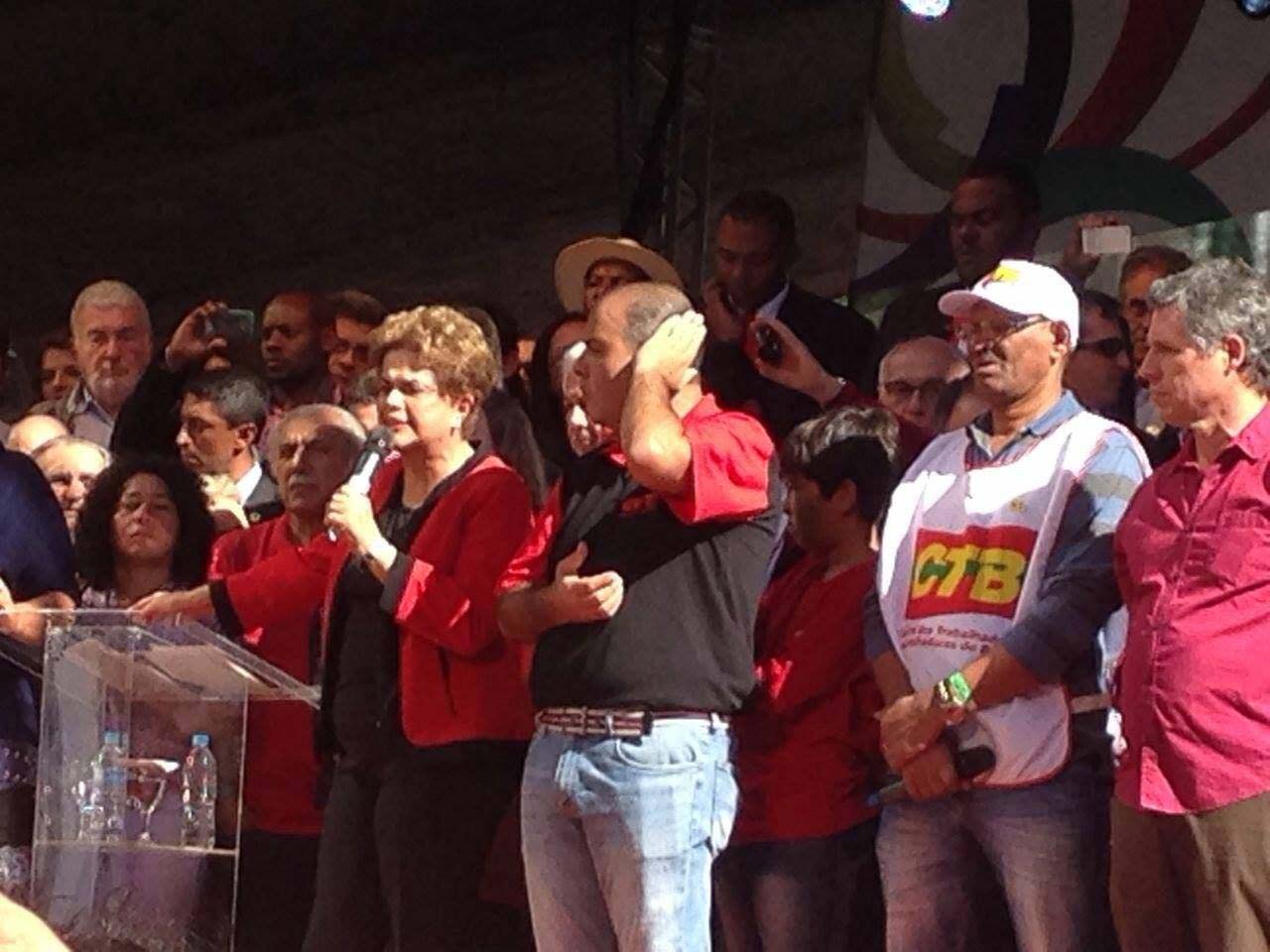 Ana Maria Prestes Rabelo, International Secretary of the Communist Party of Brazil, was featured  in a live discussion of the political crisis facing the government of President Dilma Rouseff, the background to her impeachment and the struggle against it. You can watch it here.

The Communist Party of Brazil is a major player in country's political life and participant in the Worker's Party-led government.
Below is an article featuring Ana Maria Prestes Rabelo from a Brazilian magazine.
Ana Maria Prestes:  A Woman's Place is in Political Activism
The social scientist Ana Maria Prestes began her activism in the high school students' movement, was director of the Union of Socialist Youth, became part of the Central Committee of the Communist Party of Brazil, and at present is working in the Chamber of Deputies; she is the mother of two daughters. She has written a book, in cooperation with her daughters about International Women's Day, and will publish it by collective financing.
This is now the 21st century, but even so there are men who say that women should not be in politics. Ana Prestes, 38,  with a masters and a doctorate in Political Science from the Federal University of Minas Gerais, influenced by the career of her grandfather, and influenced by her own daughters, would like such thinking to become a thing of the past.  So she is betting on the future, on future generations of women who today are still girls, reflecting on the world around them.
Starting with  the high school students' movement, Ana got to know the union at her school in Goiania, and while she was still an adolescent, became part of UBES [the Brazilian Union of High School Students] diverging from the ideal road of the goal of the "beautiful, modest and home-bound" [woman] of the collective imagination.  Today she is  a member of  the Communist Party of Brazil, a committed communist, connected to the present day struggles of the country and, at the same time, with the history of her family.
Ana is the granddaughter of Luiz Carlos Prestes [Early leader of the Brazilian communist movement] and Maria do Carmo Ribeiro, historic national militants whose lives have been depicted  in books, films, poetry, music and other aspects of the "folklore" of the Brazilian left.
Ana was born in Moscow in 1977, at a time when her grandparents were exiled in the then Soviet Union because of the persecution under the Brazilian dictatorship. It was there that her father met her mother, the daughter of Prestes.  Both were students at Patrice Lumumba University. When she was 7 years old, Ana could experience  the effervescence of the "Prestes home" where visitors from all over the world were received because of the [importance] of her grandfather.  Later she returned to Brazil, to Goiania where she lived with her paternal grandfather.
"To have been born in the Prestes home in Moscow was something which marked my whole career. I accompanied my grandfather's life until I was 12 years old, when he died at age 92 in Rio de Janeiro.  The home was frequented by artists, intellectuals, famous political leaders.  I grew up very impressed with that whole political and cultural atmosphere in which my family was inserted", she relates.
"After  my grandfather died, all my admiration was turned to my grandmother, Maria Prestes. She was my main point of reference as a  woman in struggle, feminist in essence" as she recalls of her greatest inspiration.  Ana's grandmother also became an inspiration for her daughters:  Helena, 10 years old, and Gabriela, 6:  A great grandmother worshipped by her great granddaughters who had a whole powerful feminine and feminist universe at home.
"We talked a lot about women who are reference points in the arts, for example, they knew the biography and works of Frida Kahlo, Tarsila do Amaral, Clarice Lispector.  We also talked about who Olga Benario was [Olga Benario Prestes, Luiz Carlos Prestes' first wife, a woman of German Jewish origin who was deported to Germany by the Brazilian government in 1936 and was subsequently murdered there by the Nazis] and other liberator women  in politics.  At school, they are both very attentive and curious. They bring home various questions which we debate, discussing everything" the mother explains.
It was because of a classroom discussion which was brought home that the idea came up of jointly writing a book with her daughters.  Helena, the older child, had a homework assignment of speaking about the eighth of March, International Women's Day.   Ana and Helena's reflection about the need to carry feminism to the whole world and to the language of children ended up as an unexpected project, the book "Mirela", written jointly by the two of them and by the younger sister, with illustrations by Vanja Freitas.
To get funds together and publish the book, they relied on collective financing through the website Catarse, where they are trying to raise $10,000 reais [about $2,900US] and distribute 500 copies.  There is a short way to go.  The goal has almost been reached.  According to Ana, if they overshoot the amount, the idea is to print more copies of the book. Let's push this!
Question:  People have seen that other books for children recently published deal with racism and Black people, the LGBT community, machismo and also the people's struggles.  At the same time, this generates a conservative reaction, such as to the book published by MEC [the federal Ministry of Education] which deals with families of  gays and lesbians. How do you see this issue?
Ana Maria Prestes: "What I have observed, in my profession as a political scientist and a worker in the Chamber of Deputies, as well as in my role as a mother of a public school child, is a tremendous backsliding.  There is a conservative wave which has invaded the Brazilian Congress and this wave comes from the society. The increased influence of the sectors of Pentecostal churches, for example, and other conservative perspectives, which contaminate the debates about values and customs in society has reached the schools.  An example of this was the battle over the approval of the National Education Plan in 2014, with the needed treatment of approaches to gender issues.  Conservatism won out, unfortunately.
"What we have are brave teachers who try to protect space in the classroom for as an environment in which all debates and perspectives are possible, without segregation or prejudices.  We also have the high school student movement which is confronting this wave and takes on a battle for respect and equality within the school".
Question: The Internet, at the same time as it helps a book like yours to reach the public is a dangerous universe of the distillation of hate and racial, sexist and LGBT-phobic insults. How do you see this issue?
Ana Maria Prestes: "Now in modern times, the Internet is the public plaza of the small cities, it is the space of social interaction in our times. So everything enters in it, from the most noble to the most vile. I think we need to learn to deal with it and its characteristics. Without exalting its advantages too much, or frightening ourselves with its dangers. A big challenge is to teach children to deal with this virtual environment and protect themselves from the dangers, just as we protect ourselves from traffic accidents or other kinds of vulnerability that are present".
Question: Did the book "Mirela" inspire you to a desire to write more for this public? Do you have a new idea in mind?
Ana Maria Prestes:  "For the moment we are concentrating on the raising of resources to publish this book.  My daughters joke:  'Mother, are you gong to do Merela and the Workers' Day? Mirela and the Day of the Child? Mirela and Septembery 7th?,,,,Mirela and Carnival? " and they amuse themselves with the hypotheses and let out long laughs. I think it would be a lot of fun when we have the Mirela book in hand on March 8 and we can talk to the children."
Question:  Mirela, the person in the book, is white, with straight hair, she has the features of a princess. Do you think there need to be more persons who are Black, fat, even ugly and outside all the stereotypes [found in] children's works?
Ana Maria Prestes: "Yes.  I had this same reflection when the illustrations were almost ready.  When Mirela was born in my head she was any girl, she could have been tall or short, fat or thin, Black or white..I didn't think much about that. I thought about the reactions that a girl between seven and nine years of age would have when asked about the origins of International Women's Day.  Our illustrator, Vanja Freitas, perceived that Mirela had a strong link with me and with Helena and Gabriela and asked me to send her photos of myself when I was a girl and also photos of my daughters. She was inspired by the three of us to design Mirela, to such an extent that in our home there was an argument as to which one Mirela resembled most, but Mirela could have a thousand other features.  I think that in the last few years the market for children's and juvenile literature has broken a number of stereotypes and has diversified itself in accordance with the diversity of our society. We are advancing a lot in this respect if we compare it with a few decades back, but there's still a long way to go".
Question:  I see that a crime has recently surfaced which has re-ignited the debate over the culture of rape and the culture of machismo. How did you see this case and the "machista" reactions of some people who blamed the victim? Do you think it is important for the schools also to debate matters like the culture of rape?
Ana Maria Prestes: "The case of the rape of the young woman Beatriz functioned like a spark in a hayloft. It caused the explosion of a pattern which is latent in Brazilian society.  It revealed how our institutions are permeated with the culture of machismo.  It showed how our society still needs to advance in terms of the vulnerability of women in the context of social, family, religious, work, study and leisure. The search for justifications, almost unconsciously at times, demonstrates a cultural tissue formed by centuries of patriarchy, In which the place of the woman in society was 'organized'.  In this 'organization', reinforced by the educational system, by the religions, by social constructions, a woman should follow a code of conduct under the penalty of being 'expelled from paradise' if she should seek her emancipation and her freedom with regard to her body and her lie.
"The school environment should discuss the culture of rape!  The school environment should discuss the culture of machismo!  If it is at present difficult to talk to children about sexuality, imagine talking to them about what rape is!  It is very difficult to introduce this subject with children who are still in the [stage of] formation of their bodies, their identity and their individuality. Nevertheless, we cannot leave the children as if they were living in bubbles and neither can we relegate those who are exposed to social vulnerability to [the role of] 'strangers in the nest'.  They need to know that sexual violence exists, for both girls and boys.  They need to know that there is violence aimed at women and that we have to fight against it.
"Last Sunday, I took my girls to a march in Brasilia at which we left flowers at the statue of Justice in front of the Supreme Federal Tribunal [Brazil's Supreme Court] as a demonstration of our indignation at the crimes committed against the girl Beatriz. I did not need to go into detail with them about what Beatriz had to go through or what rape is in practice, but I told them we were there to fight for a country free of violence against women.  My little one, Bibi, six years old, returned home singing mixed with one, mixed with all, mixed with one'…"
Comments