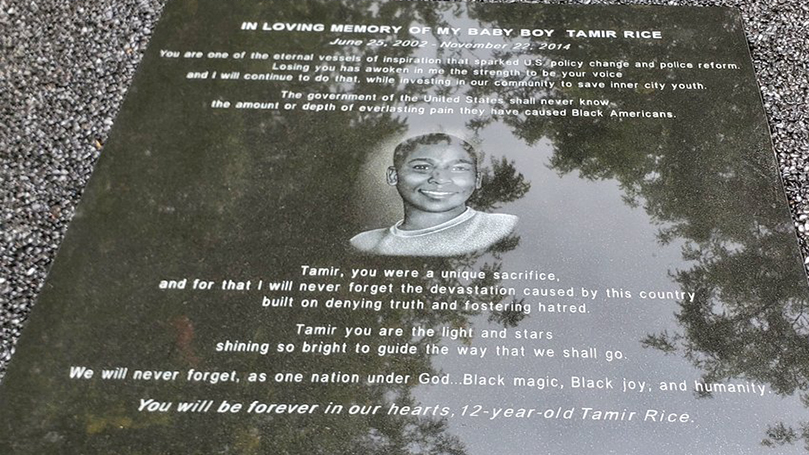 The following speech was given by Molly Nagin at the Rice Butterfly Memorial Ceremony on July 16. Tamir Rice was murdered by police on November 23, 2014, and would have turned 20 this year. Molly, Vice President of the Tamir Rice Foundation and Chair of the Cleveland Club CPUSA, designed the original butterfly garden in 2015. This year it was renovated and expanded into a memorial designed by Design Jones LLC under the direction of Tamir's mother, Samaria Rice. More than 250 people attended the ribbon-cutting ceremony, including about 10 families of police murder from the city, state, and country, U.S. Senator Sherrod Brown and his wife and journalist Connie Schultz, Ohio State Senator Nikki Antonio, and Cleveland City Councilwoman Jenny Spencer.
Thanks and praise to everyone who brought our community-based memorial garden along for the past seven years to the point of completion that it grows and thrives in today. In 2015, I was a student of permaculture design and the healing arts. I still remember the call from the great Cleveland griot Damien Ware, who invited me to submit a design for Tamir's memorial garden and to build it with our grieving community and with the intention of healing. That Ms. Samaria Rice accepted my design was, and continues to be, the greatest honor of my life.
Thanks must go to former councilman Matt Zone who secured the start-up funding for the project. To the teachers and rec center staff who made sure we had what we needed, especially Eliza Kazak, Jim Johnson, and Patty Young. To R. A. Washington who let us use the Guide to Kulchur printer for flyers and counseled me during times of imposter syndrome. To Terrence Hubbard whose designs will be painted on the bollards and taught kids how to use a stencil and spray paint. To all the Cudell [Recreation Center] kids, whose prints were everywhere, before we renovated the space, from the splattered paint to the sloppy caulk between the stones. Your sweet energy and your tears for Tamir will forever nourish this garden. There are so many more I could thank, and many of you are here. If you have ever contributed to the building and tending of the butterfly garden, please stand to be honored by our community.
Thank you all for your courage to work in a space where the harm of systems is consistently felt and in your face. You are seen and deeply appreciated. And of course, thank you to Ms. Rice, who has worked day and night for eight long years to preserve your son's legacy, and has poured your emotional, intellectual, physical, and spiritual labor into actualizing the vision of this sacred space.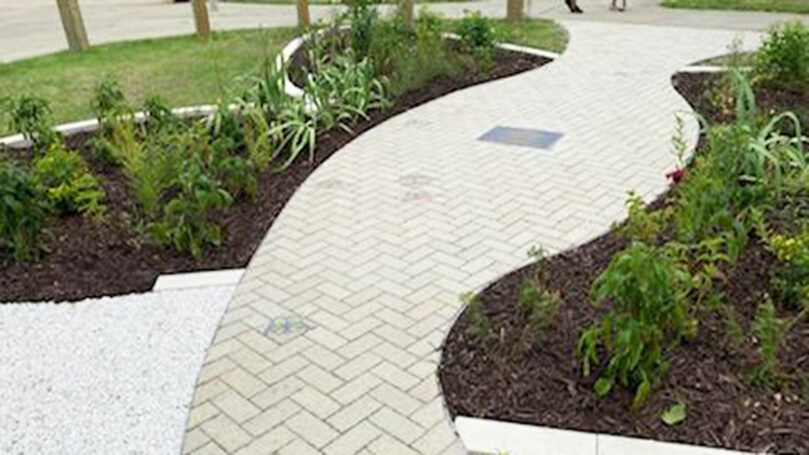 I want to take a moment to talk about why we are here.
There is an insidious and false idea that still prevails to this day. Who here has had to confront the notion that, yes, what happened here was tragic, but somehow was Tamir's fault or his mother's fault? Concepts like these are not based on reality.
Unlike Tamir Rice, the cops who took his life did not act as individuals that day. They did not act alone. They acted on behalf of the City of Cleveland. They also acted on behalf of a larger system, one that Tamir had absolutely no part in building at all, as he was a twelve-year-old child. That system is called capitalism.
Just as Frederick Douglass once said, What to the slave is the 4th of July? Tamir Rice in his actions that day said, what to the Black boy in America is a safe place to play? Was this gazebo that he once stood under not riddled with drugs, real guns, sexual violence, and bullying? Is it not now the site of cold-blooded, state-sanctioned murder of an unarmed Black child?
We must ask why did those police officers suddenly on November 22nd, 2014, decide to define and act on what safety looks like at Cudell, when every other day of the year, they left poor and working-class children abandoned, fighting alone, like Tamir once fought, to protect and serve themselves?
Tamir Rice was very likely trying to protect himself because who else would? And I hope that every day for the rest of their lives, those police officers look in the mirror and ask, Who am I protecting?
I also hope that everybody here is registered to vote. We need a county prosecutor who will fight to ensure Tamir's case is reopened. We need a county executive and council who will fight for non–law enforcement crisis response, and an end to all New Jim Crow policies and institutions, including the county jail. We need a state legislature and governor who will fight for public schools, afterschool programs, and the public safety net, including universal child care. To do this, we not only need to vote, we need to build electoral coalitions, and we need to run for office. Start small, run for precinct captain, build from there. . . . Whatever you do, please do not take your democratic rights in vain. In 2020, the Tamir Rice Foundation partnered with Cleveland VOTES and the Ohio Student Association to celebrate Tamir's 18th birthday with a voter education drive. The #WeVoteForTamir was born, and this election year we must continue to vote for Tamir, and for every life that did not matter to this society still striving to realize democracy. We must continue to say their names.
To close, I would like to invite you all to return your eyes to the Butterfly garden, which has been renovated with the new memorial. We designed this garden in the shape of a butterfly because the butterfly holds great meaning. The butterfly is an example of a qualitative change that emerges after a series of quantitative changes made by the caterpillar. Ella Baker once referred to quantitative changes [as] . . . "the spadework." The thankless minutiae of community organizing that leads to the revolution of society.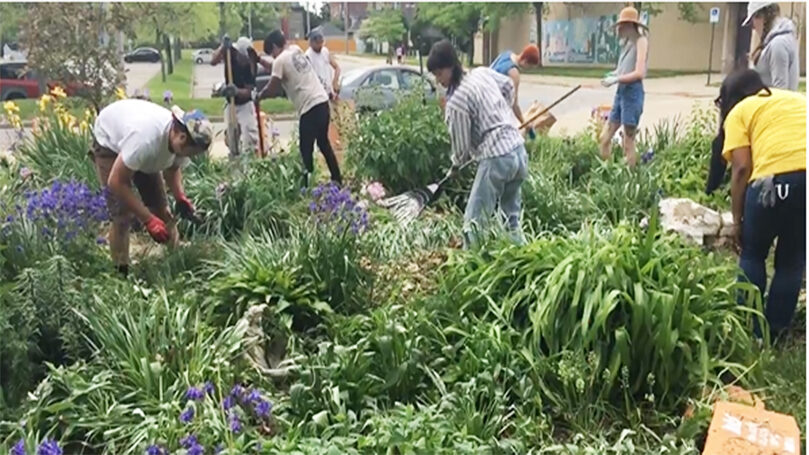 So today, we must ask ourselves: Are we willing to put in the spadework? The work that takes place in the shade, when the untrained eyes do not understand who we are becoming? Like the caterpillar, are we willing to be humble, on the ground, in the weeds? To trust ourselves in an unknown process, taking in what we need, letting go of what does not serve? Are we willing to completely remake ourselves, to transform our world, even when we must engage in destruction of all that we know ourselves to be, in chaos, and uncertainty on our paths of becoming? Are we willing to tend to the cocoon, to listen to and follow the inner cry for profound change? To trust that, despite the pain, there will be a tipping point and the butterfly will form, and a deeply sacred, great awakening will illuminate the world? That this is the way of life. First chaos, then creation. Are we willing to place ourselves into moments of peril, with nothing but our faith in the power of togetherness?
As we hold Tamir, Tajai, and the Rice family in love. As we hold our communities and our great international, multigenerational, multigendered, multiracial working class and all oppressed peoples of the world in love. As we hold the earth in love. May we say yes, we are enough. Yes, we have the capacity to heal. We have the capacity to deliver our home from oppression.
Please stand if you are able and join me in a simple song. This song was shared during the Mass Poor Peoples and Low-Wage Workers' Assembly and Moral March on Washington and to the Polls:
Hold on just a little while longer.
Hold on just a little while longer.
Hold on just a little while longer.
We know justice is coming soon.
Fight on . . .
This speech has been edited for clarity. Watch the ceremony here.
Images: Plaque honoring Tamir Rice, Victoria Trotter (Twitter); Garden path, Molly Nagin; Volunteers working at the garden, Tamir Rice Foundation (Instagram).

Comments