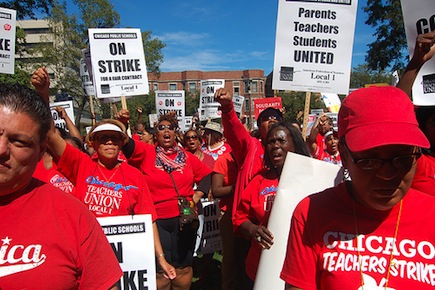 Nearly 30,000 Chicago teachers and support personnel went on strike for quality public education for all and to save their profession. The strike sparked a "Madison moment," had broad support among parents, students and community groups and inspired teachers and the labor movement across the country.
Why did the Chicago Teachers Union go on strike? How did the union build such solidarity with labor and community? What does the strike mean for the fight against privatization and underfunding of public education nationally?
Join the conversation with a CTU leader.
Date: Tuesday, Sept. 25,
Time: 8 pm eastern, 7 pm central, 6 pm mountain, 5 pm pacific
Call 605-475-4850, access code: 1053538#
Check out People's World coverage of the strike:
Chicago teachers strike for good schools:
http://www.peoplesworld.org/chicago-teachers-strike-for-good-schools/
Chicago teachers agree: children do deserve better:
http://www.peoplesworld.org/chicago-teachers-agree-children-do-deserve-better/
In Chicago, a movement is born to reclaim public education:
http://www.peoplesworld.org/in-chicago-a-movement-is-born-to-reclaim-public-education/
Chicago teachers: 'assault on public education needs to end here:
http://www.peoplesworld.org/chicago-teachers-assault-on-public-education-needs-to-end-here/
Chicago teachers to vote Sunday on ending strike:
http://www.peoplesworld.org/chicago-teachers-to-vote-sunday-on-ending-strike/
Chicago teachers educate a nation:
http://www.peoplesworld.org/chicago-teachers-educate-a-nation/
Photo: (PW/John Bachtell)
Comments