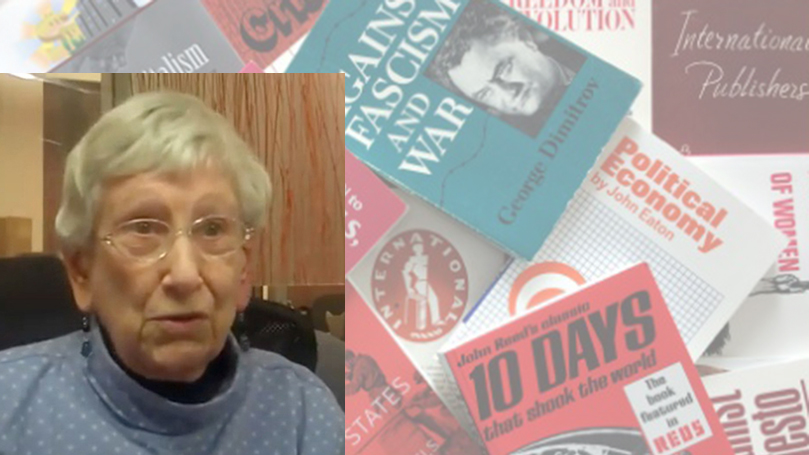 Betty Smith, longtime member of the Communist Party USA and former president of the Marxist book company International Publishers, passed away on April 6, 2022, in New York City, at the age of 95.
Born on December 14, 1926, Betty was adopted as a baby by Edward and Inanda Sunne and raised in Northern Minnesota. As an only child, Betty grew to be fiercely independent, to love sports and education (especially baseball), and value hard and principled work.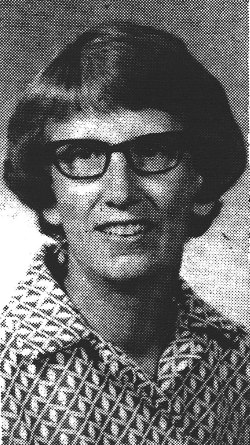 Betty was proud to have worked for 73 years of her life, finally retiring at 89 years of age when the daily commute to the office by NYC public transportation became a nuisance for her to navigate alone. She was adamant that she was capable of navigating such daily chores on her own and need not bother others with such matters.
As a Minnesotan, Betty raised her two children, Gary and Shellye, while working full time and supporting movements for worker's rights and civil rights, standing firm on her principles in the face of McCarthy-era witch hunts and blacklists. She joined the Communist Party in 1947 and participated in various campaigns over the decades, including, in her early days as an activist, an effort led by the Civil Rights Congress, the United Electrical Workers, and Youth for Wallace (a grassroots youth organization that campaigned for Henry Wallace) to organize a Minneapolis car wash.
After moving to New York City, Betty served as a leader in the CPUSA's Political Bureau, was a Marxist educator, and participated in electoral activities around the country. She even ran for Minnesota Auditor in 1970 and traveled to Arkansas, Virginia, and several states in 1976 to help put Gus Hall and Jarvis Tyner on the presidential ballot.
In 1982, Betty took on the role of director of International Publishers, the job that would perhaps best define her work career, which she held for 36 years.
Combining her intense passion for reading, her deep inquiry into social and political society, and her love of storytelling, Betty took great care in her role at International, reviewing manuscripts and keeping sales and revenue up even as large booksellers made it difficult for small publishing houses to break even.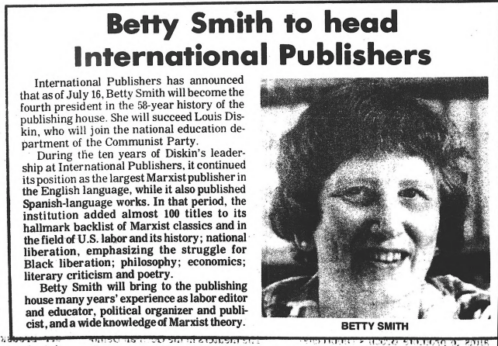 Thanks in large part to her efforts, International survived the crisis that confronted Marxist publishers following the fall of the USSR and other socialist countries in the 1990s. Though many Marxist publishing houses around the world disappeared during this time, International continued to issue new titles and entered the internet age.
Betty's interest was in keeping leftist literature present in classrooms and bookstores for the next generations to absorb. It was common for her grandchildren to receive in the mail manuscript excerpts, newspaper clippings, and letters of her own writing. Betty's efforts to ensure a strong worker's rights analysis continued beyond her own life.
In 2019, the Communist Party honored Betty for her 75-year membership in the party.
Those who knew Betty fondly recall her meticulous and witty stories from her childhood and from work in the struggle with comrades.
Betty was preceded in death by her daughter, Shellye, and is survived by her son, Gary, her grandchildren, Mario, Marcus, Garrion, Gary Jr., Rasha, Kamil, Toni, and Lorna, and many great-grandchildren and great-great-grandchildren, and of course, by the struggle for justice, which lives on.
Betty Smith interviewed in 2010. CPUSA Archives.
Published by the People's World, 4/20/22.  Images: CPUSA and People's World Archives.

Comments