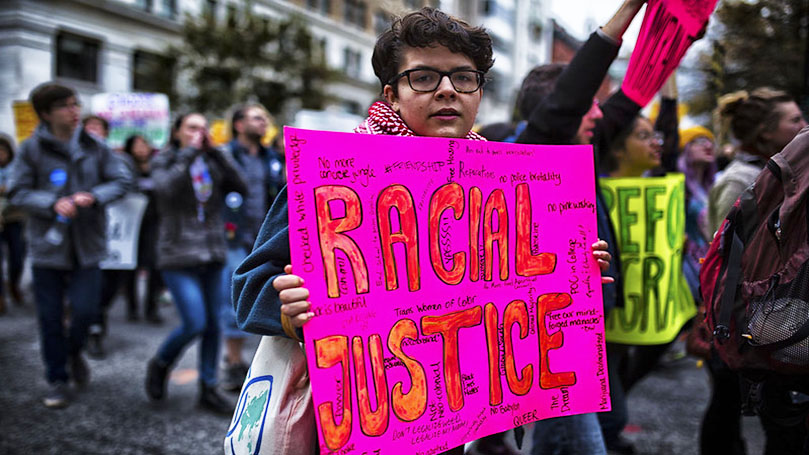 Editor's note: The following is a response to the discussion question on class struggle, racial justice, and the road to socialism.
Some of the Communist Party's best organizers came not only out of the labor movement, organizing women workers, dock workers, and sharecroppers, but also from movements for tenant's rights and sexual minorities, among others.
Whether these activists and organizers knew it or not, they put great importance on Lenin's national question and applied it in the streets to ethnic, racial, gender, and sexual minority struggles. They did not presume that the betterment of the white worker would lift all boats.
We remember and honor such comrades as John Reed, Gus Hall, Eugene Dennis, and William Z. Foster. But we also recall comrades like Bonita Williams, a Communist Party member in NYC who headed the Harlem Action Committee against the High Cost of Living; Audley Moore, who campaigned for reparations; Louise Thompson Patterson, labor activist and feminist involved in campaigns to free political prisoners; Thyra Edwards, a social worker and journalist who advocated for women and children; Williana Burroughs, teacher and CPUSA organizer who helped defend the Scottsboro Boys; and numerous others like Claudia Jones, Beulah Richardson, Esther Cooper Jackson, Grace Campbell, Charlene Mitchell, and Sallye Bell Davis.
Add to that list of eminent comrades such names as Harry Hay and Chuck Rowland, who were openly gay members of the CPUSA. Hay, a labor organizer and Marxist educator in California, drew directly from Lenin's national question and radically upturned how lesbians and gay men were perceived, pioneering the later gay liberation movement. Hay formulated his work from within the Party of the 1940s.
These activists came out of real struggles within the Black and working-class communities, and this lent a particular flair to their contribution and a sharp resonance to their theory. Black people respected it. The Party recognized it. And the broader left-of-center struggle knew it. It was literally working theory.
We come now to the question of what the Party can do with regard to the Black struggle and the working class, and we have to ask how we got here to ask this question.
It is perhaps because the left moved its center from the streets—where these earlier activists and organizers began—to the academic arena.
This may be understandable. The labor movement that produced our finest suffered some of the worst of the McCarthy anticommunist period, and today, some unions still have anticommunist provisions in their constitutions. Academia was a little more welcoming, and the toleration of leftist professors created an atmosphere conducive to the student movement of the latter 1960s.
The downside to this academic shift is perhaps being a little too remote from the actual struggle of Black and working people, and instead placing a greater emphasis on theories.
The Party need only revisit and nourish this old commitment as exemplified by these comrades. The Party need only direct, encourage, and empower its members to work where they are in their neighborhoods and communities and press for the implementation of socialist measures. The communities will see them today as our communities saw them before.
The CPUSA Hawai'i Club, for example, has decided to focus on housing. Not only affordable housing, which is a problematic goal, but especially the dire need to build public housing. As gentrification outpaces the threat of any coronavirus, the lack of public housing is a greater menace to Black and working-class families in the immediate sense.
We need activists who will demand housing rights, and there are bourgeois Democrats and even liberal Republicans who do that. But we also need activists who appreciate that socialism is the only answer to the social issues faced by Black and working-class people. Our role in racial justice struggles is to develop such activists and to promote socialism as the solution to real-world problems.
Image: Johnny Silvercloud, Creative Commons (BY-SA 2.0).
Comments