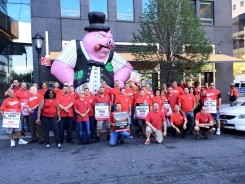 As of now, 39,000 CWA and IBEW Verizon workers are on a strike that reaches from Massachusetts to Virginia because of management's refuses to back off its demands that would destroy good jobs and put thousands and thousands of working families in financial jeopardy. You can support the workers by joining their virtual picketline.
Coming off a concessionary contract the last time around in 2011, Verizon is insisting on a second round of cuts even as it divests from its traditional copper landline telephone business and slows the expansion of fiber broadband service in favor of a less labor-intensive wireless approach.  The company has also accelerated the process of moving call centers out of Northeast communities and into right-to-work states and overseas locations.
Despite making record profits — $39 billion in profits over the last three years – Verizon continues to offshore good jobs. Verizon has already contracted out work to more than 5,000 employees in the Philippines, Mexico, the Dominican Republic and other overseas locations. These offshore workers handle customer service calls originating in the Mid-Atlantic and Northeastern states.  They also want to increase the number of calls — and jobs — that are transferred overseas.
Verizon is also pushing to dramatically expand its outsourcing of work to low-wage non-union contractors, particularly vital work of installing and maintaining telephone poles.
The company also refuses to negotiate a fair first contract for Verizon Wireless retail workers who formed a union in 2014. Verizon says Wireless workers make the company huge profits, but it's refusing to give them any improvements — even though they're some of the lowest paid people at Verizon. Also, Verizon is failing to negotiate a fair contract for the 100 wireless technicians who maintain the network in downstate New York.
Despite the high-demand for customer service, hundreds of Verizon workers are at risk of losing their jobs or being forced to commute as much as three hours more each day because of the company's plan to close and consolidate call centers. Many Verizon workers worry that their families and communities would be devastated by the move.
Also, Verizon executives want wireline technicians to work away from home for as long as two months at a time, anywhere from Massachusetts to Virginia, without seeing their families.
Despite its massive profitability, Verizon is insisting on freezing pensions at 30 years of service and slashing five sick days. CWA already agreed in 2012 that newly hired workers will not have defined benefit pensions; instead they have a 401(k) plan.
Verizon is also pushing for retirees on fixed incomes to pay dramatically more for health care. This is perhaps the cruelest cut the company is seeking in negotiations, since retirees who dedicated their lives to the company are now being squeezed to further pad the company's profits.
The company's greed is disgusting the unions said in a strike announcement.  Verizon CEO Lowell McAdam made $18 million last year. Verizon's top five executives made $233 million over the last five years. Last year alone, Verizon paid out $13.5 billion in dividends and stock buybacks to shareholders. But they claim they can't afford a fair contract. (all the above information was obtained from StandUpToVerizon.com)
To support the striking Verizon workers, attend a picket line/event or create an action, go to StandUpToVerizon.com and join the virtual picketline in phoning, emailing and texting your support for the striking workers.
Comments