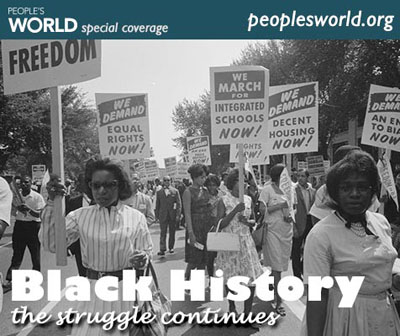 Black History Month Special
We hope hope you join People's World in celebrating African American History Month with a national teleconference presentation by Prof. Jamie Wilson Tues, Feb 19, 8 pm Eastern on "From the civil rights movement to Obama: the Black freedom struggle makes American history."
The black freedom struggle in the mid- to late-20th century exposed discrimination to the nation in stark terms and forced it to grapple with one of its most pressing problems, what W.E.B. Du Bois called the the color line.
African American grassroots activists, leaders, and organizations helped remap American History, forcing the nation to reexamine the basic democratic principles by which we live; forcing the country to live up to principals of its founding.
How does Black History shape American History? What remains of the problem of the "color line" today? Does the reelection of Pres. Barack Obama signal a "post-racial" era or an opportunity for the struggle for equality?
Join us for the conversation.
___________________
Jamie Wilson is an associate professor of African American and Modern US History and writes on black cultural formation, political thought and religion. Author of Building a Healthy Black Harlem (Cambria, 2009), which examines the urbanization of black Harlem in the Jazz Age and Great Depression, and The Civil Rights Movement (ABC-Clio, January 2013), a reference guide to the Civil Rights Movement, Wilson is now beginning a biographical project about the late Gil Scott-Heron, the rhythm and blues artist.
February 19
8pm Eastern (7pm Central, 6pm Mountain, 5pm Pacific)
Call 605-475-4850
Dial 1053538# at the prompt
Sponsored by People Before Profits
People's World is a daily news website of, for and by the 99% and the direct descendant of the Daily Worker. Published by Long View Publishing Co., People's World reports on the movements for jobs, peace, equality, democracy, civil rights and liberties, labor, immigrant, LGBT and women's rights, protection of the environment, and more. Mundo Popular provides the same coverage in Spanish.
People Before Profits is a 501(c)(4) nonprofit organization that promotes education, analysis, journalism, culture and dialogue from a working-class and socialist perspective.
Photo: Professor Jamie Wilson
Comments