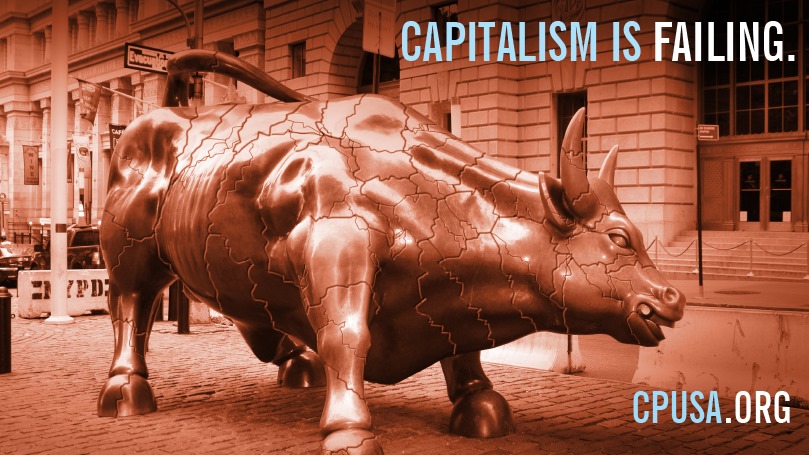 "Taking Care of Our Working Class" was the theme of a Town Hall meeting held on April 5 and attended by over 400 people. The People's World and CPUSA sponsored the online meeting, which focused on the effects of the COVID-19 crisis on workers and how people and organizations are responding. A list of resources (at the end of this article) was provided to people who need assistance. Speakers talked about the effects on hospitality workers and renters, mutual aid, the CARES Act, and a call to action, while Cameron Orr and Audrey Starr gave musical performances to inspire during this difficult time.
Rossana Cambron, co-chair of the CPUSA, opened the meeting with a tribute to Comrade Frank Stearns, who died on April 3 from complications of COVID-19. A volunteer at the New York Party office, member of Veterans for Peace and a Vietnam vet, Frank was a cheerful man with a loving and beautiful spirit who made everyone feel welcome. Rossana dedicated the town hall to Frank.
Socialist Solutions Are Needed
Joe Sims, co-chair of the CPUSA, opened by urging viewers to remain "physically distant but socially close." Speaking about different countries' handling of the crisis, Sims pointed to the example set by China. Despite making some mistakes, China has corrected them and gone on to slow down the virus and help other countries, including sending 1,000 respirators to New York City. Sims praised socialist Cuba, an island nation under US embargo, which is "punching like heavyweights," sending doctors to Brazil, Italy, and Spain. Noting South Korea's success, Sims said, "You don't have to be a socialist, a communist, to see the dangers posed by this virus. You have to be sane. . . . If only Trump had listened to the scientists," but instead he called the virus a hoax, offered confusing advice, and refused to launch a national coordinated effort to end the virus.
Referring to the disproportionate impact on African Americans and other people of color, Sims noted, "When the world catches a cold, people of color catch pneumonia. And for what? So that they can maintain the corporate bottom line?"
The impact on thousands of immigrants held in overcrowded detention centers was also noted. The "Congressional Hispanic Caucus says, release them. We agree." Sims also called for releasing nonviolent as well as elderly offenders from our nation's prisons.
The people scored a big victory when Trump was compelled to extend the stay-at-home policy through the end of April. "It just goes to show that the marching slogan that we use, that . . . a people united can't be defeated is true. And the people were united around this issue." "But we can't get too excited," Sims warned, because the right wing "is using the excuse of the crisis to implement their agenda anyway": gutting paid sick leave, reversing environmental protections, making it harder for public workers to organize, turning asylum seekers back, and denying abortions.
"Whatever it takes to solve the crisis, we have to fight to make that so." This means pushing for the Green New Deal and more, to rebuild infrastructure on a sustainable basis: improve and rebuild roads, trains, the electrical grid, water plants, and bridges. Sims called for socializing hospitals, as Spain and Italy had to do. The crisis has revealed that "capitalism is failing, and people are beginning to . . .  see the need for socialist solutions."
In a nod to last year's strike wave, Sims noted, "Our working class is ready to fight. . . . We're going to come through this and come through this more united, better organized, and more able to put our class and people on a better footing."
Sims urged the audience to do whatever it takes to defeat the Trump administration and the right wing in the November elections: "Let us unite and defeat the right. Our ability to help the people most affected by this crisis depends on it. Our ability to defend democracy—as limited as it is—depends on it." What happens after a new administration comes in depends on "our ability to organize on the ground" now.
In closing, Sims stated, "Let us gather our forces . . . organize our work . . . prepare for the big battles ahead. Let us take care of each other as we do so." And of course, keep physical distance but stay "socialistically close."
Hospitality Workers Demand Protections
Barbara Vereen, of Unite Here!, Local 34 in New Haven, talked about her union's efforts to help their workers in the hospitality industry. About 75% of the national union's membership has been laid off, and they are now without health care. Unite Here! has established a fund to help their workers and has been petitioning state and federal lawmakers, asking them not to cut off utilities and to continue health care and extend unemployment. Some of these measures have passed.
At Yale University, of 3,700 Unite Here! members, 700 are critical workers who take care of patients. Her local is pushing Yale to bring in more safety equipment and personal protective equipment (PPE) for workers. The local is demanding alternating schedules to reduce the number of workers in the buildings and make physical distancing easier. They are also demanding hazard pay and want to hold managers accountable for reducing needed staff in previous years. Five of the Local 34 members tested positive, and one member died the night before the Town Hall. In her closing, Vereen stated: "Each and every one of us is going to be touched by this. We just have to stick together and hold the president accountable, hold the governors accountable, make sure that we get the safety equipment to people on the frontlines who are putting their lives on the line." Vereen urged attendees to donate to Unite Here! to help hospitality workers survive the crisis.
China's Response
China's response to the virus was discussed by Ian Goodrum, an American comrade living in China during the outbreak. He was struck by China's effective response to the virus, including moving 42,000 health-care professionals from all over the country to Wuhan where the virus started. Among those thousands of health-care workers, none were infected. But in the US, health-care workers are being infected and are scared for their lives.
China's success in fighting the virus was due to redirection of state industries to produce PPE and equipment, widespread testing, new facilities for hospitalizations, and appropriation of large spaces for quarantine. Other countries (Italy, Spain) are taking these actions only on a piecemeal basis because of fears for the economy. Goodrum noted, "China understood that there would be economic consequences, but that it was worth taking the hit to save lives." Their economy "doesn't depend on explosive growth to stay solvent." China's obvious success runs counter to the lies being spread by the media and the right wing.
New York Tenants Fighting Back
The MET Council on Housing in New York has been in the forefront of the tenants' rights movement for 60 years. Director Ava Farkas spoke about their response to the crisis. Renters have already been facing a crisis prior to COVID-19: New York renters spend on average 30% of income on rent, and 40% of renters reported that if they lose income, they won't be able to afford next month's rent. The MET Council petitioned Governor Cuomo to enact an eviction moratorium, a demand that was won in a couple of days. For the time being, housing courts across the state are closed, and no pending evictions or those in motion can be carried out by the marshals. However, once the moratorium is lifted and housing courts reopen, "hundreds of thousands of renters" will face immediate eviction if nothing is done. So the moratorium isn't the solution to the crisis.
Farkas emphasized the importance of housing, especially in this crisis when people need to stay at home to be safe: "Nobody's home, safety, and sanctuary should be under threat at this time." The MET Council is one of many groups organizing a petition drive, calling on Cuomo to cancel or suspend rent and house the homeless. Over 90,000 people signed the petitions, and reporters are starting to ask the governor about this issue.
Also, starting April 1, tenants are starting to not pay their rent, which Vargas called "an action of necessity." The Council is helping tenants who can't pay rent to join together in a collective rent strike. This is different from a typical rent strike organized around a single building and used to leverage changes in their building. They want to "turn around what can be an isolating and shameful experience for people into something that is a collective action . . . to let people know they're not alone." The Council also is keeping in touch with rent strikers so they can help tenants when the housing courts reopen after the COVID-19 crisis is over. The Council is offering a Rent Strike Toolkit, which explains how to go on a rent strike and includes a poster rent strikers can place in their windows. New York City tenants can text "Rent Strike" to 646-542-1920 to get this toolkit or click here. The Council also runs a hotline for New York City residents on Mondays, Wednesday, and Fridays in the afternoons and evenings: 212-979-0611.
Mutual Aid: "Solidarity, Not Charity"
Mutual aid efforts have been popping up all over the country. Shawn, from Southern California, gave practical suggestions for organizations who want to provide mutual aid. Party clubs and districts should gather donations of all kinds, including canned food, clothes, masks, and hygiene products. Besides distributing items to individuals, it's a good idea to set aside some of the collection for another group who is doing mutual aid; this builds relationships and expands networks. After the immediate crisis is over, people will still need help, so organizations should be prepared to continue donating items or consider providing hot meals when it's safe to go outside.
The main pillar of mutual aid is "solidarity, not charity," according to Shawn. "This concept has a very real material difference in how and why you go about serving the people. As revolutionary organizations, we are not undertaking this simply to have a warm, fuzzy feeling in our hearts. . . . We are doing this to empower and prepare the working class for the eventual overthrow of our criminally inhumane system." Shawn suggested that, when donating items, activists take literature with them that is geared to the community being served. Activists should be prepared to explain who they are and why they are providing mutual aid. Shawn emphasized the importance of social media: document and post all mutual aid activities (and other actions, too), including photos, not just to attain street cred but because "people need to know that your group is active, is actually doing things, and is a real option to give support and receive donations."
What's in the Relief Bill?
Roberta Woods, representing the CPUSA Labor Commission, talked about the CARES Act, the recent relief bill passed by Congress. The original Republican bill would handed over hundreds of billions to large corporations, which Woods called a "2008 [stimulus bill] on steroids." But the Democratic House that was elected in 2018, with help from the labor movement, forced a relief package that includes extended income and more for the working class. This is "not a stimulus bill but income to stay home and get off the job." AFSCME has published a useful summary of the CARES Act. The act
extends unemployment comp;
eliminates waiting week;
adds $600/week to state unemployed benefit;
includes gig workers, contractors, and self-employed;
subsidizes employers to maintain workers on payrolls and health care plans. Employers may not subsequently oppose efforts of their employees to organize.
Undocumented workers, however, are not covered under the CARES Act. Anyone without a social security number is ineligible for benefits. Woods remarked, "This is cruel and shameful, and it has to be a priority for all of us to correct. We can't abandon millions of working-class families to starve in this pandemic."
Unfortunately, no legislation has addressed the plight of workers still on the job. Woods asked, "How many thousands of us will die because workplace health and safety requirements don't exist and there's no enforcement?" She noted that the US spends 12 times for ICE enforcement as it does for workplace safety inspectors. But workers are pushing back, by courageously walking off the job at grocery stores, Amazon warehouses, health-care facilities in California, transit stations in Chicago, and construction sites in Texas, demanding PPE, basic sanitation, and an end to nonessential work.
Some of the myths about our country's economy have been exploded by the pandemic. Woods pointed out that our nation does have the resources to take care of its people, but the Trump administration doesn't make full use of them. Our for-profit health-care system does not work. And the essential person in our economy is the farmworker, the grocery clerk, the bus driver, the construction worker, the utility worker, and the nursing home aide.
Another myth exposed by the virus is that the CEO or hedge fund manager is the driving force of the economy. "It doesn't make a difference if the Walton family, Jeff Bezos, or Oracle's Larry Craig are all sheltering at home. It's the person picking the lettuce, packing the chicken, sanitizing the hotel rooms, and stocking the shelves at Trader Joe's who are essential to our economy. We are the ones who should own it and run it."
To deal with the virus, we need an extension of income replacement, more safety on the job, and protections for undocumented people now. Meeting workers' needs after the pandemic will require more steps, including a stimulus bill based on the Green New Deal, union rights, and rebuilding infrastructure. Woods called for transforming "the wave of rank-and-file struggles into a tsunami of working-class political power—of union power."
She invited participants to attend Labor Commission monthly meetings to discuss these issues and more. Write Laborcommission@cpusa.org.
Action: #PeoplesBailout
The meeting ended with an action everyone can take. A coalition of over 500 organizations is calling for people to write their members of Congress or directly tweet at them using the hashtag #PeoplesBailout. The People's Bailout has five organizing principles:
Health is the top priority, for all people, with no exceptions.
Economic relief must be provided directly to the people.
Rescue workers and communities, and NOT corporate executives.
Make a down payment on a regenerative economy while preventing future crises.
Protect our democratic process while protecting each other.
These principles were introduced in a letter by Representatives Debbie Dingell, Alexandria Ocasio-Cortez, Pramila Jayapal, Mark Pocan, and Barbara Lee in the House as well as by Senators Ed Markey and Tammy Duckworth.
Read the CPUSA statement on the crisis, including a list of our demands.
Resources
GrantSpace: resources for individuals, nonprofits, small businesses, and artists.
National Alliance on Mental Illness (NAMI): resources organized around questions people have about Covid-19.
Centers for Disease Control: information about all aspects of Covid-19.
One Fair Wage: resources aimed at restaurant and other tipped workers who have lost income.
AFL-CIO: resources for all workers, especially those organized in AFL-CIO-affiliated unions.
Union Plus: offers financial, homeowner and healthcare assistance for union members and Families.
National Restaurant Association: industry relief fund for workers.
State of California: information about benefits for workers affected by Covid-19.
Comments