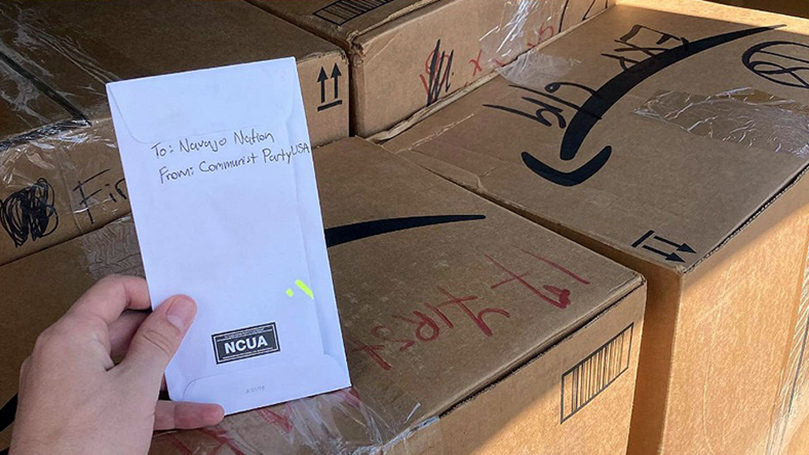 "My commitment to mutual aid or at least the urge to help others predates my studies and activity as a communist and my membership in the Communist Party," said James, a member of a local Communist Party club here.
He recently volunteered to drive to Gallup, N.M., to deliver 600 first aid kits to the Navajo Nation Food Distribution Program. He says that it is his socialist politics that came out of "class studies, internal discourse, and my work with the Communist Party," while the decision to help the Navajo Nation's program came out of "living all of my life with Indigenous and immigrant communities."
The collection and drop-off of donations in Gallup were done in partnership with a local organization, Refugee Aid. The organization's founder, Mary Miller, describes Refugee Aid as "a volunteer group of concerned individuals who assist refugee families seeking asylum in the United States."
Mary was moved to set up the group after witnessing the abhorrent treatment of refugee families, and particularly refugee children, at the hands of the U.S. government. Refugee Aid, she says, "believes all people deserve to be treated humanely, and we strive towards that ideal in our service to refugee families."
With the COVID-19 pandemic, Refugee Aid recently expanded their operations to collecting and transporting supplies to the Navajo Nation. In addition to the drop-off of 600 first aid kits, the local Communist club has also donated supplies of canned food, water, and hand sanitizer. They also included 200 face masks in the materials sent to the Navajo Nation, the shipment of which was coordinated by Rossana Cambron, one of the CPUSA's national co-chairs. The masks were a solidarity gift from the Communist Party of China.
James and the other Communist Party members in Phoenix, who call their local chapter the "Valley of the Sun Club," recently passed a motion to continue mutual aid projects with Refugee Aid, both monetarily and materially. Members unanimously voted to designate $50 a month of their funds toward the operations of Refugee Aid.
They also plan to continue donating essential items, such as sanitary supplies, canned food, and water, whenever possible. One club member said, "It is our duty as Communists to offer assistance and solidarity wherever it may be needed during these difficult times. There is still much work to be done, and the Valley of the Sun Club is ready to offer a hand."
Donate to Refugee Aid here.
Published July 24, 2002, in People's World.
Comments
Related Party Voices Articles