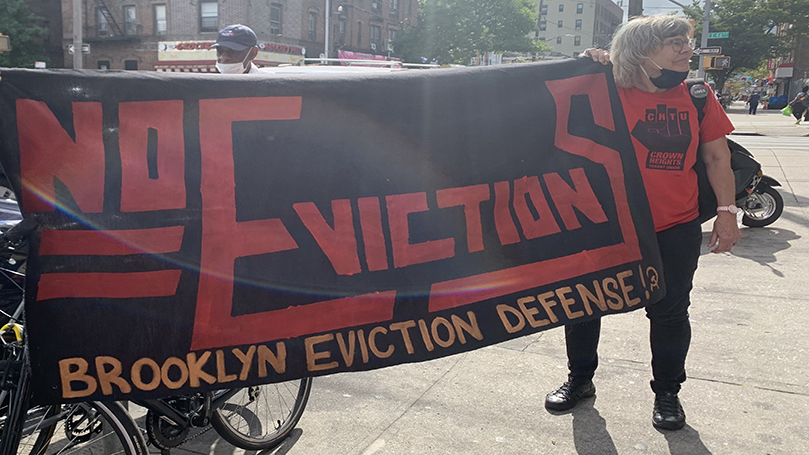 The YCL and Brooklyn Club of the CPUSA held a tenant defense rally on August 22 along with our partners the Flatbush Tenant Coalition, Brooklyn Eviction Defense, and the Crown Heights Tenant Union. We were joined by a candidate running for New York State Senate, David Alexis, a tenant activist and labor organizer running on a progressive platform for a Green New Deal for NY, tuition-free City University, and the NY Health Care Act.
Fidele, a tenant who was incessantly harassed by her landlord and whose electricity was illegally turned off last week, told the crowd of supporters, "I'm like a pit bull in this fight and there's no way I'm giving up! I have a right to live safely in my apartment and I'm going to fight in the street, in Housing Court, and with all of you behind me, I won't stop until I win!"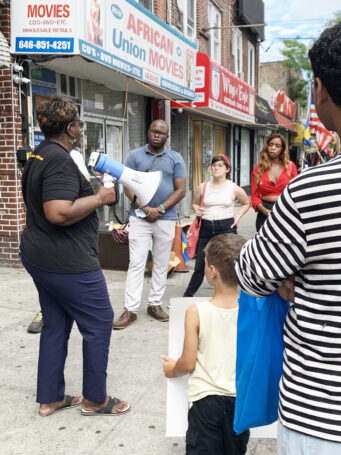 Last year the landlord had also locked her out of her apartment in what's become a constant stream of harassment actions against Fidele. At that time, Brooklyn Eviction Defense, Flatbush Tenant Coalition, and other tenant organizations along with the YCL organized street rallies to protest the illegal actions. Fidele is a tenant leader in the Flatbush Tenant Coalition, which took the battle into the courts and also out in the streets of Flatbush with multiple rallies.
The organized actions paid off when Fidele won her case against the landlord and retained her apartment. This week's protest came in response to renewed harassment.
YCL/CP member and FTC leader Khadija gave a powerful speech, exhorting all the neighbors and business owners along the busy commercial avenue to "join us to defend this tenant." "If they do this to her," she told the crowd, "they will do it to you!"
"We have to stand up for each other against landlord abuse. When we build community, we build power!" The crowd burst into cheers of "Tenant Power!, No Justice, No Peace!"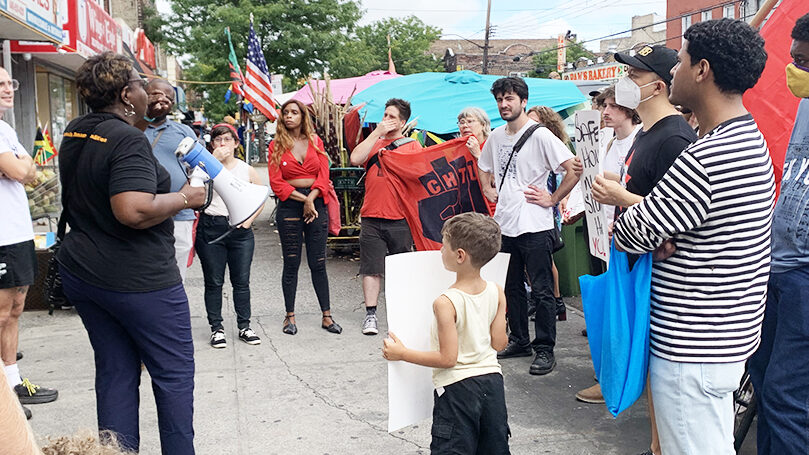 "When tenants are under attack, what do we do?" chanted the speakers. "Fight Back!" was the resounding response from the rally.
David Alexis spoke about the need for legislation to protect tenants from abusive landlords, adding, "This is unacceptable. Housing is a human right."
We'll continue the struggle to defend Fidele and to make housing for all a reality.
Images: Brooklyn CPUSA/YCL.

Comments