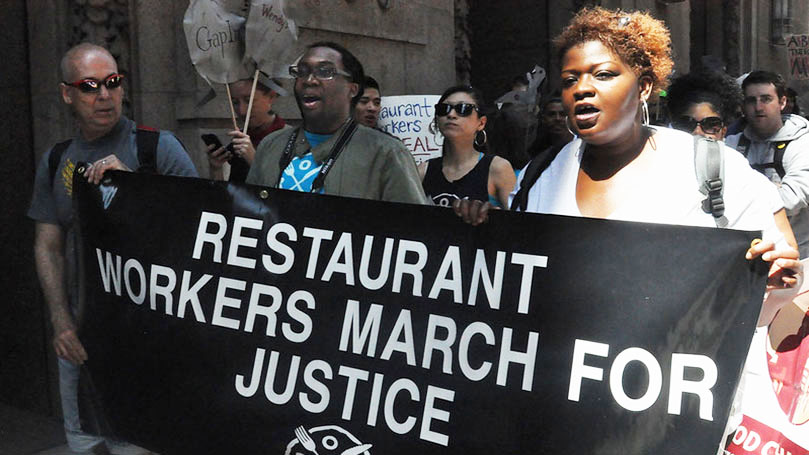 Question: How can we approach increasing the engagement of the poor?
Answer: If we wish to engage workers living in poverty, we must understand their circumstances and be as accommodating as possible. These individuals are often the most over-worked with the smallest capacity for additional organizational work. Due to the financial burdens they face, they often struggle with undue stress, exhaustion, and physical illness. It is crucial that the Communist Party USA builds a community with workers of all stripes. Only when we come together as a community, rallying around a common goal, will we be able to propel the working class forward and make meaningful and lasting gains.
We cannot promote community, however, if we do not support the most vulnerable among us. I would like to call on the CPUSA to look to the revolutionary Black Panther Party for effective community-building tactics. At the height of the Black Panther Party's popularity, many people were involved who did not self-identify as Marxist-Leninist, unlike the organization's founding leaders. This showcases an effective approach of moving away from overly academic tones and influencing a cohesive, cooperative strategy that very successfully engaged many working-class people. I am suggesting we begin developing public-facing community resources of which I will detail some examples shortly. The more our communities can depend on us in times of great need, the more receptive they may be to pro-worker emancipation narratives. I will not use my time to speak empty platitudes, instead I will do my best to provide concrete solutions on which action can be taken immediately.
Basic Needs Resources. These are programs and initiatives that focus on basic human needs, the needs of survival. These include food, shelter, and health. While we may not be able to organize some of these programs directly in the immediate future, we can always provide useful information on where and how people can access assistance. A few examples of these programs are donation-based cafés or traveling food trucks, grocery pantries stocked by use of "extreme couponing," emergency shelter resources, community gardens, donation-based health-care clinics (as state and federal law allows), and clothing drives, among others.
Jobs-Based Resources. These would focus on providing support to those in the workforce or looking to enter or re-enter the workforce. A few examples are job interview counseling, temporary child-care resources to allow parents the necessary time to secure employment (as state and federal law allows), job interview community closets that provide professional attire and haircuts/personal grooming supplies, work transportation resources, and union contacts (if applicable).
Unity-Oriented Resources. These would focus on building worker/community solidarity and cooperation. A few examples would be tenant organizing, providing resources to successfully unionize job sites, unemployment councils, and community classes that teach practical skills while increasing class consciousness.
To reiterate, some of these initiatives may be beyond our organizational capacity whether that be due to a lack of labor power, funds, etc. However, it is imperative we work toward the goal of being able to organize these things ourselves. The more sustainable and reliable we are as an organization, the more legitimacy and strength is lent to our message.
Report to the National Committee, June 6, 2020.
Image: Michael Fleshman, Creative Commons (BY-NC 2.0).

Comments