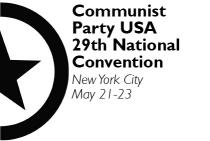 Dear comrades,
On the occasion of the 29th National Convention of the Communist Party USA, we wish to extend to you warm congratulations.
The Communist Party of China values its friendship with the CPUSA. The CPC remains committed to strengthening exchanges and deepening mutual understanding between our two parties so as to make a positive contribution to the promotion of friendship between the Chinese and American peoples.
We wish the Convention a complete success. May the CPUSA score even greater achievements in its future endeavours.
International Department
Central Committee
Communist Party of China
Comments