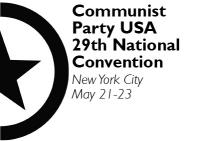 Dear Comrade,
I'd like to express our solidarity and friendship to the Communist Party of USA.
It is a great pleasure for me to send you this message for your Congress, in order to wish you, on behalf of both my Party and its National Secretary, Oliviero Diliberto, a fruitful political action.
Your important political and organisational discussion coincides with a moment of serious economic crise. But we witness also other important events in Latin America, showing that a strong and concrete alternative to imperialism and capitalism really exists and can still be put into practice.
We would like to wish you a rich and positive political debate, able to guarantee CPUSA a successful political action for the future national and international struggles that you'll carry on.
Please receive our best wishes and our fraternal greetings.
Francesco Francescaglia
Responsible for the Foreign Affairs Department
Party of Italian Communists

Comments