The Claudia Jones School for Political Education invites you to its next webinar this Monday, September 28, on worker cooperatives and the movement for socialism.
Register here.
Speakers:
Jessica Gordon Nembhard, Ph.D., is a political economist specializing in economic development policy, Black political economy, and popular economic literacy. Her research focuses on democratic community economics, cooperative businesses, worker ownership, and racial wealth inequality. Though a resident of Washington, D.C., Gordon Nembhard currently teaches at John Jay College, City University of New York. She has been an active member of ONE DC's Right to Land and Housing campaigns, and the precursor Equitable Development for Shaw campaign with Manna CDC (ONE DC's former name).
Camila Piñeiro Harnecker, Ph. D., was a professor, researcher and consultant at the Center for the Study of the Cuban Economy at the University of Havana. Her work focuses on economic democracy, self-management, democratic planning, worker cooperatives, business management and public policy towards the enterprise sector. She is author of Guía Introductoria sobre Cooperativismo para Cuba (Ed. Caminos, 2015) and Repensando el Socialismo Cubano: Propuestas para una economía democratica y cooperativa (Ruth Casa Editorial, 2013), and the edited the volume Cooperatives and Socialism: A View from Cuba (Palgrave, 2012).
Richard D. Wolff is Professor of Economics Emeritus, University of Massachusetts, Amherst where he taught economics from 1973 to 2008. He is currently a Visiting Professor in the Graduate Program in International Affairs of the New School University, New York City.
Image: alyce santoro (CC BY-NC-SA 2.0).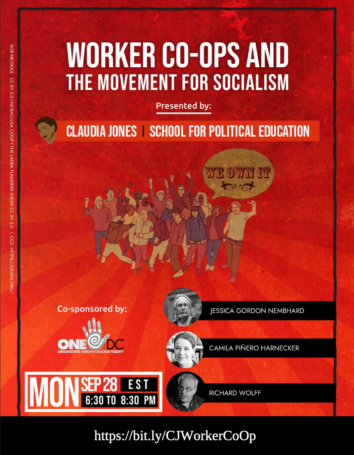 Comments