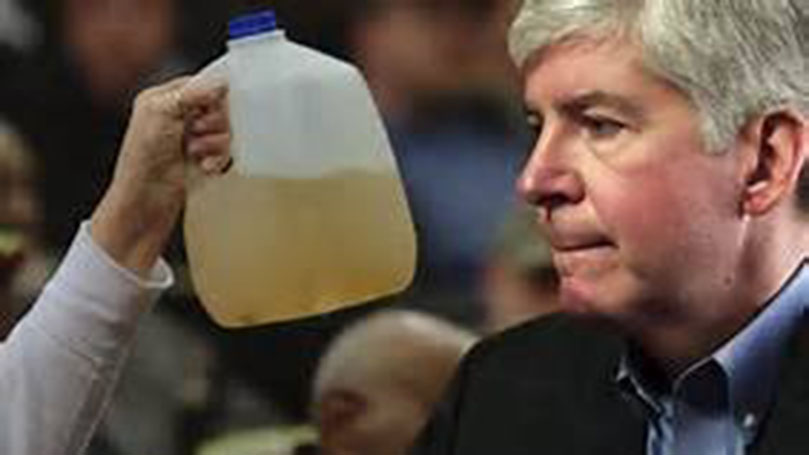 The CPUSA Michigan District stands with the people of Flint, Michigan, in celebration of the indictments against Snyder and other corrupt officials.
The former Governor of Michigan, Rick Snyder, presided over the Flint City water crisis. Under his governance, the city's water source changed to untreated water from the Flint River.  This caused the water supply to be contaminated with lead as well as bacteria responsible for a Legionnaires' Disease outbreak through 2014 and 2015.  This news came a year and a half after prosecutors dropped criminal charges brought against the eight people involved in the catastrophic event.
Snyder has been indicted on two misdemeanor counts of willful neglect of duty—woefully inadequate charges—and two former state health officials have been indicted on more serious charges of involuntary manslaughter. While these indictments are a step in the right direction, justice has been glacially slow. These indictments are seven years overdue. The water supply remained compromised as recently as 2020.  Official response to the disaster was unhurried, and the switch to untreated river water was made to cut costs—a testament to the malice of city and state officials.
The decision devastated a majority Black community that has a median household income of less than $30,000—a city disproportionately impacted by poverty. As the site of the historic sit-down strike of General Motors and birthplace of the United Auto Workers, Flint was once the heartbeat of GM. But GM long ago abandoned the city, resulting in the loss of tens of thousands of auto worker jobs and leading to the city's impoverishment. Added to this is environmental racism: a war on the marginalized waged by their own leaders.
Given our lack of faith in the judicial system, rather than asking for justice,  we demand reparations for all those affected.  We stand with the Black, working-class, poor, and everyone who was poisoned, harmed, and injured by the gross oversight and hubris of these criminals.
In Solidarity,
Michigan District, Communist Party USA
Image:  Flint Water Scandal Facebook.
Comments
Related Party Voices Articles